India v Black Caps – bring it on.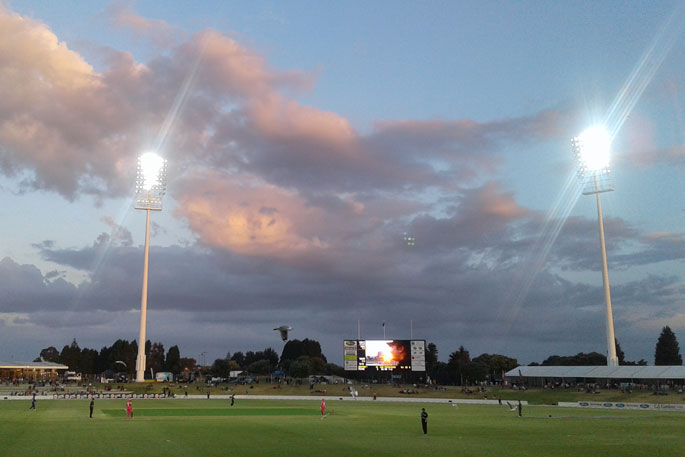 We're just four weeks into the New Year, and the biggest sporting events on the Western Bay calendar for 2019 are already upon us.
The two ODI 50-over cricket matches between India and the Black Caps at Bay Oval on Saturday and Monday will surpass any other events in terms of spectator numbers, national and worldwide coverage and that general buzz in a city generated by major sporting events.
The Steamers in the Mitre 10 Cup and two professional golf tournaments to be held at Tauranga and Mount Maunganui will attract good spectator numbers.
But they will pale into comparison with the Indian matches.
Bay Oval has hosted South Africa, Sri Lanka, Bangladesh and England, but India is a major step up. The noisy atmosphere, thanks to their vocal, passionate supporters, will be something to savour and an estimated television audience in the hundreds of millions adds another dynamic.
The scenic shots from the elevated cameras and drones focused on Mauao and the coastline are priceless for Tourism Bay of Plenty.
India are rated the second-best ODI side in world cricket, and take on third-placed New Zealand after beating Australia in both the Test and ODI series.
I write this before the opening match of the five-game series played in Napier on Wednesday, but can guarantee the individual match-up between the two captains was part of that pre-game banter.
India's Virat Kohli is regarded as the world's premier batsman, and rightly so on statistics alone. Tauranga's Kane Williamson is not far behind him but, as a far less demonstrative character, tends to generate less attention from the world's cricket media.
There is much written about the relative virtues of the so-called Fab Four best batsmen in the world in Virat, Kane, England's Joe Root and disgraced Australian Steve Smith.
To carry the Beatles comparison further, feisty Virat is a natural for John Lennon, multi-talented nice guy Kane is Paul McCartney, with the unassuming Joe Root a fit for George Harrison. Steve Smith? Well, he's Ringo.
While both Virat and Kane will underplay any rivalry and rightly talk about their respective teams' progress towards peaking at the Cricket World Cup in England in June, it will be fascinating to see how the two great batsmen perform.
What odds on a century from Kane on his home ground against one of the world's best?
More on SunLive...