It's the biggest thing for 10 years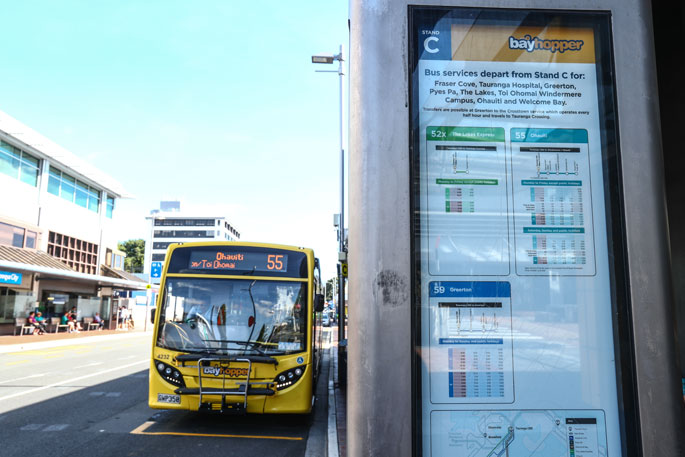 The 3:27 big yellow serving route 72 to Otumoetai via Brookfield and Bellevue pulls out of Willow Street bang on time. Three passengers.
Seconds later, across the road at stand D, a number 40 pulls out for Welcome Bay via Hairini. One or two passengers. A 55 from Ohauiti via Greerton then sweeps in on the vacant stand and 12 passengers alight.
The perception is a lot of yellow and a lot of buses – three and four every hour along each route – but very few bums on seats.
"It's easy to be critical about the number of buses," says Rachel Pinn, the Bay of Plenty Regional Council's programme leader of passenger transport. "But if we don't put on enough services, then buses aren't going to be attractive and they won't be flexible enough for people."
The aim is to become a crucial part of the transport mix in a city that is hugely wedded to their cars.
"And that's because people haven't had a decent choice," insists Rachel, "so we need to put on enough buses to give people that choice. More frequency, more options and more choice might encourage them out of their cars and onto buses."
And as further evidence, the bus manager with a master's degree in applied science in transport quite often hears how people don't want their lives dictated by timetables. They want that frequency of service so they can roll up to a bus stop and, if a bus has just left, another one is coming, and soon.
"We are moving from a service which was very access focused, with buses winding round and round and picking up lots of people and good for older people going to the supermarket or whatever."
But there's a new focus. "We are trying to get commuters – people who travel to and from work on a regular basis – so different passengers than what we are used to."
There's an acceptance that Tauranga has a huge new demographic of imports – people who've migrated to the city and contributed to the enormous growth here.
"They come from different cities, and have different behaviours and expectations of what public transport should be like," says Rachel, who has read research suggesting that if you change towns, change houses and change jobs, then you might reconsider how you get to and from work.
She wants to put the city's bus services in the mix as an attractive, viable option.
Rachel has an exciting but unenviable task, overseeing the biggest overhaul of public transport in Tauranga for 10 years - filling the buses, uncluttering the streets and keeping everyone happy at the same time.
"The new Tauranga and Western Bay bus network Bayhopper contract is big, really big," she says.
"We took the open approach, asked for feedback and asked people to get in touch." They did, of course, but Rachel and her team anticipated it.
"There are huge challenges in transport, the increasing congestion and all the issues around that. If you look at the survey on well-being, Tauranga people are generally happy, but the thing they are most worried about is transport.
"We actually have to do something different in the way people live their lives, so this new bus contract is a way of encouraging more people to take a bus, to get them on board."
A Weekend Sun reader suggests there's work to be done to get bums on seats. "Behind the tinted glass windows of the new yellow Bayhopper buses hides a secret," says W. Sedcole, a Cameron Road businessman, in a letter to the editor.
"Last Thursday, between 3.45pm and 4.45pm, there were 31 bus movements past my shop carrying 11 customers. Zombie buses filled with empty seats rushing to empty bus stops."
It was a mid-afternoon downtime during the mid-holiday period, where perhaps not many conclusions can be drawn, but there's more to that suggests Rachel.
"Tauranga City Council is looking at what they can do to help move the buses more quickly down Cameron Road. That letter is potentially front-footing the challenges we are going to have on some of our key corridors. We have more buses down there for sure, but we need a bit more priority so we can move through the traffic more quickly."
All of that has to be balanced by best business needs. "If you have a cycle repair shop and people want to drive past and drop their cycles off, they'll need to be able to do that," she adds.
"So we will have to work through a lot of competing priorities as the Cameron Road study goes on. This is a nine year contract, so we have to plan for the future."
Despite the Cameron Road anecdote, the numbers are stacking up, albeit slightly and slowly.
The week of December 3, a week before the new network kicked in, some 24,783 passengers used buses. During the first week of the new network, 26,412 paid for a bus ride.
Between December 23, 2017 and January 8, 2018, 38,252 used buses. For the same period this Christmas and New Year, the number rose to 43,000. It's too soon, however, to be making any assumptions according to Rachel.
"I don't think we will have a clear picture until the middle of the year. Our busiest time is February-March, when schools go back and people substantively go back to work.
"When that happens you have a big spike, then it settles down. So by March-April we will have a better feel from a planning perspective. People's behaviour takes a wee while to change."
Rachel hopes Tauranga people will have gone on holiday, had a little epiphany and decided to do things differently this year - like climb on a bus. "I am not forcing or demanding change," she says. "It's about giving people better options to support them in making those choices."
Certainly, the city would be better off. Over 60 per cent of our carbon emissions are from transport, so it's a substantial environmental issue as well as a quality of life issue for the community.
It has other things to recommend it. There always seems to be a bus coming these days, and it's a good ride. People comment, says Rachel. "We have had a lot of positive feedback about the ride level and the comfort."
More on SunLive...