Funding boost for Tauranga Boxing Academy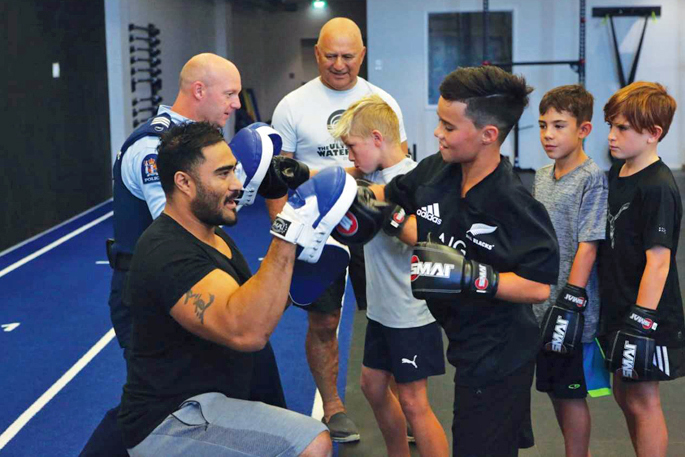 NZCT has approved a grant of $80,000 towards the salaries of the head coach and manager of the Tauranga Boxing Academy, as well as the capital fit-out for its boxing gym.
The academy is an ambitious new project that aims to inspire Tauranga youth to believe in themselves and achieve dreams they never thought possible.
"This funding is extremely important," says Craig Nees, Chairperson of the Bay of Plenty Youth Development Trust, which oversees the Tauranga Boxing Academy.
"The capital fit-out and salaries are the main components to get up and going. Salaries in particular are a huge percentage of the operating costs. Securing this grant from NZCT has enabled us to order the boxing ring, new flooring, strength and condition equipment, and boxing bags."
He says Tauranga is no different from any other city in New Zealand in that there are some young people who feel disillusioned, with little respect for themselves or others and who are exposed to violence, drugs and alcohol. Many are from single-parent families in poverty.
"To turn these kids around you need to earn their trust and then get alongside them," says Craig.
"Boxing provides a platform to do this. A big part of the programme is giving them opportunities they normally wouldn't have, as well as teaching them about respect and commitment. We are already seeing a difference in these kids."
The successful Billy Graham Boxing Programme that began in Wellington 13 years ago is the model being used for the Tauranga Boxing Academy.
"Boys are attracted to boxing. As a sport, boxing teaches discipline and encourages them to get fit. Some of the boys in the Billy Graham programme have been there for 7 to 8 years. It's all about providing long-term change," says Craig.
Former New Zealand Warrior Henry Fa'afili is the Head Coach at the academy and is a fantastic role model for the young people. "Henry is the right coach to be in front of the kids," says Craig.
"He is so passionate about boxing and seeing the kids grow. The boys look up to him. We also have other really talented assistant coaches, so we are very lucky."
It can be quite hard for new organisations like the Tauranga Boxing Academy to secure the funding they need.
The support from NZCT has been very well received by everyone connected with the project as Craig explains, "It was fantastic to learn that our application to NZCT was successful.
"This project is such a green field start and some funders told us to come back in 12 to 24 months' time. NZCT has been excellent. They took the time to understand the programme and were willing to commit to it."
More on SunLive...