Young athlete dreaming of the Olympics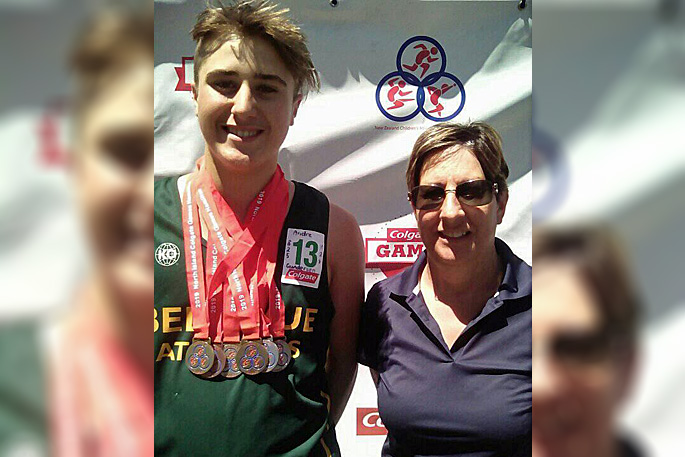 Andre Gundersen may only be 13-years-old, but he has already figured out what he wants to achieve in life.
His one goal is to make it to the Olympics, and he is well on the way to achieving it.
Andre, who is part of the Bellevue Athletics Club in Tauranga and has already got a collection of medals to start off 2019.
He competed at the recent North Island Colgate Games from January 3 to January 6, with officials mentioning that Andre was the only competitor to enter into six events and win a medal in all six.
He walked away from the event with one bronze, two silver and three gold medals. He also broke three of his personal best records.
Andre says he has had the best support from his club this year, with his fellow team mates cheering him on at every event.
"I felt like they helped me win, so I've kind of done it for them and me," says Andre.
Another top support of Andre's is his coach Val Bromley, who he also seeks advice from during his events.
"Val trains me three times a week at the track and takes me to the gym when it is raining," says Andre.
"I couldn't or wouldn't ask for a better coach. She's like my second mum."
Andre has his goal of the Olympics in is sights and isn't slowing down on achieving that goal anytime soon.
"My favourite events are discus, shot put, hurdles and high jump," says Andre.
"I am going to become a Decathlete and I won't stop until I'm on the podium at the Olympics.
"I am very lucky to be sponsored by Bay Sports Med for all my physio and chiropractor needs and I'm thankful to my Nan because she pays and drives me to all my ribbon days and competitions.
"The main person I love to make proudest though is my mum. She's my whole world and everything I do is for her."
Andre has also recently won the Cambridge Pentathlon for the 4th year in a row, won two golds at the recent relay champs, aced many ribbon days as well as the Twilight meet held on New Year's Day.
This year's plan is to organise for Andre to attend the Secondary Schools Athletics Champs.
When Andre isn't training or competing, he also attends the WBOP Cadets and the youth group at the Elim Church.
A Facebook page has been created for Andre, for people who wishes to follow him on his journey to the Olympics.
More on SunLive...