Tuesday should seal it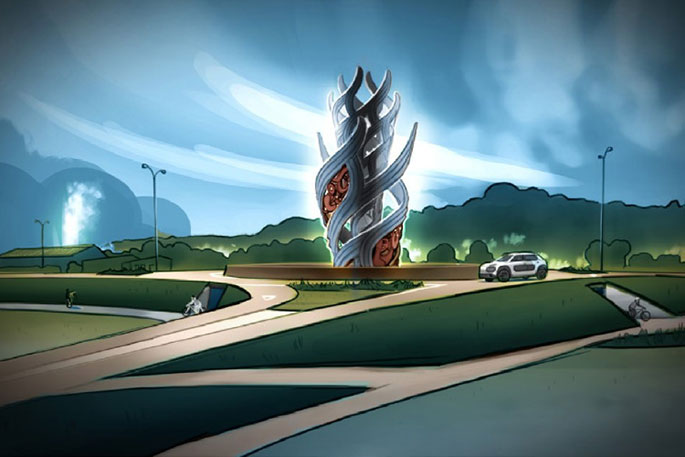 The final sealing of the Hemo Gorge roundabout is expected to start tomorrow.
But delays are expected on State Highway 5 and State Highway 30.
The final touches to the roundabout complete a lengthy and difficult accommodation of traffic to an area, which has caused congestion over the years.
SH5 courses from Mokoia Drive, near the former Waiariki Institute of Technology, the road leading from the main Hamilton route. SH30 eases in from Fenton Street and is a diversion from the main road to Whakatane.
The roundabout, partly subsidised by the New Zealand Transport Agency, has been a controversial topic in Rotorua.
It not only has a design in the middle of the roundabout, which some think a distraction and others have criticised the design, but already an articulated truck tipped its load to close the roundabout for a short time.
NZTA and Rotorua Lakes Council sought tenders for the sculptural work to be installed within the 50-metre diameter roundabout, which had a 7m circulating lane and three legs feeding into the highways, with three underpasses into its centre.
Apart from easing motor traffic congestion, an underpass for pedestrians and cyclists has been created, which now means unhindered cycling to and from forestry bike tracks and walks.
The Rotorua Lakes Council said contractors were scheduled to seal the SH30 legs of the roundabout overnight on Sunday.
Subject to weather conditions – the forecast is for fine weather – the remaining sealing work (including the SH5 leg, Mokoia Drive and the campground entrance) is planned to take place during the day from tomorrow.
Once finished, marking of the roundabout will be carried out.
Temporary speed restrictions will be in place while this work is completed.
More on SunLive...