Kiwi rock legends sell-out show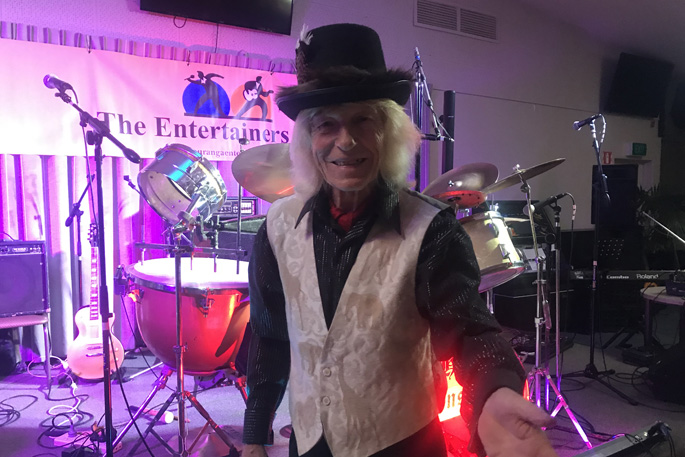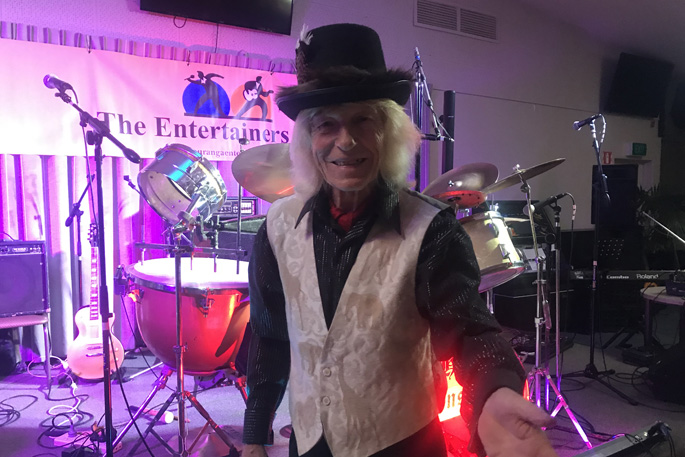 Click the image above to watch the video
Kiwi rock legends took to the stage on Sunday night to give a rare performance. Musicians came from far and wide to join Maurice Greer and his band Human Instinct for a special night of music.
The sold-out show at The Entertainers Club which meets at the Tauranga Citizens Club each month pulled in keen rock and roll music lovers from Auckland to Palmerston North.
"I love him! I love him!" exclaimed one audience member, "I was only four when he first started and my mother used to listen to all his music! I'm so rapt to be here! It's like history! I just love him!"
Corben Simpson also delighted the audience with his performance of "Dance All Around the World'. Corben is well-known as a member of Blerta, and for co-writing and singing this particular song, which reached number 13 in the New Zealand music charts in June 1972 and was voted as the 18th best New Zealand song of all time.
"There are infamous musicians here from way back," says Nicole Saunders, who runs The Entertainers Club.
Play Misty opened the show, with Paul Parkhouse and Simon Elton performing acoustic versions of 60s pop.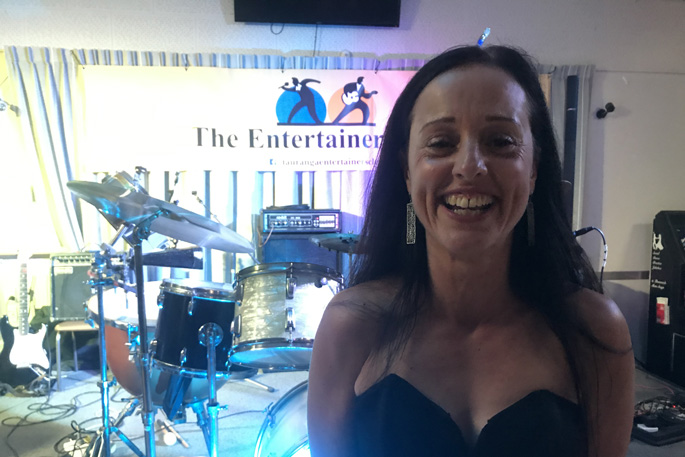 Fiona Cosgrove.
Fiona Cosgrove from Whakatane gave a lively performance, followed by Peter Knowles who played White Rabbit with Corben. 'The Rose' followed, with an acknowledgement to musicians who were 'no longer with us.' Bill Ward also joined the line-up, giving a great performance.
The evening was compered by Trevor Harrison who burst into song between artists, rousing the crowd with his popular and unexpected a cappella performances.
Human Instinct took to the stage for the second half, with Mr Human Instinct himself Maurice Greer, the stand-up drummer and lead vocalist for the band. Joining him were fellow Human Instinct band members Phil Pritchard on lead guitar, Tony Baird on bass, Josh Durning on second guitar and Ken Green on keyboard.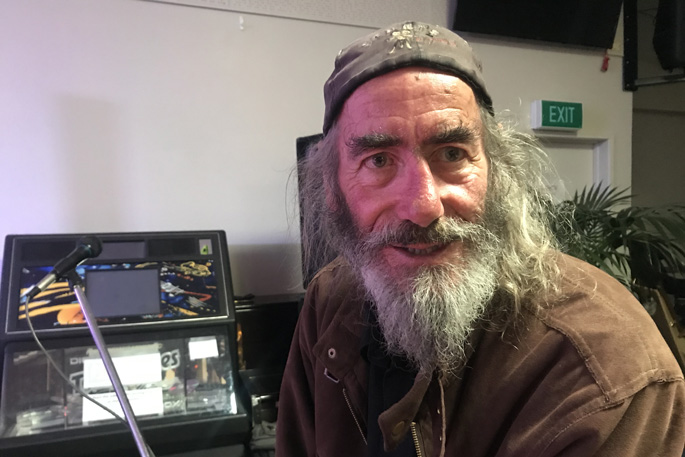 Corben Simpson.
Human Instinct emerged from 1950s pop band The Four Fours, formed in Tauranga in 1958 by drummer Trevor Spitz. The foursome rapidly became one of the most sought-after bands in the country.
Maurice had his first band at the age of 14, and set up a popular nightclub, The Pink Flamingo, in Palmerston North.
Known as 'the teenage wonder drummer', he converted his drum kit into a stand-up unit, which he felt was better for his vocals and drumming. In mid-1966 he joined the Four Fours, just in time to record their biggest hit Go Go/Don't Print My Memoirs.
Among the crowd on Sunday night were Tommy Coogan and Brigid Hehir from Palmerston North. They were just two of the many who had heard about the show and travelled the five hours from their home city to see what Nicole calls "history in the making."
Human Instinct toured as support for The Rolling Stones on their 1966 New Zealand tour and sailed to the UK in the August, changing their name en route to Human Instinct.
"We thought our name didn't sound cool enough, so we each wrote a name on a piece of paper, put it in a hat, and I drew out one. It was Human Instinct, so that became our name," says Maurice.
The band has had more than 25 members and has changed line-ups several times since its formation under Maurice's leadership.
They have released seven albums and 30 singles, with their most recent album, Midnight Sun, released in October 2010. Burning up Years, Stoned Guitar and Pins in it were produced under the Pye record label; Snatmin Cuthin and The Hustler with Zodiac Records; and Peg Leg - The Lost Tapes in 2002.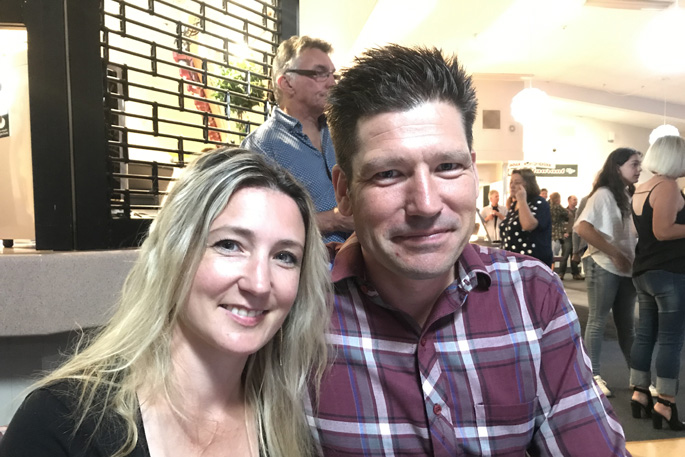 Tommy Coogan and Brigid Hehir from Palmerston North.
The band is best-known for their single and signature song Black Sally and their album Stoned Guitar.
"We did the first album in 1969 when we first came back from England," says Maurice, "and I'm starting to record a new CD now."
Copies of the original albums were available on the night on CD.
"It was best night ever," says Cory Mabey. "What a mean turn out for this legend. Everyone that played was New Zealand's best and you're never too old to rock. Great night Maurice Greer."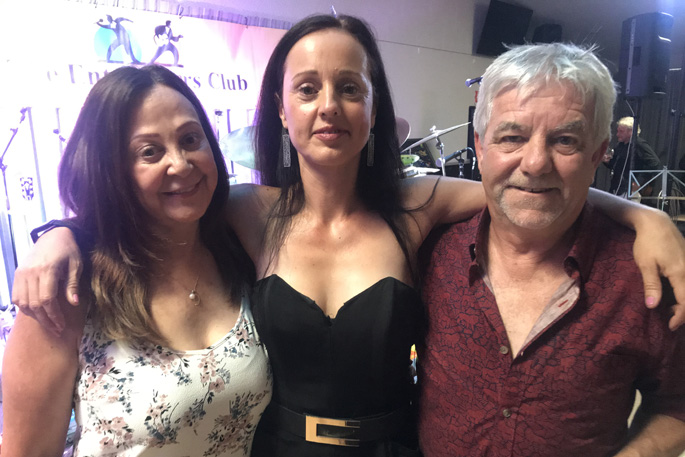 Debbie Kirk, Fiona Cosgrove, Mike Kirk.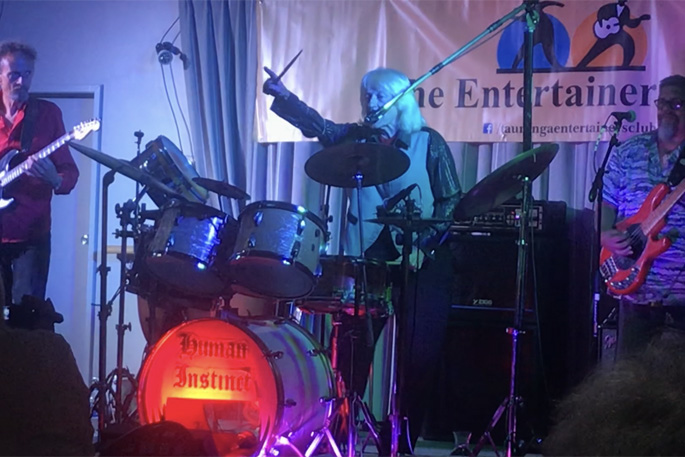 Human Instinct.
More on SunLive...