Sevens competition hotting up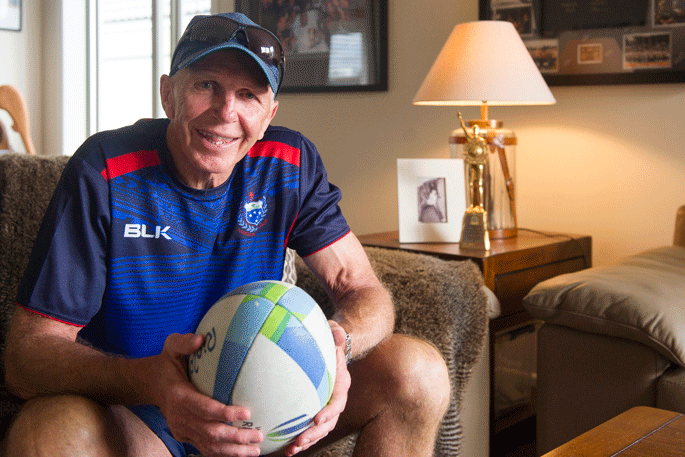 Just ask Sir Gordon Tietjens how tough it is to win the HSBC World Series these days.
The man who guided New Zealand to 12 titles, and the only sevens coach to be inducted into the IRB Hall of Fame, says the men's game is the most competitive it has ever been.
Gordon has seen a dramatic strengthening of playing standards across the top tier teams since New Zealand and Fiji ruled the roost when he started coaching New Zealand 24 years ago.
Now into his fourth year coaching Samoa, Gordon says teams like Spain are worth watching at the New Zealand Sevens in Hamilton on January 26-27.
"There has been so much analysis done and a lot of these countries are now centralised, which is the real key to being successful. They are professional rugby players and they are paid to play and train every day," says Gordon.
"Spain is a very, very strong side. They hammered Argentina just recently and have beaten some very good sides and push you right to the wire. They are centralised, train very hard, are really fit and have their own style and it works for them.
"Sevens as we all know is a totally different sport to fifteens in terms of the requirements and needs around conditioning. The game has changed so you have to move with that as well and always be looking for that extra advantage."
Gordon says the physical changes in the athletes and how the game is played has made the governing body reduce the finals from 10 minutes to seven minutes.
"The athletes are so much more powerful now, so they are looking at the injury factors based around fatigue. Tactically, as a coach, you need to share the workload because of the injury factor, bring players off and put them back on again, so there are changes there as well.
"This has evened it out a lot more than in the past where generally you persevered with the players you were confident were good enough to win you tournaments and win you games. Any team that has a strong bench will generally have a good tournament.
"I have won tournaments with the best team, not necessarily the best players. Players who are willing to empty the tank for you, who are mentally tough, which is all about attitude."
While the men's game is more competitive, the same cannot be said for the women's game.
The dominance of the Black Ferns Sevens has been great for the game in New Zealand but globally women's sevens lacks meaningful competition.
Gordon says only Australia are competitive but they lack playing numbers.
"New Zealand has so much more depth than Australia. They are trying to convert more of their very good touch players to the game of rugby.
"New Zealand has a lot of very good programmes in place now that are identifying younger talent and giving them opportunities."
More on SunLive...