When the scissors fell silent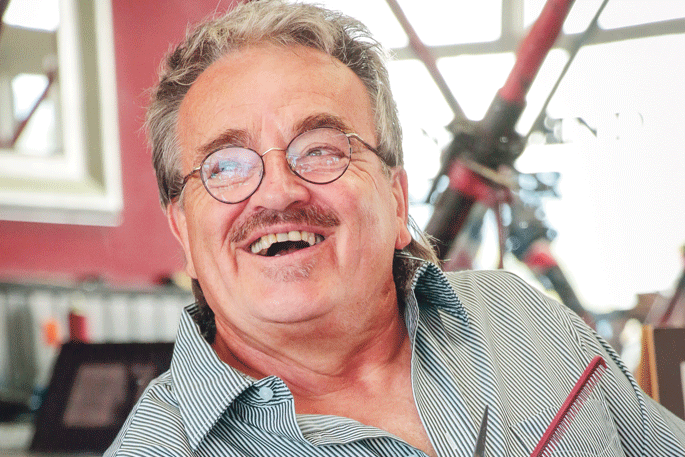 It didn't make sense. But it did make sense. As a recessive gene claimed more and more of my hair, the longer I would spend in Werner Gamma's barber chair. The less I had for him to do, the longer it took.
If Werner has chosen, he could have groomed and flicked me out the door in 10 minutes. But I was spending an hour, perhaps more, in his chair at the end of The Strand every three weeks. And we would blather – of love lost, of hearts won, life experiences, things we liked, things we loathed.
Of adventures and scrapes, shady, dark embarrassing moments, food and booze. And other things that make a man happy. Or sad. There was more blather than cutting.
"Used to be like that in my Dad's shop," says the barber. He still hasn't shaken off a thick Swiss accent, even after three decades of Kiwi-isation. "Men would come into dad's shop for a shave on Saturday. He would have three chairs going and a bench with five waiting – there would be chatting, smoking and blah, blah, blah. A very social occasion."
That's why on a Saturday morning for the last four years, Werner would set aside an hour for a 10-minute job. Then another bloke who's had his head shaved by Werner every Saturday for the last 12 years would drop by with his own opinions, his own bagatelle. And Werner would greet him with: "Here we go again. Your usual? A perm?"
The conversation would turn to politics. Will Simon ever be Prime Minister, the magnetism of lipstick and teeth and the fickleness of the electorate? Werner exerted his Swiss-ness when politics came up – he stayed neutral. "But I enjoy listening to you guys." And the snipping would resume.
But mention food and he would give you the minutest detail about what he might do with a beef cheek for his partner that night. I might do this, I might do that – there was never a recipe. Good food might come from a recipe, but great food comes from the heart.
Whenever Werner pulled another yarn, another experience, from his extensive global anthology, the scissors would stop snipping. It was shades of President Gerald Ford, whom LBJ said couldn't walk and fart at the same time. But in the nicest possible way, Werner simply could not spin a yarn and cut hair at the same time. The theatrics, the yarn always came first. And that's the way we liked it.
Now he's gone. And that's the point of all this. The scissors have fallen silent. I have lost a barber, I have lost a friend and a confidante. He's found other things to do – things other than thinning pates, nasal hair, rogue eyebrows, cut-throat razors and Bay Rum. He's returning to the soil – growing nuts, olives avocados, and making a waterfall on a five hectare lifestyle block just south of Mangonui in Doubtless Bay. Sounds idyllic – for him, that is. I have to find someone to replace the irreplaceable.
Werner didn't want to be a barber. "No!" But it was always going to be. The helix of red, white and blue stripes went up outside his dad's shop in Wil, 50 minutes from Zurich, 40 minutes from the German border, a way back in 1943. "I wanted to be a chef – I liked good company and good food. That's my great hobby."
But his dad took him to "one of those assessing officers" – where they give kids aptitude tests to figure what he might be good at. "They suggested I might like to be a barber. I think dad slipped them $50 or something."
He doesn't regret life as a barber. "I have had a lot of fun. I have met beautiful people – wherever I have worked I have had wonderful customers, we have had great times together." From Wil in eastern Switzerland, to Johannesburg in South Africa to the bottom end of The Strand, Tauranga.
"It's not just about cutting hair – that's the practical outcome – but it's about having fun, an enjoyable experience for everyone." Sometimes they didn't need a haircut. "They just come in, have a coffee and talk crap with you."
Seems you have to be a listener. "Over the years people reveal more and more about themselves, whether it be financial or relationships. And if you share a little of yourself that gives them licence to open up and you have to listen. It's fascinating." Even though you may hear the same stories over and over. "Same shit, different day. But they feel they can trust me, they feel they can share."
And barbers, it seems, have their own Hippocratic Oath – client barber privilege, no disclosure. A lot of stories stop right there, in the chair, at Werner's barber shop. You have to be very careful about what you say and to whom. It's about respect, says Werner, respect for everyone. And we all have stuff that does not need to be shared beyond the barber shop door.
Ninety-five per cent of Werner's business is from bookings – regular bookings – very little walk-in business. It says something about the man and his style. He gave barbering away for a time and then went back to his Dad's shop. It's still there – same name but different people.
"I had many messages, a lot of feedback from people who said I had made the right decision. Isn't that nice?" Even in Wil – pronounced W-e-e-l C when he walked down the street, people would say: 'Hey barber'. Or: 'There's the barber' – always 'the barber.' They didn't know his name, but they knew what he did and where he worked.
Now he's gone. And that hurts us blokes who spent special times in that chair.
Werner went on and on about the "space" in New Zealand. After the hubbub and congestion of Europe he enjoyed the space and opportunity New Zealand provided. Go enjoy your space Werner.
More on SunLive...