What's on? Beach volleyball, Sikh parade and gigs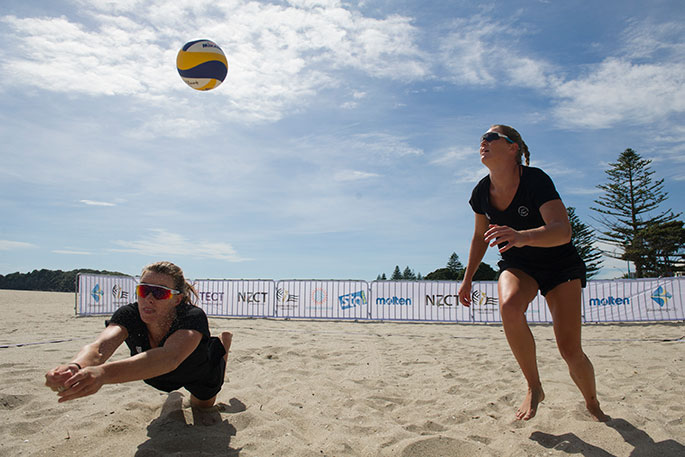 Good morning SunLive readers and welcome back to Saturday.
Some unsettled weather can be expected today, thought MetService is predicting a predominantly fine day. The high today is 25 degrees with a low of 15 overnight.
Despite what the weather is up to there is still a bunch of indoor and outdoor events and activities to be enjoyed today in the city.
Slip, slop, slap, wrap and cover before you head out to Mount Main Beach this morning to check out Volleyball New Zealand's National Beach Tour.
The championship now has a Senior Division 1, made up of eight teams, a Senior Division 2, also made of eight teams, and an Under 19 Division of eight teams.
The other three Open events in the main draw will feature 12 teams (10 of which will be automatic and two via qualification).
Division 2 (A-grade) will be offered for teams not wanting to enter main draw and for those who don't qualify at the Mt Maunganui Open, Waikato Open (TBC), NZ Open (TBC).
The event has also changed it's qualification rules to previous years. Two U19 teams who qualified on Friday will progress into a further qualifying round this morning where a maximum of eight teams will play a sudden death qualifier for the last two main draw spots.
The Main Draw for the Open events will start at 10am.
Also on today is the Tauranga Sikh Parade which will see a celebration of colour, culture and inclusivity.
The parade will be taking place from 11am and is a community event which celebrates the birthday of Guru Gobind Singh.
This year the parade will start outside the Gurudwara Sikh Sangat on Burrows Street. It will then make its way to 14th Ave and then onto Devonport Road by Tauranga Boys College.
One of the parade organisers, Puran Singh, says anyone who wants to join in can.
At Tauranga Historic Village, the first record fair of 2019 is being hosted at the Jam Factory between 10am-3.30pm.
Vinyl vendors from all over the North Island will be in attendance willing to share, discuss and deal.
If sporting is your idea of a day out, the Second ODI is on at the Bay Oval. The Black Caps take on Sri Lanka yet again from this afternoon.
The visitors came close enough to their mammoth target of 372 in their last match on Friday, suggesting they'll be tough contenders in today's match.
Sri Lanka were dismissed for 326 in 49 overs during the match, to give the Blackcaps the win by a 45 run margin, but it was an impressive reply to the home side's extraordinary effort of 371 for seven from a team given next to no chance at the innings break.
Martin Guptill's player-of-the-match winning innings of 138 off 139 balls was the highlight for the Blackcaps after captain Kane Williamson won the toss and chose to bat first on his home ground.
The match is on today from 2pm, so make sure to head along.
Later this evening Fat Freddy's Drop lands at Wharepai Domain from 3pm and at Baypark Stadium the South Pacific Super Saloon Champs are on from 6.30pm.
There's also a heap more events on that you can check out below:
What's On?
Bay Network Singles Club
50 Plus. Make new friends. Barbeques, outings, dining out & pot-lucks. Ph Jonathan 572 2091 or Maureen 021 112 3307
Baypark Family Speedway
6:30pm South Pacific Super Saloon Car Championships. More info www.baypark.co.nz
Beth-El Messianic Family
Celebrate family life with Jews & Gentiles gathering as Yeshua (Jesus) & the early believers did. 10am Otumoetai Primary. Joel 021 768 043
Kallidad -The Jam Factory
Flamingo Mariachi Madness Kallidad bring their very fast, intense & heavily inspired by Latin sounds to the Jam Factory. 6:30pm. Tickets from https://www.theincubator.co.nz/whats-on
LOL Laughter Wellness
Group laughter in recess for holidays. We will laugh together again from 12/01/2019. Happy holidays.
Narcotics Anonymous
Open meeting every Sat, 7:30-8:30pm at Hanmer Clinic (behind Super Liquor), 1235 Cameron Rd, Greerton. If using drugs is causing you problems, ph 0800 NA TODAY
Otumoetai Tennis Club
Adult tennis. Start time 1:30pm. Bellevue Park, Windsor Road (next to Swimming Pool Complex). New players & visitors welcome. Ph Fred 544 5088
Petanque
Tga/BOP Club, at Club Mt Maunganui 12:50pm start. All welcome to try a new sport. Equip available, all coaching given. Ph Jo Ann 578 3606
Social Group
Unique club for people with a mild disability. 25 to 45. Various friendly fortnightly outings. Ph 07 575 3739 or 021 206 2980
Tauranga Fuchsia Group
Meet at Art/Craft Centre Elizabeth St West, last Saturday of the month except Dec/Jan at 1:30pm. Growing fuchsias. Pat 579 1655 Noeleen 578 4643
Tauranga Record Fair
at The Jam Factory, free admission, all sorts of records, 11am-4pm
Tauranga Record Fair
Record love convention. All sorts of good music on vinyl. LPs, 45s new, pre-loved. Many vendors. Free admission. The Jam Factory. Historic Village 10am-3pm
Tauranga Rotaries March Book-Sale
Please donate books, records, CDs, DVDs, jigsaws, sheet music. Drop off at 24 Montana Dr, 20 Ririnui Pl. Ph Anne 543 5350 or Ross 544 0817
Te Puke Toy Library
Tues-Thurs 9-1pm, Fri/Sat 10-12pm Borrow Toys, have a play, Playgroup on Friday as well as Brick Kids during term 3:30pm. 7 Stock Rd. Ph 027 263 9309
More on SunLive...