Whakatane to receive $200k for pool upgrade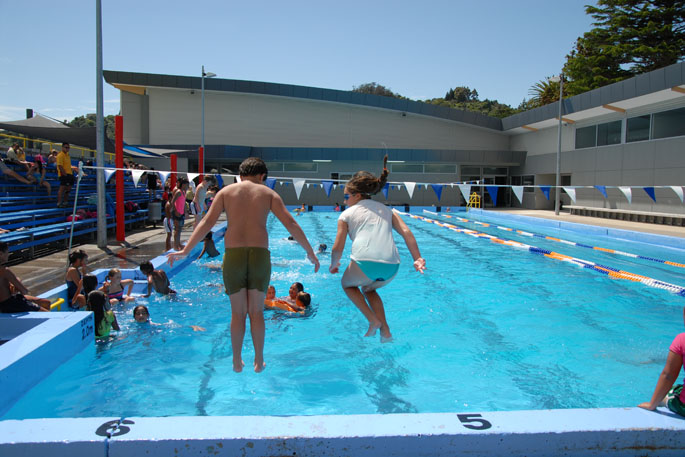 Whakatane's Aquatic Centre is one step closer to covering its outdoor pool so it can be used all year-round after a $200,000 grant was approved by BayTrust.
Whakatane District Council is one of four successful applicants in BayTrust's inaugural Community Amenities funding round which is designed to help pay for building or upgrading community and environmental assets across the region.
The $200,000 grant will go towards the council's covered structure over the Aquatic Centre's 33-metre heated outdoor pool.
General Manager Community Services Mike Naude, says a new roof and walls will be made from PVC and supported by a steel frame.
"Solar heating will also be installed to supplement the existing gas water heating system and help offset the additional running costs of keeping the pool open all year rather than its current October-April season.
"There's growing demand for indoor pool lane space from swimming and other water sports clubs, aquasize classes and the wider community. Enclosing the outdoor pool is the best way to resolve this problem.
"In summer, we can unhook the sides of the structure and just leave the roof in place to provide UV protection. The water temperature will remain at 28 degrees, as it is now."
In addition to the BayTrust grant, the council has a number of other commitments form regional funding bodies and will invest some ratepayer funds into the upgrade.
Tenders will now be called for constructing the new enclosure which is expected to cost between $865,000 and $1 million.
Mike says the project will be included in next year's annual plan process and go out for public consultation.
"Potentially we'd like to see construction start next winter."
A total of 43 possible projects were considered by BayTrust after applications were called for earlier this year. They were narrowed down to four which best fitted with BayTrust's 'outcome areas' and vision of ensuring that the Bay of Plenty is the greatest place to be.
BayTrust CEO Alastair Rhodes says the Community Amenities Fund is designed to grant between $100,000 - $500,000 to capital projects that deliver new permanent facilities, or upgrade and preserve existing community and environmental assets.
All projects must have sufficient funding in place to complete the work and must also have ongoing financial support to cover maintenance and operating costs.
"We have set aside $1.25m annually for the new Community Amenities Fund and are looking to support intergenerational community and environmental assets that make a real difference in people's lives," says Alastair.

"The outdoor pool at Whakatane District Aquatic Centre will be well-used by thousands of people for generations to come, and we're pleased to be able to help fund the expansion and upgrade of this important recreational facility."
More on SunLive...