Vandals chainsaw and steal kiwi call box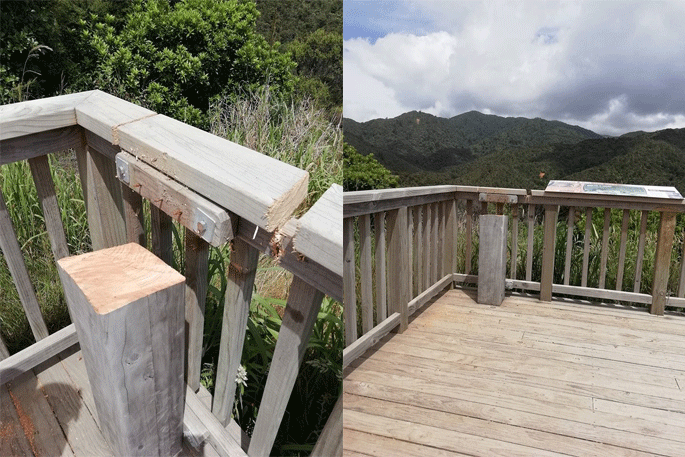 It's been a hard year for the Moehau Environment Group up on the Northern Coromandel Peninsula.
Chairperson Lettecia Williams says the not-for-profit volunteer organisation has already lost a significant number of breeding kiwi to dogs this year, and to lose a piece of their community as well is "gutting".
The Moehau Environment Group had built a kiwi call listening platform; a 4m x 3m listening site on Port Charles Road, Coromandel. 'Had' being the operative word.
On December 29, the Port Charles, Coromandel Facebook page posted that the platform had been vandalised.
It appears that the box that played kiwi call samples had been chainsawed off the listening platform and removed from the site.
Lettecia says it's a heartbreaking incident, especially considering the community the listening platform is in.
"It's got a role in the community – there are a few small tourist buses that always go there, and people hop out. Some people have never heard a kiwi – let alone a male and a female – so you can hear both calls there."
"You can go up at night and hear the real McCoy, but the box has been so much part of the fabric of here now.
"We live in a really rural setting, and there's basically one road in and one road out. That platform has been there for a number of years and it's never had graffiti or anything."
"This was a senseless act of vandalism in a small, remote, rural community," says Katharina from the Port Charles, Coromandel Facebook page.
"For Moehau Environment Group, the damage is especially gutwrenching as fundraising and applying for funding is the main way of doing their work."
"The residents like the platform," says Lettecia, "we have a small community and a few tourists and visitors that go through, and they all stop at that platform and play the sounds of a male and a female kiwi call."
"It was a place with some information; it was a place people could stop in the quiet and basically enjoy really, so for us it means we are going to just have to mend the structure."
"Getting the platform in place was hard work and it is there for the public to enjoy that fantastic listening spot with a little information about Moehau Environment Group's work and threat to kiwi," says Katharina.
The sound box was the first of it's kind in the country, says Lettecia, and now that it's gone the Moehau Environment Group will have to try and source a new one.
"That solar-powered acoustic player was the first of its kind in the country, so we're going to have to go back to the person that sourced it for us.
"We'll probably need about $7000 [to replace it]."
She says the motivation behind the vandalism and theft isn't clear, but she suspects the damage was pre-meditated.
"Heavens knows what the motivation is. They must've been there before to know that the box was there, and to have a chainsaw with them.
"I think it was wilful damage, I don't think there was any political motivation behind it or anything like that at all."
Raising funds to purchase a replacement sound box could be a mission, as the Group is currently in the throes of their summer work.
"For us, as a small community, it's hard enough to get funds and raise funds, so it's gutting," says Lettecia.
"It's the middle of summer, we're busy doing things, so it depends how we do it and how we go about it. We can either try to apply for funding which may or may not work, and it takes a while, or we could try to raise funds through a Facebook page or something like that which we've never done before, so I really don't know.
"On top of the kiwi deaths, it's just gutting really."
But Lettecia isn't giving up on catching the vandals and roping them in to help, as penance for their damage.
"We'll do our best to get it replaced, and if I can find these toe-rags I'd like to send them out there to do a few stoat lines."
Moehau Environment Group is a non-profit volunteer organization dedicated to the protection and enhancement of the natural environment of the Northern Coromandel Peninsula. For more information and to donate, visit: http://meg.org.nz/
More on SunLive...