No excuse for missing smears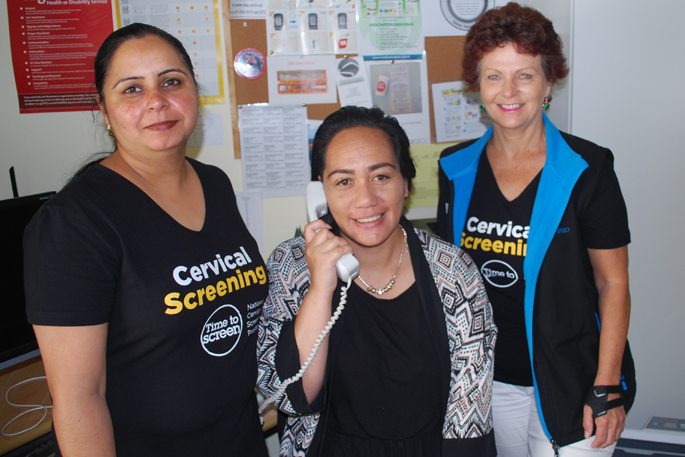 Around 160 women develop cervical cancer in New Zealand each year and about 50 die from it.
Half the women who develop or die from cervical cancer have never been screened, and about a third have only been screened irregularly and infrequently.
They are sobering figures and the Western Bay of Plenty Primary Health Organisation's Support to Screening team wants to ensure local women aren't among them.
"I'm too busy", "I don't have a babysitter" and "I can't get time off work" are just a few of the reasons given to the team every week from women in the region who are overdue for a cervical smear.
Regular three-yearly cervical smear tests are recommended for all women aged 20 to 69 who have ever been sexually active.
In the Western Bay of Plenty PHO, GPs have funding available for free cervical screening for Māori women. The PHO's Health and Wellness Services can provide free smears to Māori and some other groups.
Working from a database of GP referrals, the work of the Support to Screening team starts with a simple phone call to make an appointment.
"We try calling at various times of the day with the understanding that this woman might only have 30 seconds to listen to you," says the team's administration coordinator Joanne Tuhakaraina.
Appointments can be made for a smear at a community clinic (some of which are based on local marae), or within a woman's home.
"We are very flexible," says PHO services leader Philippa Jones. "People can also come to our First Avenue walk-in clinic any time on Mondays 8.30am -7.30pm, or on a Saturday morning, plus usual working hours from Tuesday to Friday."
The women in the Support to Screening team, which also focuses on breast screening, come from a variety of backgrounds and ethnicities so support can be individualised. And they are persistent.
"We're like the squeaky wheel, says clinical coordinator Donna Moon. "Sometimes the women have told their general practice they don't want it done so we make a last-ditch effort with more information and encouragement and sometimes that works."
On average the team has between 100 and 300 referrals each month. The service has screened 130 women in the higher risk groups in the past two months.
The team also attends local events to encourage women to screen for cervical cancer and uses the PHO's workplace wellness programme to identify and screen others.
One such event was this year's Tauranga Moana Tangata Tauranga Festival. More than 50 women underwent breast and cervical screening leading up to the Labour Weekend festival to earn 'points' for their marae towards the event's supreme title.
If you would like to talk to someone about having a cervical smear or find out if you're eligible for a free smear contact the WBOP PHO's Health and Wellness Services on 07 571 2100.
More on SunLive...