No Christmas bulge for Navy chef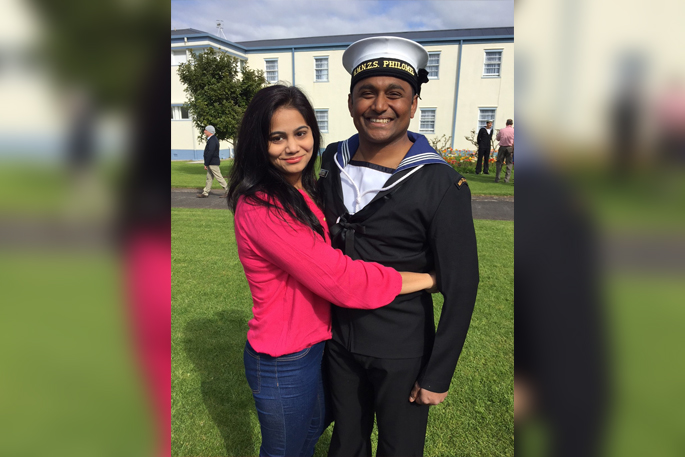 A Hamilton chef with a fondness for fried food has credited his new Royal New Zealand Navy career for getting control of his expanding waistline.
Ordinary Chef Sharfuddin Shaik, 37, is one of 98 new RNZN recruits who have started training at Devonport Naval Base from August 12. He had previously been a chef at a bar-restaurant in Hamilton.
"I was a chef with bad eating habits," he says. "A lot of deep-fried, greasy food."
He passed the RNZN's physical and aptitude tests, but was overweight and knew it.
Five weeks later, when his wife Kinjan Lakhani embraced him for the first time since he had started training at the family church service, he had lost nine kilograms and was very happy about it.
"My weight bothered me," says Sharfuddin, who is training to be a chef in the RNZN.
"In civilian life I was 82 to 84 kilograms. I would check it, and I knew what my body mass index ideal should be. Now I'm 75kg. It makes me feel younger."
He credits the physical training required of Basic Common Trainees, with five-kilometre runs and swimming every second day, as well as the cross-country runs, physical evolutions, and marching.
"And it's eating healthy food every day."
His extra weight and the unaccustomed rigors caused him initial problems early in his training, with knee pain and minor injuries. But as he lost weight and got fitter, those issues faded.
"No pain, no gain," he says.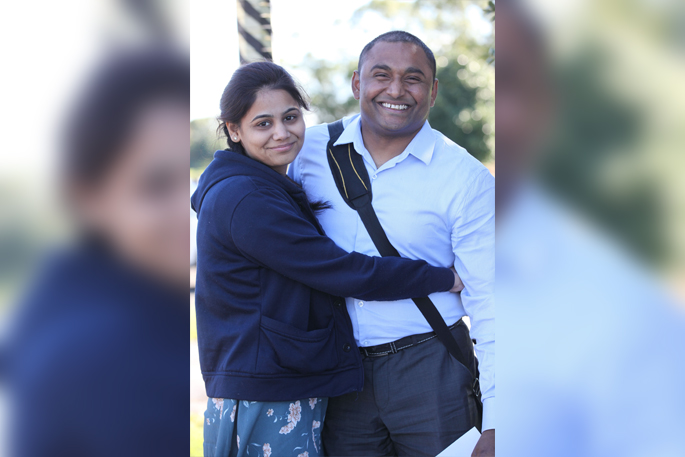 Sharfuddin had always wanted to join the navy and when living in India applied to join that country's navy. He had been watching documentaries of the 1999 Kargil conflict between India and Pakistan and was interested in the Indian Navy's role.
"I applied when I was 21 but I failed my exams," he says. "Twenty-one is also the upper age limit for applications in India."
He came to New Zealand in 2007 and gained his citizenship in 2013NZN chefs.
"I saw that there was no upper age limit – you just needed to pass the fitness and aptitude tests. So I applied in 2016, the processing took a year, and then I was here."
He says his wife had been very encouraging about his move to the RNZN.
"In the first two weeks, everyone got homesick, but you bond as the days go by.
Sharfuddin graduated from basic training on Saturday, December 15, and begin trade training. Chefs in the RNZN train to City and Guilds qualifications, something he already has.
"This will be like a refresher for me."
He is aware he is older than a lot of his classmates, and he knows if the weight goes back on, he won't keep up.
"I'm very careful now and my fitness is comparable to the others. I want to stay at this level all the time."
More on SunLive...