A big community heart in our city centre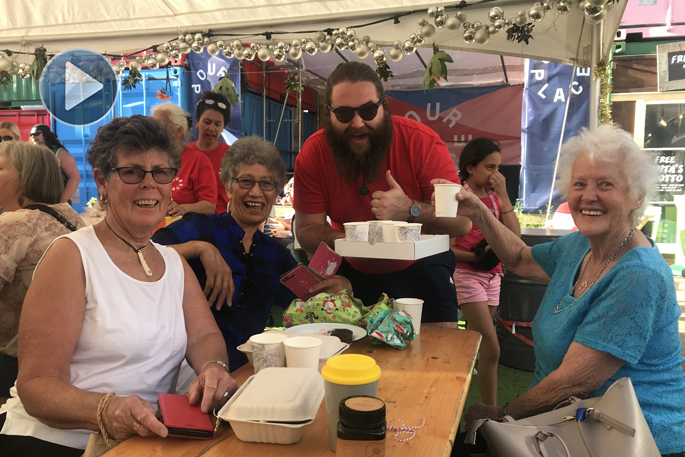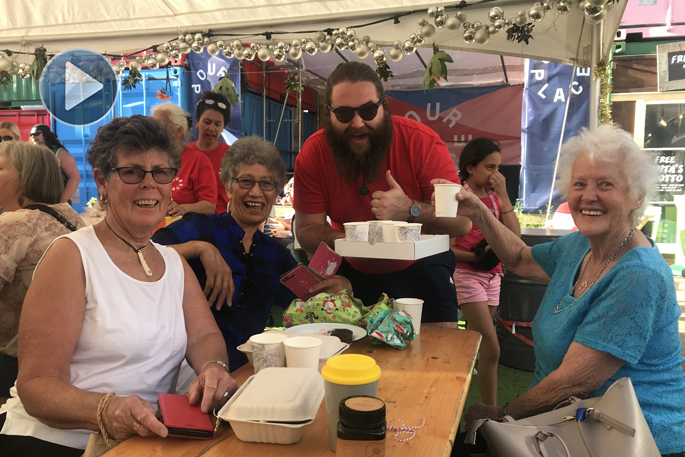 Click the image above to watch the video
Our Place Tauranga was bursting with Christmas cheer, food and music on Wednesday night as people met to enjoy Dinner at Our Place.
The container city was decorated with flora and bunting, the Christmas tree had hundreds of presents placed under it, and a large team of volunteers from Tauranga City Council and Good Neighbours got very busy organising the community dinner.
"We are overwhelmed by the sense of community and giving back here tonight at Our Place Tauranga for our 'Dinner at Our Place'," posted Our Place Tauranga director Rachelle Duffy on their Facebook page. "We've got an amazing amount of volunteers from Good Neighbours, The Tauranga City Council, Kai Aroha and Street Kai! We love sharing happiness and giving back! Thank you to all those who've supported us along the way."
Phoenix Organics, Innocent Packaging, and George and Willy provided drinks, packaging and gift wrap for the event, which was attended by about 100 people.
The community dinner, a new idea for expressing how a heart of a city is not just about buildings, came about through discussion and collaboration between Tauranga City Council and Little Big Events.
Little Big Events have an excellent reputation for delivering quality events that bring communities together. They are the creators and managers of community-focused events such as The Little Big Markets in Mount Maunganui and Papamoa, Dinner in the Domain, Tauranga's Christmas in the Park, Vegan Vibes, Beast of a Feast, Street Food Union and Diner en Blanc. They were also responsible for the re-activation of the Victoria Park Markets in Auckland.
The ongoing and evolving conversation about supporting social connection and community spirit resulted in the site, previously the location of the Tauranga City Council buildings, being activated as a social space.
Even the language is undergoing change, with 'city centre' coming more into use to replace the 'CBD' – central business district term, conveying the idea that it's about people and culture, not just business.
Living near where you work, and going out your front door to walk around to your local café to meet others is something that is appreciated by people doing community together at the Mount, Papamoa, Greerton Village and Bethlehem. Clearly, with the development of the new Farmers building and other locations, there are more options coming which support inner city living. Places like Our Place Tauranga help provide those social meeting spaces.
Part of the community may not agree with investment into culture at all and just want roads, sewers and good rubbish collection, whereas others don't want a cultural wasteland, but also want to connect. This week Tauranga City Council approved a further $60,000 in funding for Our Place Tauranga.
Building the social capital of a city helps build a cohesive society and there are those, like myself that would argue that a connected community is also a healthy one.
People are quickly adopting the Our Place Tauranga space in the city centre, enjoying the atmosphere and meeting others around the large tables. This week a ukulele group turned up to practise their music, bringing part of their own heart to the city centre.
The Our Place Tauranga activation of the site is a temporary placeholder until investment decisions are made on the future of the space and the site is developed. Little Big Events Director Rachelle Duffy is passionate about adding diversity and vibrancy to communities, and offering a platform for small scale businesses, artists, musicians and food vendors to flourish and grow.
High Tide, Johnny's Dumpling House, Japanese Quarter, Southern Fries and Morepork BBQ Tauranga are some of the eateries located in the container city. A community garden there is also looked after by Good Neighbour.
"We've been really excited to have this community space for community people," says Rachelle, "so tonight we're doing a meal for the less fortunate, and we've been really lucky to be able to incorporate a sustainable meal from Good Neighbours.
"So we've been able to use rescue food from the local supermarkets, and then we've also been able to make some food at Toi Ohomai, and bring it here for the whole community.
"The community here tonight is not just the homeless, there's people in need, there's people coming down for Christmas functions, so we're completely cross-pollinating our community, so everyone's blending in. It doesn't matter what background you come from, we're all here enjoying the space. We're really happy with the outcome."
This week, some of the free events being held at Our Place Tauranga include a Cultural Christmas with the Modern Maori Quartet, Domingo Candelario and Ria Hall playing, as well as Santa's Grotto from The Amazing Travelling Photobooth BOP, workshops with Syd Workshops and a fashion show from Sharon Tawhiao.
Our Place Tauranga is open seven days a week from 10am with different closing times in the evenings.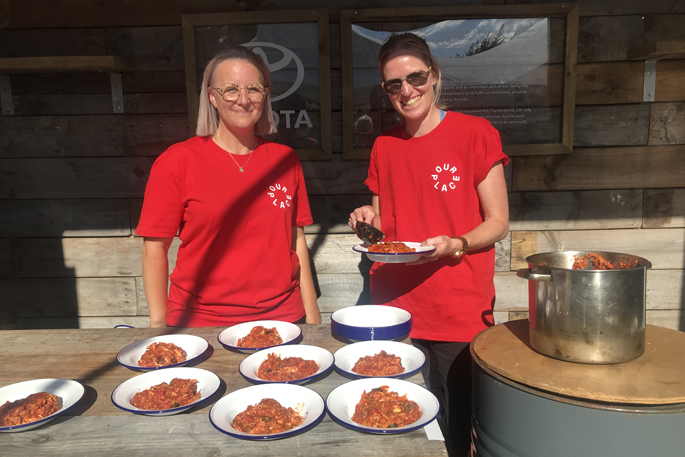 Rachelle Duffy and Danna Leslie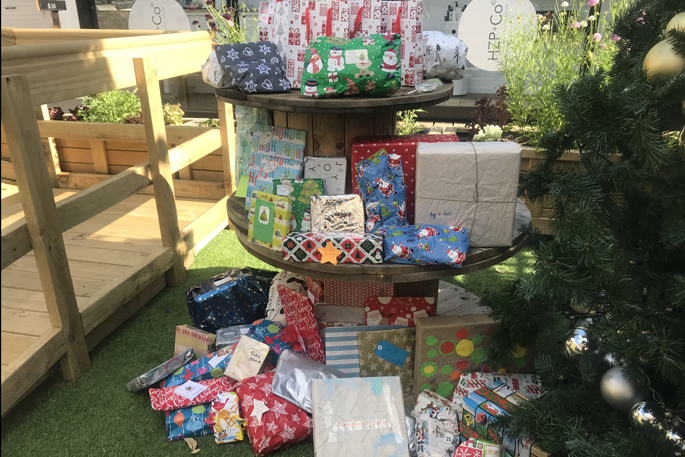 A few hundred wrapped presents under the Christmas tree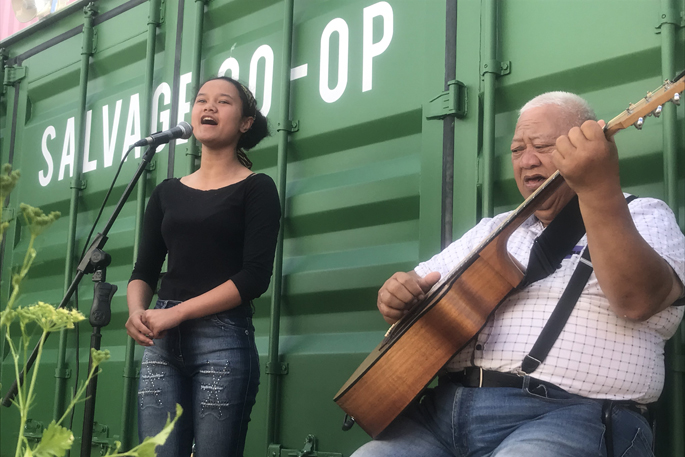 Singers entertained during the dinner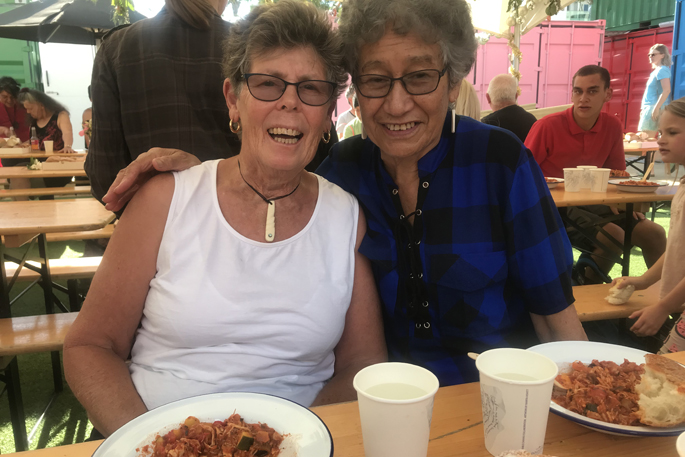 Ineke de Raad and Marina Topless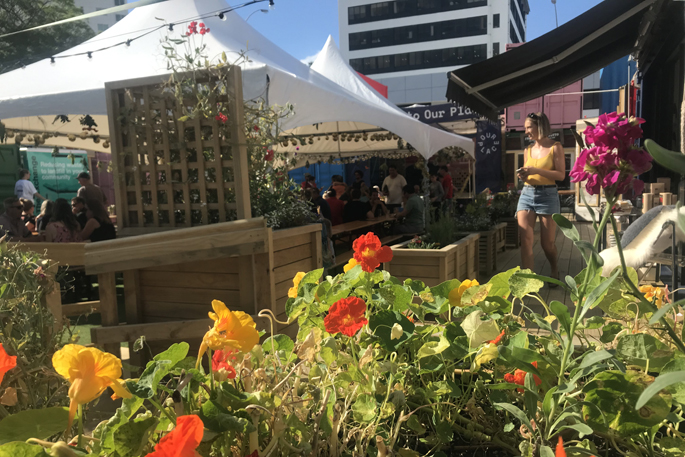 Our Place is located in Willow St, Tauranga
More on SunLive...