Green light for Waihi mining project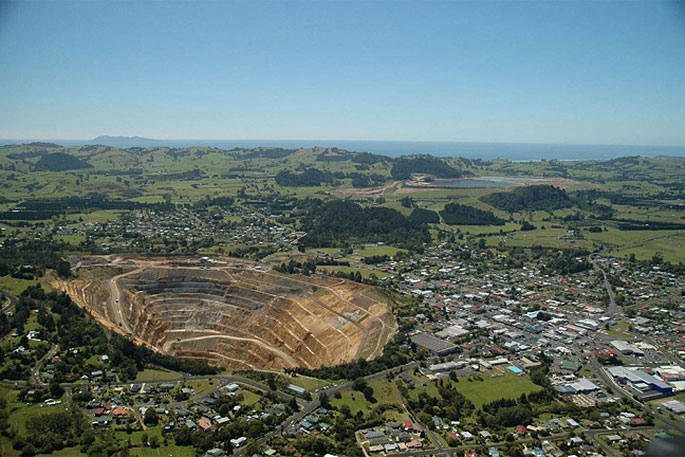 Further mine development in Waihi has been given the green light following the Project Martha hearings.
OceanaGold (NZ) lodged resource consent applications in June with the Hauraki District and Waikato Regional Councils for its proposed Project Martha.
The project includes work to stabilise the north wall of the open Martha Pit and to re-instate the pit haul road to allow access to the bottom of the pit for mining.
New underground mining will take place beneath the pit and also within the Rex vein which is situated under a reserve/residential area from the rugby clubrooms to the Mueller and Kenny Street intersection.
The applications also included the subdivision of a piece of company-owned residential land on the corner of Bulltown and Cambridge Roads.
The subdivided piece of land will be used for a road realignment
The resource consent applications were publicly notified at the request of the company in August, after which there was an opportunity for community feedback via written submissions and at a hearing held in November.
The Councils used independent professionals to ensure the information received from the company was technically robust, and engaged independent commissioners to listen to community feedback and make the decisions on the applications.
Hauraki District Deputy Mayor Toby Adams says since purchasing the Waihi Gold Mine from Newmont Mining Corporation in October 2015, OceanaGold has been actively engaged in exploration work and the resource consent applications came as no surprise. He expects further exploration work will continue.
"When making a decision on any proposed project it's important to consider the current needs of all sectors of the community and the needs of future generations too. That's why we've used independent commissioners to listen to all views and make informed and unbiased decisions on this project."
The applications were granted subject to conditions and the outcome of the appeal process.
When making their decision the commissioners took into account the on-going economic and employment benefits of the project, the fact that it will be in an area that currently includes open pit and underground mining activities, and the expectation that any adverse effects on the community can be managed and contained by conditions on the consents.
The commissioner's decisions are available in more detail on the Hauraki District Council website www.hauraki-dc.govt.nz/our-district/mining/project-martha and for inspection at its Waihi office as well as the Waikato Regional Council Hamilton office.
Appeals to the consents close on Friday 1 February.
More on SunLive...