She will not die quietly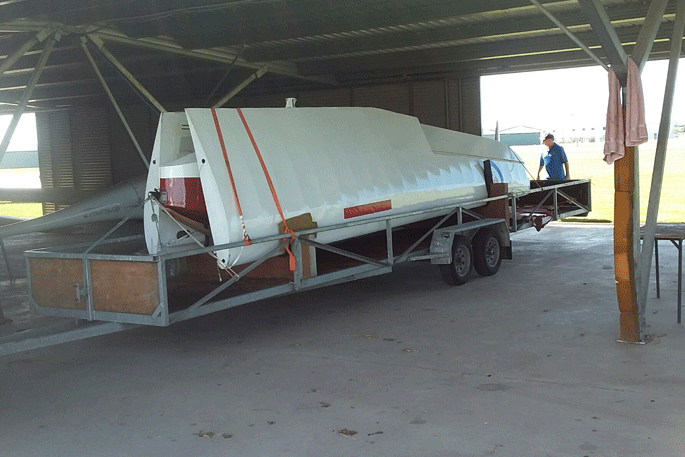 Her given name is ZK-GAU. The family name is Slingsby.
This week, the 62-year-old lady came home – carted over the Kaimai Range in pieces to Tauranga, where she will live out her days in a dignified but very public retirement.
ZK-GAU spent her life surfing the air's currents, and she will continue to surf, suspended from the roof of Classic Flyers aviation museum.
"Compared to modern gliders, ZK-GAU would be like a two cylinder Fiat," says Roger Brown, the soul and sentiment of the Vintage Kiwi Glider Club.
"In its day, a two cylinder Fiat probably wasn't a bad car. She's just been overtaken by design and development."
She's a special lady – special because she was a foundation aircraft of the Tauranga Gliding Club and its first training aircraft – and special because she was the last Slingsby T31B flying in New Zealand. She holds a significant place in Tauranga, if not national, gliding history.
"When there is an opportunity to give a special aircraft a special place, then we will try to make that happen," says Roger. So if ZK-GAU was going to be left to rot on a farm strip somewhere or disintegrate in the back of a hanger, why not give her dignity? Why not bring her home to a museum?
The sailplane arrived as a jigsaw in the early 1950s. In the side room of a large wooden hanger at Tauranga Airport, ZK-GAU was pieced together, rib by rib, evening by evening, as Trevor Oliver, Burns Clark and his brother, Clarrie Marshal and others worked and listened to the radio.
On August 5, 1956, ZK-GAU flew, with test pilot Gordon Hookings taking the controls. By the time she was decommissioned two years ago, she had amassed 8806 flights and over 1435 unpowered hours of flying.
"I flew it because I have been flying for a very long time, over 50 years," says Roger. "And in their day, they were good. Very, very good."
ZK-GAU soared above Tauranga. But on March 23, 1962, she didn't soar. She was being flown out of the Eastern Bay of Plenty Gliding Club when she was dinged, badly dinged, slamming into a fence while landing. The log supplied to The Weekend Sun mentions "substantial damage." The log does not mention who, or why.
The Slingsby T31B was never designed to be pretty – she was an out and out trainer, utilitarian above long cross-country flights or achieving great heights. But a Canterbury Gliding Club's sister T31B broke the national altitude record of the time with a wave flight over 5700 metres, or 19,000 feet.
Such highs and such lows, because it apparently had an ignominious end, coming to grief on Mount Tauhara near Taupo where it was written off.
But ZK-GAU lived on. She was restored in Hastings, flew for nearly 900 hours at Ohakea, another 1400 hours at Paraparaumu north of Wellington. The log tells is she was "cancelled, withdrawn from use and stored" in 1991.
She was gifted to the Norfolk Aviation Sports Club in 2006, where she was refurbished to a brand new condition. She gave another 1435 hours and 56 minutes of service over 10 years before again being deregistered and stored.
"Like a lot of aircraft in New Zealand, they tend to get smacked up and written off," says Roger, "and those who survive and have done their time are just left to rot somewhere. There's just nowhere for them to go."
That's why the Norfolk Aviation Sports Club in Inglewood trusted ZK-GAU into the care of the Vintage Kiwi Gliding Club – the caretakers of New Zealand aviation history. They have seven aircraft in Classic Flyers. That's what they do, and ZK-GAU will have somewhere to go.
This weekend the Tauranga Gliding Club will be having "a bit of an occasion" in the shape of a barbeque around ZK-GAU, which is sitting in their hanger. Then she will make her last journey - the final few metres to Classic Flyers, where she will be hoisted into the air space around the rafters.
"There will be about eight people from around Tauranga getting re-acquainted," says Roger. After all, she hasn't be home since 1959.
It'll be a celebration of service, of connection, of something special. ZK-GAU hasn't flown for a couple of years, but she remains immaculate. "That's why she will become a museum exhibit – she's in too good a condition to let die quietly."
More on SunLive...