Emergency responder is top soldier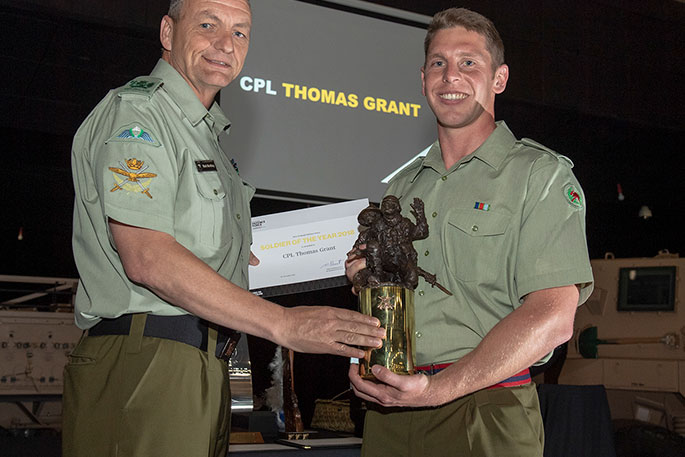 One of the New Zealand Army's outstanding emergency responders, Corporal Tom Grant from Thames, has been named Soldier of the Year.
For Corporal Grant, 25, his day job includes equipment checks, training, fitness work and responding to civilian 111 callouts in the Rangipo/Desert Road area.
His tasks can include being first responder to car accidents, providing medical assistance, dealing with hazardous substances and fighting scrub fires.
He is also on call as first responder during military exercises at Waiouru Military Camp, where he is based as shift second-in-command for the Emergency Response Troop of 2nd Engineer Regiment.
"We work alongside Fire and Emergency New Zealand (FENZ), who recognise our fire station and respond us to any 111 calls in the area," he says.
"It's a big turnout area and we can also support the fire stations in Turangi, Ohakune, and Taihape."
When Corporal Grant left Thames High School he was looking for a challenging career that would keep him active and include travel.
He has got exactly that and his varied day job allows plenty of time for training. Keeping fit is vital, he says.
Both of his grandfathers did compulsory military training with the New Zealand Army and his great-grandfather served in the First World War.
It's not surprising that after hearing the stories from his military heritage, he decided that a career in the military was a good option.
He joined the Army in February 2011 and excelled from the start. He was top student in his physical training instructors' course and the Senior Command and Control Firefighting course.
"Corporal Grant has clearly demonstrated the New Zealand Army's values of courage, commitment, comradeship and integrity throughout the year, including responding to a motor vehicle accident while off duty and providing life-saving first aid to an injured civilian – for which he received a commendation from the Chief of Army," the Warrant Officer of the NZDF, Warrant Officer Class One Mark Mortiboy, said during the award presentation ceremony.
Corporal Grant is also ranked third nationally among emergency responder. He has competed in New Zealand's Fire Fighter Combat Challenge contests and was selected to compete at the World Fire Fighter Combat Challenge in Sacramento in the United States in October.
His award citation noted: "Corporal Grant is focused on helping those in need while putting himself in danger".
He has shown this trait numerous times when deployed to support international civil agency missions, specifically to Tasmania in 2016, and northern California this year.
In the California fires he was initially deployed to lead a team of 5-10 firefighters, and then was promoted to task force leader, leading 5-10 teams of up to 100 firefighters.
More on SunLive...