Putting the fun into football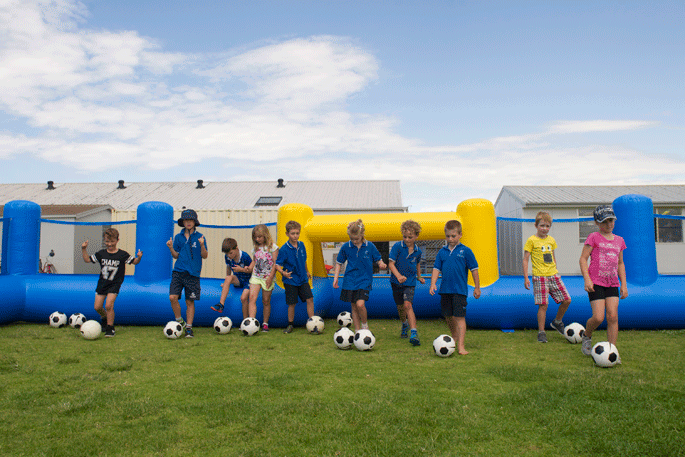 Three Tauranga City footballers have stripped the game back to basics to encourage fun and inclusiveness amongst some of the region's youngest players.
Colm Kenny, Raymond How and Tom Pamment have joined forces to roll out Fun First Football – an accessible programme aimed at four-to-eight year olds that looks to remove the rigidity of traditional training and put the onus back on enjoyment.
The high-energy sessions, for both boys and girls, take place in part within a unique inflatable football pitch and have become a huge hit, with numbers hitting up to 160 young players every week.
Colm, who plays as a striker for Tauranga City, says the work he does alongside central defender Raymond and goalkeeper Tom, gives children and their parents a good first impression of the game without the training regimes that often leave youngsters feeling isolated.
"I've worked in schools and seen how structured football can be," says the 38-year-old Dubliner. "You'd see little kids being moved from group to group based on how good they are, and I never agreed with that.
"We're totally inclusive, and treat everyone the same. We've got some players who are like little versions of Lionel Messi, but they get in amongst the little starters. It's not about separating kids out based on ability."
"We've got lots of kids who have tried academies and trained with local clubs, but that hasn't worked for them. Some have found it too structured for their age group and that's where we come in.
"Clubs often insist on putting the good kids with those of a similar ability, and suggesting to kids that they're not good enough will lead to a lot of them never playing the game again."
It is an approach that clearly works. After each session, Player of the Day awards and kids' meal vouchers from sponsors Imbibe are handed out, photos are taken and the party moves across to their highly-active Facebook page, where north of 340 proud parents are signed up.
The grand plan, explains Colm, is to expand beyond their current quota of schools, and take Fun First Football "over the bridge" to Tauranga.
"We've pretty much got all of the Mount and Papamoa schools covered," he says, "and there's now a bit of a waiting list, so we want to get another sponsor on board, purchase another pitch and expand over the bridge. That's my ultimate goal.
"I want to take this further because the feedback has been unreal. I want to get kids off their screens so they can avoid things like obesity. Having this means they can keep active, and parents know the benefits of that.
"We've got one girl who was really timid during week one, but now she's grown in confidence and is getting stuck in and enjoying the game. I love to see football do that for kids. We've also got a few kids with special needs, and their parents have said this is the only programme they'll stick at.
"When I was growing up, we played football on the streets, with no parents in sight and from first thing in the morning until it got so dark you couldn't see the ball anymore.
"We played for fun back then. I wasn't really coached until I was about nine, and playing with my mates was always just about having a laugh.
"Once the kids get here it's all about tapping in to that fun side of the game, so they can find it for themselves."
The sessions currently run at Tahatai Coast School (Mondays, 3-4pm), Macville Park in Omanu (Tuesdays, 3.15-4.14pm), Arataki Park (Wednesdays, 3.15-4.14pm), Papamoa Primary School (Thursdays, 3.15-4.14pm) and Mount Primary School (Fridays, 3.15-4.14pm).
For more information, email: funfirstfootballtauranga@yahoo.com or visit the @funfirstfootball Facebook page.
More on SunLive...