What's on? Pre-Christmas celebrations citywide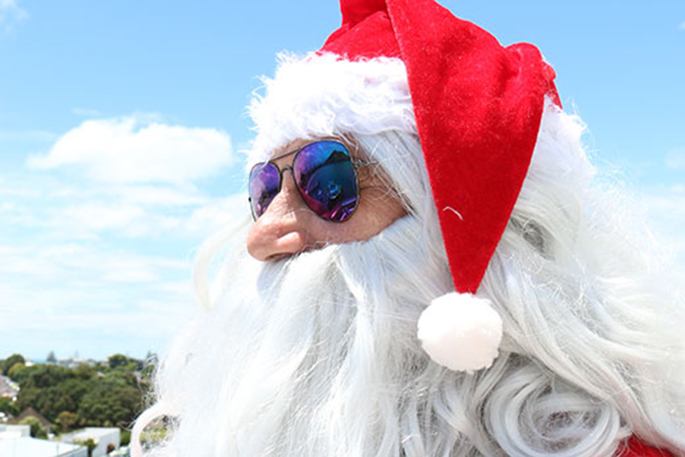 Good morning SunLive readers and welcome back to Saturday.
Weather wise, it appears we're in for a do-over because in contrast to the wet, grey and windy start we had to summer last week, there's set to be long fine periods all weekend. Hooray!
Temperatures are set to reach a high of 25°C and a low of 13°C overnight so it's a great day to get outside and soak in some vitamin D - while being sun smart too of course.
Te Puke and Tauranga will both be hosting Christmas in the Park events today.
In the city the event kicks off at 1pm at Our Place Tauranga on Willow Street.
The event is downscaling for this year only and a number of other Christmas events have been planned throughout the month of December, including the Christmas event at Our Place.
For a gold coin entry you'll get to enjoy a pre-Christmas event filled with live music, performances, arts, craft and artisan food/drink and of course, Santa's Grotto.
NO BYO food and alcohol is allowed but there will be on-site food and beverages to enjoy.
Find more details via www.facebook.com/taurangaschristmasinthepark
Or, if you're a little further out of town why not head over to the Te Puke Christmas in the Park event?
It kicks off from 2pm at Jubilee Park and promises food stalls, markets, kids rides and performances all night.
It's a wicked afternoon for the whole family and you might even see Santa.
Failing either of those two options, there's also a range of other things going on in our incredible city. Find something that piques your interest in the calendar below:
What's on?
Art in the Park
Original Art for Sale. Weather permitting. Coronation Park, Mt Maunganui. 9am-4pm. Tauranga Society of Artists.
---
Bay Network Singles Club
50 Plus. Make new friends. Barbeques, outings, dining out & pot-lucks. Ph Jonathan 572 2091 or Maureen 021 112 3307
---
Beth-El Messianic Family
Celebrate family life with Jews & Gentiles gathering as Yeshua (Jesus) & the early believers did. 10am Otumoetai Primary. Joel 021 768 043
---
Christmas Dance
Greerton Hall, tonight 7:30pm. BYO drink & nibbles. Great social dance music. Everyone welcome. Ph 544 2337 or 027 322 1786
---
Christmas In The Park
Starts 2pm Jubilee Park, Te Puke. Food stalls, Market, kids rides, performances all night. Bring the whole family & you might see Santa!
---
Death Cafe
Coffee, cake & hearty conversation on dying, death & living. No agenda, friendly gathering. Grindz Cafe 12:45-3pm. Ph 022 068 9183
---
Gate Pa Junior Tennis
Club days/times: Sat 9am: 5-7 yrs, 10am: 8-10 yrs Thurs- 4.30pm: Intermediate ages, 6pm: College ages. New members welcome. Racquets are available. Enquiries: Turu 022 031 7568
---
LOL Laughter Wellness
We don't laugh because we're happy, we're happy because we laugh. Arataki Community Centre, Zambuk Way, Mt Maunganui, 11-11:45am. Koha. Trish 022 036 6768 lollaughterwellness@gmail.com
---
Mount Scottish Christmas Dance
Christmas Dance 7:30-10:30pm Arataki Community Centre, Bayfair, Mt Maunganui. Sheldon's Dance Band, fabulous supper. Organised by Mount Scottish Society. Erica 576 0578
---
Narcotics Anonymous
Open meeting every Sat, 7:30-8:30pm at Hanmer Clinic (behind Super Liquor), 1235 Cameron Rd, Greerton. If using drugs is causing you problems, ph 0800 NA TODAY
---
Otumoetai Tennis Club
Adult tennis. Start time 1:30pm. Bellevue Park, Windsor Road (next to Swimming Pool Complex). New players & visitors welcome. Ph Fred 544 5088
---
Petanque
Tga/BOP Club, at Club Mt Maunganui 12:50pm start. All welcome to try a new sport. Equip available, all coaching given. Ph Jo Ann 578 3606
---
Red Cross Volunteers
Looking for something professional & to support your community while gaining retail skills for 4hrs? Enquire today at Red Cross Shop Cameron Rd, ph 578 2683
---
Sign Language Picnic
Let's talk about/with NZSL (sign language)! Everybody is welcome! Kulim Park 11am-2pm BYO More info Yuko email: hunyako3@gmail.com or FB: Visual Voices
---
Tauranga Fuchsia Group
Meet at Art/Craft Centre Elizabeth St West, last Saturday of the month except Dec/Jan at 1:30pm. Growing fuchsias. Pat 579 1655 Noeleen 578 4643
---
Tauranga Rotaries March Book-Sale
Please donate books, records, CDs, DVDs, jigsaws, sheet music. Drop off at 24 Montana Dr, 20 Ririnui Pl. Ph Anne 543 5350 or Ross 544 0817
---
Te Puke Scottish Society
Christmas dance, Te Puke War Memorial Hall, Sat 15th Dec, 7:30-11pm. Live band, Christmas Carols & supper. Come along & celebrate with us. Valerie 573 7093
---
Te Puke Toy Library
Tues-Thurs 9-1pm, Fri/Sat 10-12pm Borrow Toys, have a play, Playgroup on Friday as well as Brick Kids during term 3:30pm. 7 Stock Rd. Ph 027 263 9309
---
TECT National Sevens
Tauranga Domain 15-16 Dec. Tickets on sale now! www.nationalsevens.co.nz
---
While We Wait
A family show, fun for everybody. Tap, Jazz, Ballet, Contemporary & more. 1pm & 6:30pm at Baycourt. Go to www.baycourt.co.nz for ticket info.
More on SunLive...