Japan trip an eye-opener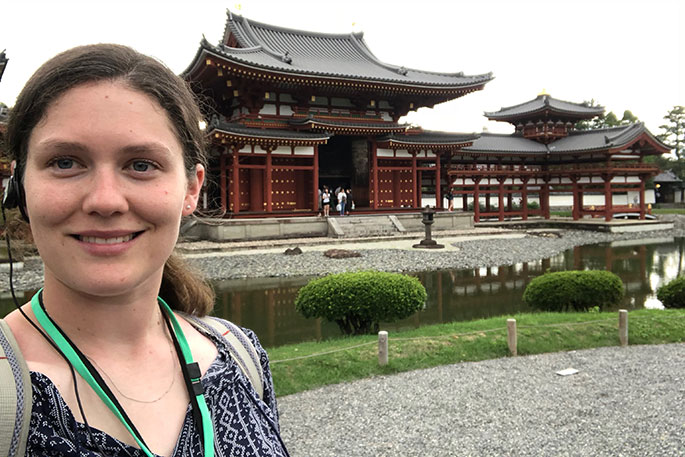 A month-long immersion in Japanese culture and heritage proved to be an eye-opening experience for Tauranga resident Eleanor Sturrock.
Eleanor, an archaeologist who works in the Heritage New Zealand Tauranga office, recently returned from a Group Training Course for Young Professionals on Cultural Heritage Protection in the Asia-Pacific Region.
The course involved heritage professionals from 16 different countries who took part in the programme which had the theme 'investigation, preservation and management of archaeological sites' at its centre.
"The Tauranga area is rich in archaeological features, as is the wider Bay of Plenty region, so the course was very relevant to the work that I do," she says.
"One of the course objectives was to further develop our technical skill sets and knowledge to help achieve better protection and preservation of cultural heritage. I now have a better idea of how heritage is perceived on a global scale, and more aware of the challenges faced in other countries, as well as steps that are being taken to mitigate or overcome these."
Organised by the Agency for Cultural Affairs Japan, the Asia-Pacific Cultural Centre for UNESCO, the International Centre for the Study of the Preservation and Restoration of Cultural Property and the National Research Institution for Cultural Properties, the course included lectures from experts, tours of museums, field trips to archaeological excavations and visits to a number of World Heritage Sites.
The course organisers covered the cost of accommodation and a daily allowance, while Heritage New Zealand paid for Eleanor's airfares.
"Besides visiting places of cultural importance in Nara, Osaka and Kyoto, one of the highlights of the trip was spending time with young professionals from across the Asia-Pacific region, and learning about their countries and share experiences. This really made the course unique," she says.
"I particularly enjoyed listening to the country report presentations by each participant, which highlighted some similarities in the issues we all face in our respective countries, and also the opportunity to understand cultural heritage in other settings. It was a great way to introduce ourselves – and our work – to the group.
"It was also good to attend the lectures by experts in different fields, and further develop technical skills like drawing artefacts and photography."
Once Eleanor got used to the humidity of a late Japanese summer – as well as the bikes, cars, trains, subways and buses associated with a population of 127 million – she fully enjoyed the experience, which was her first overseas trip travelling by herself.
More on SunLive...