A cruise ship trifecta for the Bay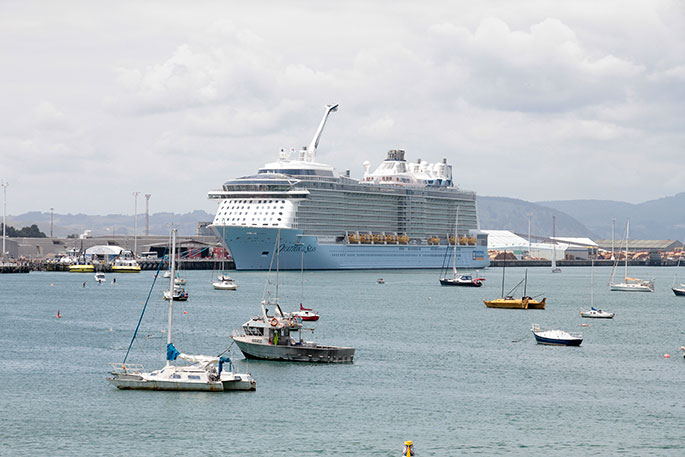 Three cruise ships will dock at the Port of Tauranga on Monday the 3rd of December for the busiest day of the season.
The occurrence is a first for the 2018-2019 cruise ship season in the Bay of Plenty.
Ovation of the Seas, Radiance of the Seas, and Caledonian Sky weigh a combined 262,956 tonnes and carry a combined 8,674 passengers and crew.
Ovation of the Seas is the largest ship to ever dock in Tauranga and New Zealand, measuring 348m. Only six ports in New Zealand can accommodate Ovation of the Seas due to her size.
Bay of Plenty locals will get the chance to connect with cruise ship passengers travelling onboard the three ships at a special event in Mount Maunganui on Monday.
Little Big Events is putting on a Picnic in the Park event to mark the significant occasion for the Bay of Plenty.
Tourism Bay of Plenty CEO Kristin Dunne says cruise ship passengers are vital to the economy.
"I'm delighted that Ovation of the Seas is coming to the Bay of Plenty seven times this season as it shows the continued reputation of Tauranga and the region as a favoured cruise destination."
"Cruise ship activity brings significant benefits to the Bay of Plenty including the $66m boost the economy received during the 2017-2018 season. More than 50 per cent of passengers stay in the local area.
"An estimated 25 per cent of cruise passengers return to a region as free independent travellers. The welcoming spirit of our locals ensures this experience remains world-class for our visitors so that they continue to return to the Bay."
Forecasts prepared for Tourism Bay of Plenty predict that the 2018-2019 cruise ship season will bring $91 million into the local economy.
This season is the Bay of Plenty's largest yet with 114 ships expected including nine overnight visits, 25 double ship days and two triple ship days.
The 114 ships will bring an estimated 326,628 passengers and crew to the region.
Ovation of the Seas is expected to dock in Tauranga at 5.15am with Radiance of the Seas expected shortly after at 5.45am, followed by Caledonian Sky at 7.00am.
Radiance of the Seas is expected to depart the Bay of Plenty first at 5.30pm, Ovation of the Seas should follow shortly after at 5.45pm, followed by Caledonian Sky at 6pm.
What: Picnic in the Park for locals and cruise ship passengers
Where: Coronation Park, Mount Maunganui
When: Monday, 3rd of December
Time: 9am – 2pm
Cost: Free
This is a one-off weather permitting event. Event details can be found on Facebook via this link: https://www.facebook.com/events/1763161230387785/.
More on SunLive...