Tahatai Coast students back from Korea trip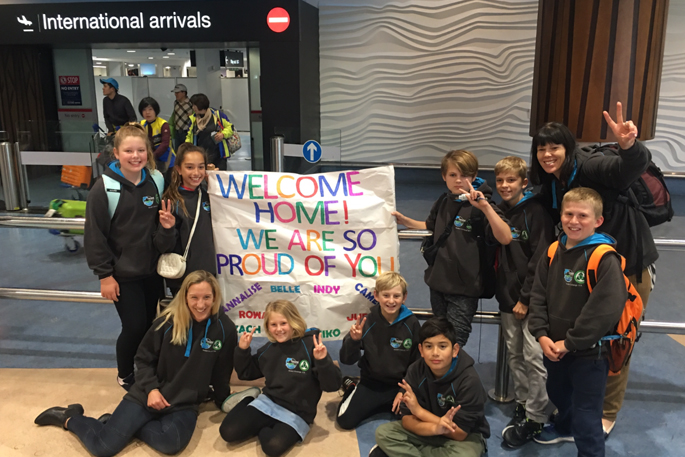 A couple of months ago, back in August, students at Tahatai Coast School were fundraising and getting ready for their sister school partnership with Supsok Elementary School in South Korea, located an hour out of Seoul.
Now, as of last Thursday, the students have landed back in New Zealand after spending 10 days in South Korea and are returning back to a normal school routine.
Earlier this month, the Korean students spent ten action-packed days with their New Zealand host families, climbing Mauao, visiting a marae, soaking in hot pools, and touring Rotorua.
After soaking up the Kiwi lifestyle and getting to know their Tahatai buddies and their host families, the Korean students returned home, and were joined by their Kiwi buddies five days later in Seoul.
Student Belle Rowe's highlight from the trip was getting dressed in tradition Korean clothing, called hanbok, and visiting a Korean folk village. Some of the students bought a hanbok as a special souvenir.
Meanwhile, student Zach Davie's inner daredevil was satisfied by visiting several amusement parks, including the mind-blowing Lotte Adventure World.
The students also visited Gyeongbok Palace and took the cable car up to Seoul Tower.
Trying new foods was also a big part of the experience. The Tahatai students were not used to eating this like octopus soup, kimchi or spicy noodles for lunch, or rice and fish for breakfast.
They became quite fond of some of the food like bibimbap, which is meat, vegetable and rice served separately that you mix together in a hot bowl with chopsticks.
However, it was the homestay experience that defined the trip for the students. The opportunity to live, play and attend school in South Korea is likely to leave a lasting impact on the Kiwi students.
The students found apartment living very different from typical Kiwi houses with room to kick a ball around. Some of the students stayed in apartments as high as 27 floors.
The exchange has seen many firm friendships emerge, and the students were teary as they said their goodbyes to each other in Seoul, with promises to keep in touch.
"It's been like a giant playdate across two countries," says student Niko Preston, who says he will really miss his host family and South Korea.
"Everyone was quite emotional when it came time to say goodbye," says Jude Barback, who accompanied the group as a parent helper.
"While the kids were looking forward to returning to New Zealand to see their families, they were sad to leave their new Korean friends and host families. It is neat to think that a such strong connection has been made through this process."
Tahatai Coast School's international student manager Rowan Barton, who also accompanied the students to South Korea, is delighted with the success of the inaugural exchange, as is Principal Matthew Skilton.
Rowan hopes the sister school partnership will complement the school's growing international student programme, which sees a number of Korean students attend Tahatai each year on a longer-term basis.
"The exchange will give domestic students a greater insight into Korean culture. It will help them to make more of a connection with visiting international students, making them feel accepted and included," says Rowan.
Based on the success of the first exchange, both schools are eager to keep the partnership going with plans already underway for next year.
More on SunLive...