Calls to prepare students for innovation era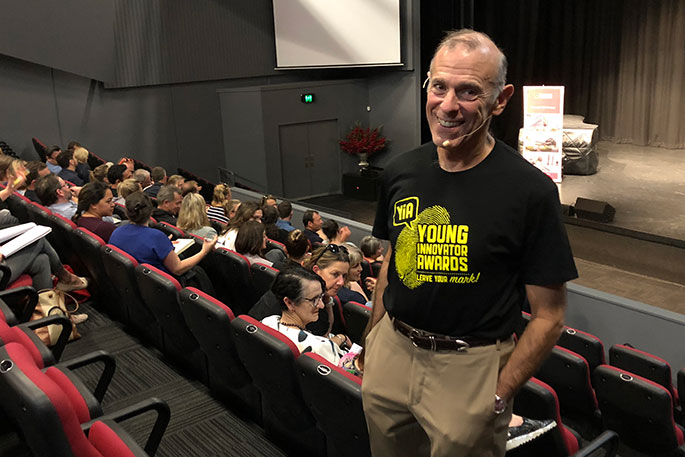 A sense of urgency is required to rethink how we prepare our young people to thrive in an era of innovation, according to an internationally renowned educationalist who was in Tauranga recently.
A guest of Priority One and the University of Waikato, Dr Tony Wagner is globally recognised for innovative teaching practices and was previously co-director of the Change Leadership Group at the Harvard Graduate School of Education.
"The creative problem-solving skills that businesses increasingly need in their people are not being taught in our education system, which was developed a century ago to produce a workforce for a world that no longer exists," says Tony.
"As a community, we need to foster and encourage creativity and initiative in young people to help them to navigate a world of constant change."
During his three day stay in Tauranga, Tony spoke to University of Waikato staff and postgraduate students on new ways of teaching and was the keynote speaker at an event at Whareroa Marae about rethinking education in a Māori context.
He talked with teachers and senior leaders from the sub-region's secondary schools on ways to help prepare young people for success in a world of rapid change.
This included how success is taught and measured in schools and the precedent that sets for the type of employees companies recruit.
The work required to prepare students for employment is much more complex than it used to be and this will continue to be the case into the future.
While we understand that the workplace will become increasingly automated Tony says we need to teach students to think creatively and develop the soft skills such as empathy – neither of which can be replicated by robots yet.
"We learn through trial and error and the ability to fail is key to innovation, yet our education system does not reward this way of thinking and working," says Nigel Tutt, Chief Executive of Priority One.
"We need to encourage curiosity and imagination in our young people to enable them to be creative problem solvers and the active citizens we need for the future."
Tony says in the modern world, knowledge is everywhere and is easily accessible. While content knowledge still matters, it's the soft skills such as collaboration, communication, critical thinking and creativity that matter more - and motivation that matters the most.
"The world now cares about what students can do with what they know, and this needs to be reflected in how we measure their success."
Priority One's Instep manager, Lyn Parlane, says Tony is passionate about changing the education pipeline so it works better for both the business community and students.
"It's about how leaders support the next generation of critical and creative thinkers and what is needed for the 'innovation economy' age. We need to adjust what we are doing and actively involve informed thinking around education and business."
Tony was impressed by the strong linkages between education and business that he experienced while he was in Tauranga and felt this provided a great opportunity to drive the change that is needed.
"Education, business and civic leaders need to advocate for change, helping people understand the urgent need for things to be done differently and the huge risk to our future workforce if no change is made."
"There are some outlier teachers that understand the need for change and are working collaboratively in our schools to create innovative programmes to facilitate this," says Lyn.
"These teachers need to be supported by parents, who are important influencers in the lives of students, who understand the need for change and can help drive this transformation."

More on SunLive...