Eli puts on show of potential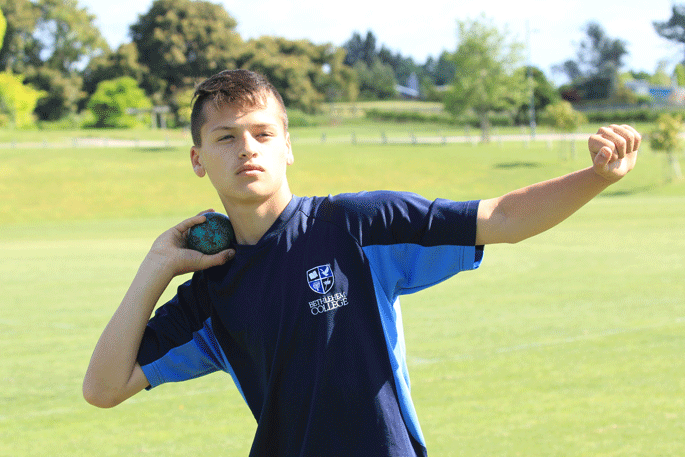 If you ask Eli Marsters where he sees his sporting future, he'd be hard-pressed to give you an answer.
Chances are, though, from the promise the Year 8 Bethlehem College student is showing, there'll be some prominence that comes with it.
First in the Bay of Plenty zone primary school athletics champs at Tauranga Domain in the 100, 200 and 300m sprints as well as the discus, and third in the shot put, setting new records along the way in the 300m and discus, suggest he's out of the ordinary in terms of sporting potential.
The performance followed on from the Bethlehem College champs where he took out all five events, with new records in the shot put, discus and 100m included - some of which had stood for four years.
There may well have been more eye-catching performances too, but a school rule limits Year 8s to five events. Long jump is another he's keen on, and it may well have brought him more success had he been allowed to enter.
It was one hell of a day, Eli says. He's starting to build up a bit of a following, and had plenty of support from his schoolmates to help him through.
"It was long day too," he says. "Event after event. It was good because I had a lot of fans, but it was very nerve-wracking."
Excelling at two field events as well as sprints takes some doing, and shows that versatility is one of his strengths. It is part of the philosophy he likes to live his sporting life by.
"I give everything a go," he says. "When you get stuck into a sport you can't do so much after that, so it's just finding out what you're best at."
In Eli's case, as good as he is in athletics, he's also drawn in other directions entirely.
Basketball is another sport he's enjoyed, reaching rep level, but he's already had to let that one slide to fit in other pursuits, generally involving an oval ball.
He's just been named in the Bay of Plenty Under-14 Boys Elite touch squad, and training for that, along with his athletics, is keeping him well occupied.
Then there's rugby of the full-contact variety, which looks like it may turn into his first sporting love.
It's one of the reasons he's moving from Bethlehem College to Tauranga Boys' College next year, where he can hook up with almost his entire Rangataua Under-13 team which won their competition this year. It's a sport he feels he can express himself in, and put the skills he's picked up from athletics to good use.
"I really enjoy rugby," he says. "Sevens sounds fun to me.
"Athletics helps me with my sport. Shotput will help with my tackling, and the sprinting will help with my running."
Whether he's picked it up from his athletics, or was born with it, there's a mental edge to Eli too - rare for a 13-year-old - which propels him to the front in his school events and should serve him well as he reaches later years and higher levels.
"I just like to pick someone and catch up," he says, "and then pick another person and catch up.
"I think of a goal and I want to complete it - I'm just really competitive. I don't really like the feeling of losing."
And if he could choose to enter any event at the Olympic Games? "The 200 metres," he says. Just as long as it's not on the same day as the sevens tournament. That would be one hell of a day, even by Eli's standards.
More on SunLive...