Two men, one mind, telling the Battle of Gate Pā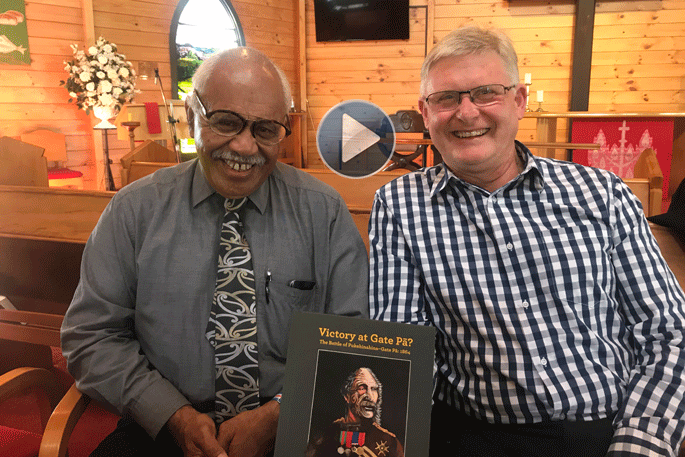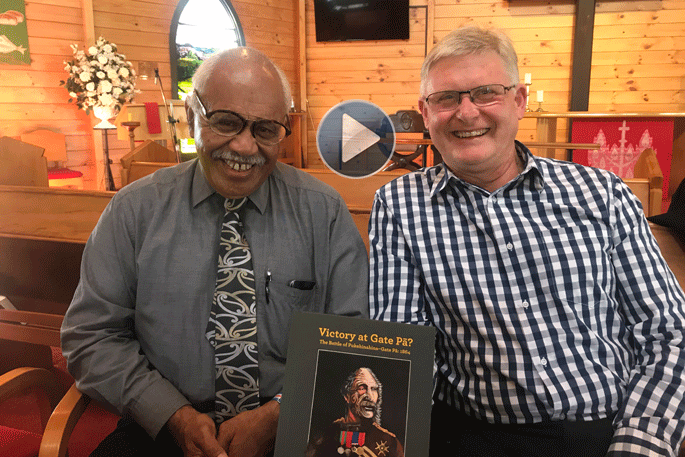 Click the image above to watch the video
Buddy Mikaere and Cliff Simons launched their newly published book 'Victory at Gate Pā?' at St George's Church at Gate Pā on Thursday night.
On 29 April 1864 just over 200 Māori faced a force of about 1,700 Pakeha on the outskirts of the fledging town of Tauranga. Both sides fully intended to destroy each other. But the fight that followed - the Battle of Pukehinahina or Gate Pā - is largely remembered for being one of the worst reverses suffered by an Imperial force at the hands of 'natives' in the history of the British Empire.
Buddy and Cliff's book 'Victory at Gate Pā? The battle of Pukehinahina – Gate Pā 1864'is the first account of its kind where the Battle of Gate Pā is expertly examined and written about from both perspectives of Māori and Pakeha.
Māori elder and noted published author Buddy Mikaere and NZ Army officer and military historian Cliff Simons look at the historical background to the battle, the battle itself and the subsequent Battle of Te Ranga, and the aftermath that saw 50,000 acres of prime land confiscated and a people driven into poverty and despair.
The Battle of Gate Pā was a defining moment in NZ history that had repercussions for Māori landownership and the notion of sovereignty.
The wooden walls of St George's Church, which is located on the site of the battle, resonated with singing from the Ngati Ranginui kapa haka group, as many friends, colleagues and family members of Buddy's and Cliff's gathered to celebrate the book launch.
Peri Kohu of Ngai Tamarawaho gave a mihi whakatau and karakia. This was followed by a welcome from Rev John Hebenton, the vicar at St George's Gate Pā.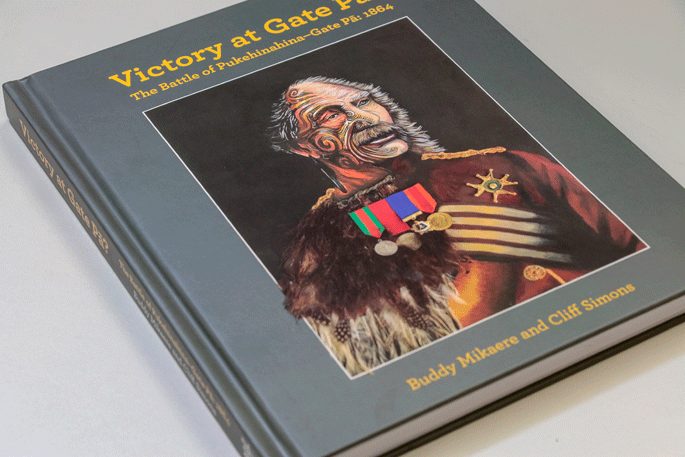 Victory at Gate Pā? book by Cliff Simons and Buddy Mikaere.
"It's a privilege to welcome you all on this very important night," says John. "St George's sits on the site of the Battle of Pukehinahina and we are very aware that we sit on this battle site and the responsibility that carries with it to hold and tell the story.
"We do that to the best of our abilities, and we do that knowing in many ways that it's not our story to tell. But we need to honour what happened here. And we need to honour the effect of how that has shaped the story of our city, and how it continues to shape the story of our city."
David Brash, the country manager for New Holland Publications spoke of how the company is the 'gate keeper' of the book.
"I stand here on this site among friends and in this place of worship," says David, "and I cannot comprehend what happened on that day 154 years ago.
"The history of Gate Pā needs to be said, and I think it has been said perfectly. I'm a passionate amateur historian and Australian, and have lived in New Zealand for thirty years. I was well aware of Gate Pā, and when my children were growing up, we made sure that we took them to Tauranga.
"Yes I knew about the battle. One of the things that we don't understand is why. Why did the battle occur? In a way this is where Victory at Gate Pā? – the book, is so different. It's incredibly informative, and exceptionally well-researched. We're a non-fiction company and everything has to be fact. No fiction, no emotion just fact."
David expects that the book will be short-listed as an entry for the NZ Book Awards.
"As we go through life I think we have epiphany moments and the one that's appropriate for this occasion happened to me when I was 13 years old," says Buddy. "I went to Lichfield Primary School in Putaruru and one year the school decided they'd have a visit to Tauranga.
"As part of that visit they were to come here and learn about the Battle of Gate Pā. Dad said 'well we come from Tauranga so there's no need for you to go'.
So I didn't go. When they came back they decided to have a recreation of the battle on the football field. Lots of kids made costumes – they were the soldiers. And all the Maori boys they said 'alright you're going to be the warriors.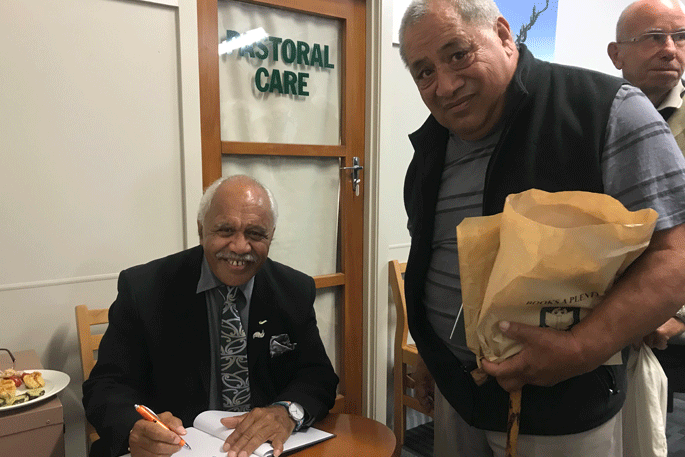 Buddy Mikaere with Pahu Akuhata who is a descendent of Henare Taratoa.
Go to the wood shed, get all the wood out and make a pa down at the 25'. So we did that. The teacher then said to us 'ok when the time comes, you all have to die bravely'. So when the time came we all died bravely and as dramatic as we could, flopped over the wooden piles. And that was that.
"Later on when we moved to Tauranga and I went to high school, we found out, no that's not how it actually happened at all," says Buddy. "And that was my epiphany moment. And that's the time I took an interest in the Battle of Gate Pā, and it's been with me all my life."
Buddy's biography of the South Island prophet Hipa Te Maiharoa was a finalist in the New Zealand book awards. Buddy is a former director of the Waitangi Tribunal and was responsible for the biggest NZ history research programme ever undertaken in this country.
This book is particularly pertinent to Buddy as he is a direct descendant of many of those who fought on the Māori side at Pukehinahina in 1864.
Cliff is a Lieutenant Colonel and the Director of the New Zealand Wars Study Centre at the New Zealand Command and Staff College. He has a PhD in Defence and Strategic Studies and specialises in researching and teaching about New Zealand colonial wars.
After the closing karakia by John Hebenton, there was a 'meet the authors' time in the church lounge, where Buddy and Cliff autographed copies of the books.
Henare Taratoa's great-great-grandson Pahu Akuhata was one of those who bought a copy. Henare Taratoa was a leader of Ngai Te Rangi, was present at the Battle of Gate Pā and was killed in the Battle of Te Ranga.
The wounded British troops left behind after the retreat at the Battle of Gate Pā were treated with consideration and courtesy. It is recorded that Taratoa narrowly escaped being shot by soldiers to whose wounded colonel he was carrying a calabash of fresh, cold water.
Victory at Gate Pā? includes 50 historical photographs and extracts from the people that were there, as well as letters, diary extracts, journals and memoirs, making Victory at Gate Pa? essential reading.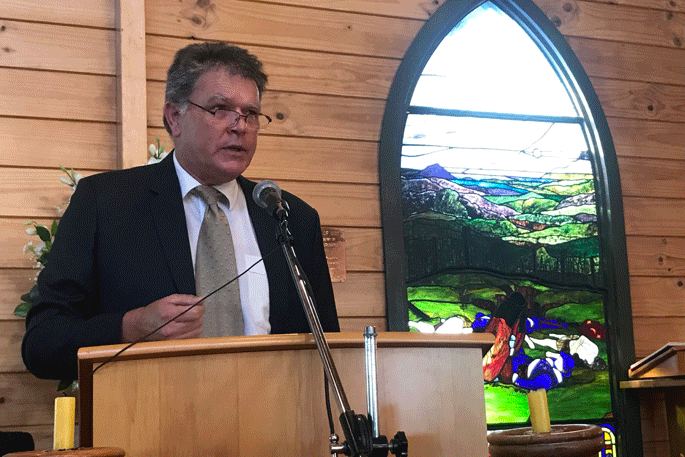 David Brash, country manager for New Holland Publications.
More on SunLive...