Striking midwives promising 'maximum disruption'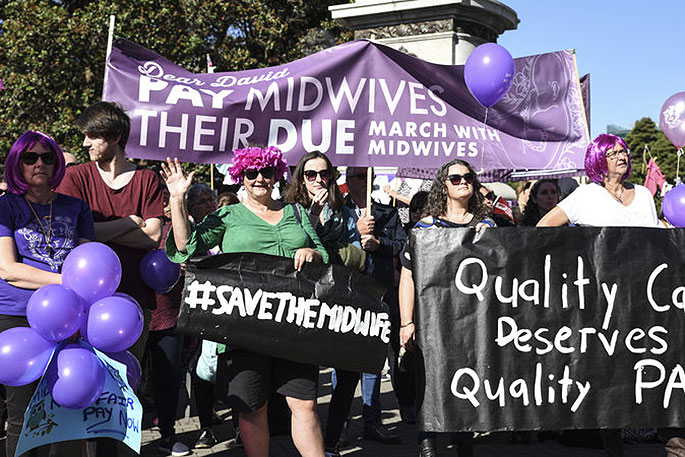 Hundreds of midwives are going on strike today, promising "maximum disruption" for District Health Boards while not putting women and babies at risk.
Union members on duty will stop work for two hours at 11am and then again at 9pm.
Midwives Union spokesperson Jill Ovens says the industrial action would continue twice a day for two weeks across various shifts.
"The idea of strike action is to cause disruption, but we don't want to cause disruption to women and their babies. That's why we're doing just two-hour strikes."
Workers would remain at the hospital but would not perform all their usual tasks during each two-hour period, says Jill.
"They won't be answering call bells unless people have an emergency.
"Sometimes people push their call bell because they want their jug of water filled. They most certainly won't be doing that sort of thing."
The midwives would step in if there were "life-preserving situations", such as a woman giving birth, she says.
"Somebody who is in labour will be looked after for two hours after the birth."
The action would be enormously disruptive for DHBs, she says.
"Almost all the employed midwives in DHBs around the country belong to the Midwives Union ... it's been a huge logistical nightmare for the DHBs' management and that's the idea."
Jill says midwives wanted to negotiate their own pay and conditions rather than being expected to accept the same agreement as the Nurses' Organisation.
"They are different professions. We're not saying there's anything wrong with the nursing profession. It's an honourable profession in its own right, but they're not the same.
"No one would question it if you said, 'oh well, physiotherapists or occupational therapists or doctors should have the own pay scales that reflect the qualifications and skills'.
"And yet why are we questioning why midwives can't have that as well?"
The DHBs could not be reached for comment last night.
More on SunLive...