The Long Lunch wraps up festival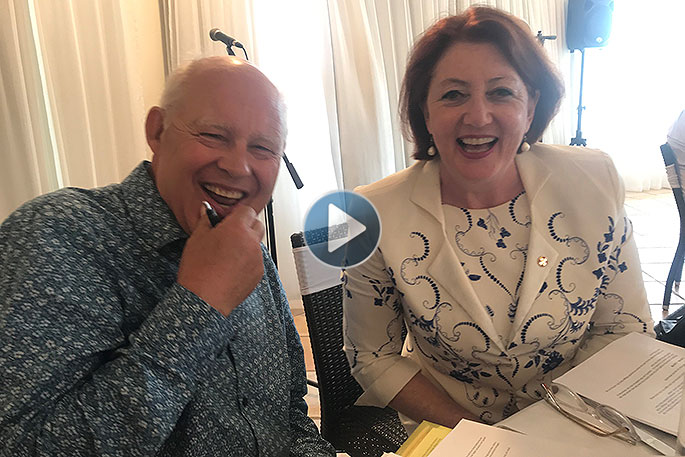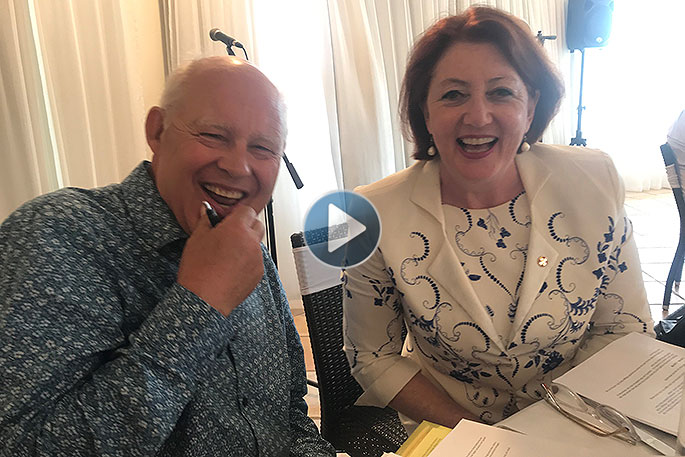 Click the image above to watch the video
The queen of garden shows herself, the Hon. Maggie Barry, hosted The Long Lunch.
Held on the fourth and final day of the Bay of Plenty Garden and Art Festival, at Mills Reef Winery, The Long Lunch has been an enjoyable and relaxed afternoon celebration.
On arriving in Tauranga Sunday morning, Maggie was taken on a tour of some of the gardens open for the trail by chair of the Garden and Art Festival Nikki Burley, accompanied by Natalie Bridges.
Wonderfully gracious, with a finely-tuned sense of humour, Maggie was then joined by her good friend and special guest Ruud Kleinpaste, otherwise known as 'The Bug Man'.
"I always have a lot of banter with Maggie," says Ruud. "It's a lot of good fun."
Ruud, accompanied by his wife Julie, also brought along 'George', his weta which climbed over his face and out of his mouth.
Currently National MP for the North Shore and National spokesperson for Seniors, Veterans and Associate Health portfolios, Maggie brought along a 'Maggie Barry Hybrid Tea Rose' - a rose named after her - to give away at the three-course meal.
"We are very excited to welcome Maggie as our host at the Long Lunch," says festival event coordinator Rose Webb.
"It has been a fun afternoon, celebrating the last day of the Garden and Art Festival, with plenty of delicious food, great company and entertainment."
Before entering politics, Maggie had a 30-year media career as a news presenter and interviewer in radio, television and print.
She spoke at the lunch about her wedding and honeymoon, where her husband, inspired by a blue themed garden they visited decided to transform their own garden into a a blue garden.
She also gave tips on how to turn hydrangea flowers from white or pink, into flowering blue by changing the soil acidity.
Maggie worked in radio in Taupo and Palmerston North before returning home to Wellington and producing a current affairs round-up for Radio New Zealand's commercial network.
In 1986 she became the youngest host of RNZ's Morning Report and the first woman to hold the position, working opposite Geoff Robinson. After three-and-a-half years in that role, Maggie moved to host 'Nine to Noon' on RNZ National.
In 1992 she moved to television, hosting what became 'Maggie's Garden Show' – a role that would last 12 years – a top ten hit with an audience of 600,000 viewers a week. During that time, Maggie also hosted a midevening news show called 'Primetime', and read TV One news.
Maggie has written and presented several TV documentaries, including three Heartland specials, and documentaries including 'The History of the Rose in New Zealand' and 'The Kiwi Bach'.
By 1996 she was voted Woman Personality of the Year by The Listener, was a regular in the Most Trusted New Zealanders Annual Survey, opened the Ellerslie Flower Show, had a rose named for her, and established a successful business for 20 years hosting overseas garden tours. She has published several gardening books, and was appointed to the NZ Order of Merit for her services to broadcasting in the 1996 Queen's Birthday Honours.
She was the Minister for Conservation, Seniors, and Arts, Culture and Heritage in the fifth National government.
At the sold-out event, guests were also entertained by ex-Riverdance singer Caitriona Fallon.
More on SunLive...