More than 50 years of storytelling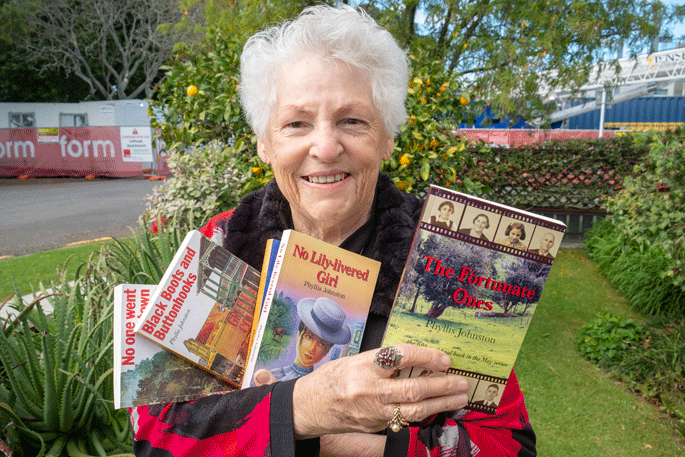 Phyllis Johnston grew up in a family where stories were as valuable as money.
As a young girl she would sit down with her parents while they took turns retelling vivid memories from their past.
The Tauranga author, who was one of nine children, says she was often mesmerised by their stories of hardship, fun and adventure as New Zealand pioneers, and felt like every child should hear them.
"My father would quote 19th century poetry and my parents, no matter how busy they were working, scrubbing or milking cows, would always tell us a little story," says Phyllis.
"I realised I was hearing something valuable, but I didn't have any idea that I would do anything about it."
She also found she had a love of reading, which evolved from storytelling. She remembers a big wicker hamper coming into her country school full to the brim with children's books.
"I had never seen a library," she says, "so I feasted on them and read and read and read.
"I remember my teacher growling at me because I had read them all and I was going in for the second time, but I couldn't stop."
There was one particular book, however, titled Caddie Woodlawn by Carol Ryrie Brink, which stood out from the rest. It was about a girl growing up in America during the civil war.
"I was living through the Second World War, so this struck a chord with me. It was about dealing with rations and the depression as well as similar family dynamics."
In her 30s, Phyllis started writing what would become the May series, based on her mother May and their family.
Now 83-years-old, Phyllis has released her last book of the May series, The Fortunate Ones, after No One Went to Town, Black Boots and Buttonhooks, A Comet in the Sky and No Lily-livered Girl.
With it comes an end of a lifetime of family stories - something Phyllis felt might never come when her eyesight started to fail.
"I have fulfilled a task I hadn't originally known about," she says. "I tried to write one book but, 50 years later, I've written a whole series."
"I feel completely satisfied and fulfilled."
More on SunLive...