Ōtūmoetai Pā through children's eyes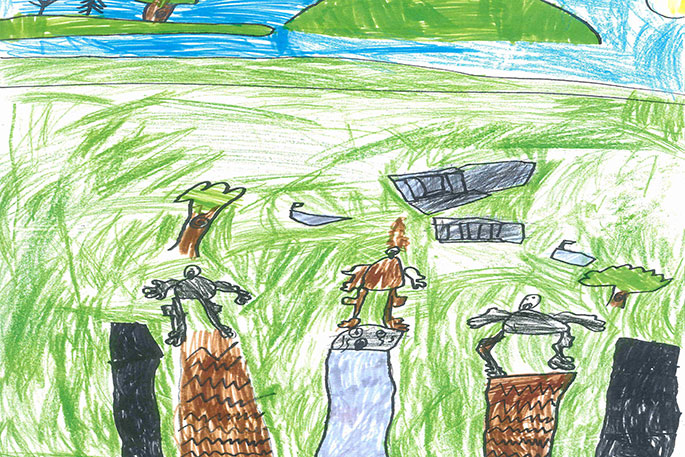 A Tauranga school is celebrating the archaeological heritage of Ōtūmoetai Pā through art in a display which opens at the Children's Section of Tauranga City Library today.
Entitled 'Ōtūmoetai Pā through Children's Eyes', the display was inspired by a recent trip to the Ōtūmoetai Pā Historic Reserve, where Matua School students took part in a Mihi Whakatau [Welcome] as part of its Taha Maori Week.
The gathering provided an opportunity for the students to hear legends and some of the history of the Pā, as well as Mauao, Matakana and the harbour itself.
"Matua School is located next to Ōtūmoetai Pā, and the students feel very fortunate to have such a special place with great historical significance on its doorstep," says Rachel Darmody, Heritage New Zealand Pouhere Taonga's Lower Northern Senior Archaeologist who is helping to coordinate the display.
"The children were inspired by the place and the stories that they heard, and this is reflected in the artwork and text of the Year 2 students that will be on display, along with a number of archaeological artefacts relating to Ōtūmoetai Pā."
Once a heavily fortified settlement, Ōtūmoetai Pā came under fierce attack throughout the 1820s and 1830s by Northern tribes armed with muskets – but its strong defences held and it was never taken. It was also the site where local rangatira rejected the Treaty of Waitangi in 1840.
Prior to the establishment of Tauranga, Ōtūmoetai Pā was once known as the capital of the district and continued to play a significant role in the history of the area.
'Ōtūmoetai Pā through Children's Eyes' is a joint initiative between Tauranga City Council, Heritage New Zealand Pouhere Taonga and Matua School. The display opens on November 12 and runs through to November 23.
More on SunLive...