Cruise passengers to taste the Bay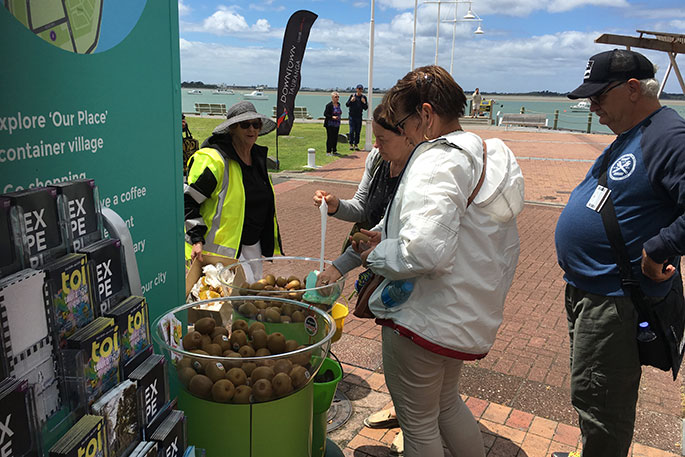 Cruise ship passengers will receive a taste of the Bay in a different way, following a new partnership between Downtown Tauranga and Zespri.
The pair have created what they say will be a city centre experience to remember.
As each Downtown Tauranga cruise ship shuttle bus arrives into the city centre, the Downtown Tauranga Ambassadors are greeting them on the waterfront with a delicious Green or Gold Kiwifruit to enjoy, supplied by Zespri.
Downtown Tauranga spokesperson Millie Newitt says the initiative launched this week and the tourists are loving it.
"This is just one of several new initiatives we are launching this season to deliver unique and memorable experiences to our cruise ship passengers when they come to the city centre.
"The response when we launched on Monday was amazing. The tourists got a lovely surprise and who wouldn't enjoy a delicious and healthy kiwifruit to start their city centre journey of discovery."
Zespri Tours and Events Manager, Wendy Taylor, says the initiative is a great way of introducing tourists to the delicious taste of Zespri Kiwifruit.
"We want to encourage as many people as possible across the world to make life delicious by eating Zespri Kiwifruit and we look forward to sharing our Green and Gold kiwifruit with more visitors as the cruise ship season continues," says Wendy.
Millie says the Downtown Tauranga team was absolutely delighted with the willingness of Zespri to partner on the initiative.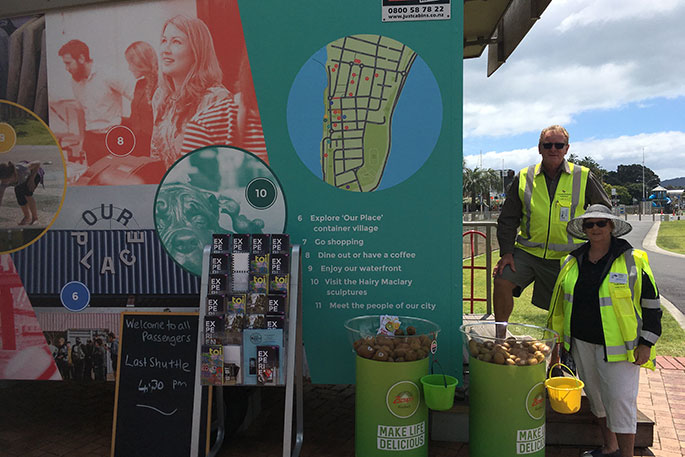 "We wanted to give our tourists a real sense of the Bay in a very tactile way. When we approached Zespri to discuss what we could do, we never expected such incredible generosity of spirit.
"They simply offered to have a kiwifruit on offer for each of our tourists as they arrived in the city centre. How wonderful is that. Zespri export across the globe and now our tourists get to taste our kiwifruit in the heart of the region they come from. That's pretty cool and a great initiative for our city centre."
The Downtown Tauranga cruise ship ambassadors greet the cruise ship passengers on the waterfront with some information about Zespri and the complimentary fruit.
Zespri and Downtown Tauranga are trialing the initiative throughout November and hope to continue throughout the cruise ship season.
The Downtown Tauranga cruise ship shuttle bus welcome cabin has also been sign-written with 10 of the best experiences to enjoy in downtown Tauranga to help cruise ship passengers make the most of their time in the city centre.
"We have additional tours and exclusive offerings that we are also launching this month," says Millie.
"It's about ensuring we package and offer a truly unique and memorable experience to visitors to our city. From the feedback we have had to date, from passengers, they have really been enjoying their time here."
The Downtown Tauranga Cruise Ship Shuttle Buses have ten more operating days scheduled this month and a full schedule through the rest of summer for the shuttle service to bring passengers into the city centre with the next cruise boat arriving this Friday.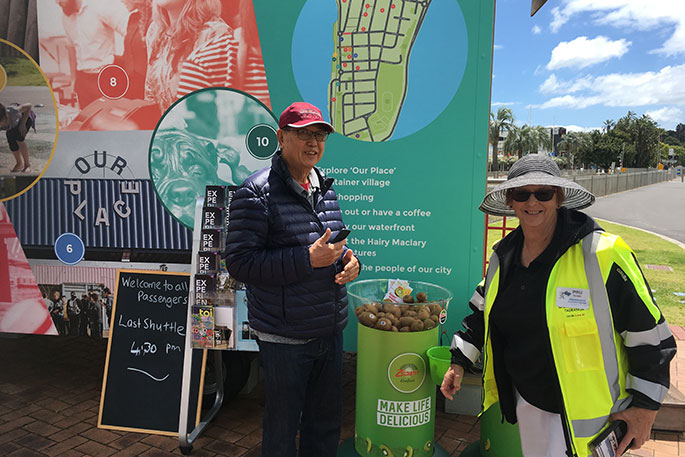 More on SunLive...