Family retell moment neighbour shot at their house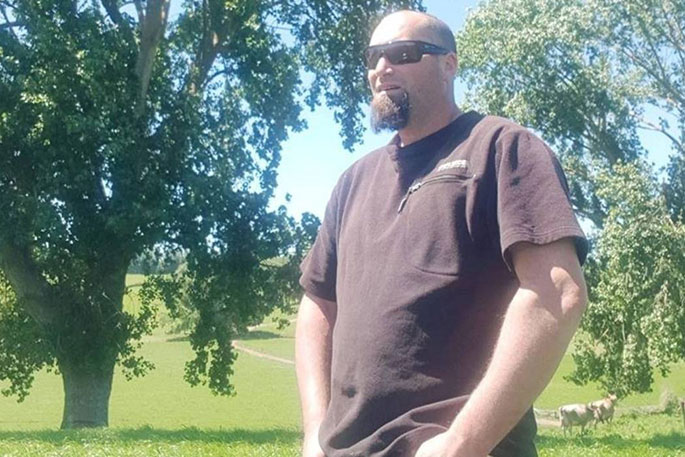 A terror-stricken family hid as their drunk and furious neighbour took pot shots at their home and car with a high-calibre rifle.
The incident in the tiny Hauraki Plains farming community of Kaihere prompted the scrambling of the Waikato Armed Offenders Squad to the scene, and left the victims of Dwayne Oswald Stubbings potentially permanently traumatised.
Stubbings, 38, was sentenced to nine months of home detention in the Hamilton District Court on Wednesday.
His charges include discharging a firearm - namely a .308 rifle - with reckless disregard for the safety of others, intentional damage resulting in danger to life, and commission of a crime with a firearm.
The April 12 incident was the culmination of a period of bad blood between Stubbings and his neighbours. Both families were both in the employ of a dairy management firm.
The origins of the dispute between them have been suppressed by the court.
At 5.30pm that day a mother and four children aged between 10 and 16 years old were at home in the Torehape Rd house that was to become the target for Stubbings' bullets.
Stubbings was out on the deck of his neighbouring home, and it was from there that he fired three rounds at the victims' house.
One of the rounds passed through an exterior wall of a semi-detached sleepout and lodged itself into the back of a TV set.
Another round hit a Ford Laser parked next to the house, smashing the rear windscreen and rear passenger window.
At this point the household being targeted still had no idea that someone was shooting at them. The father arrived home and he, his wife and the two youngest children hopped into his Ford Explorer with the intention of driving to Ngatea to get dinner.
As they reversed down their driveway, Stubbings fired a further three rounds at them. The penny dropped that their lives were in danger.
They drove the car back to where it was initially parked, turned it off and took cover in the foot wells, from where they called the police.
While they huddled in terror, the father accidentally pushed the brake pedal and the brake lights on the car lit up.
It was at that moment that Stubbings fired another shot at their property.
Not long after the squad arrived and safely shepherded the family out of the car and to safety.
Stubbings fled the scene. He later handed himself in at the Tauranga Police station.
In court on Wednesday, the mother of the family Stubbings shot at told of how they had to relocate and change jobs following the incident.
Her children were still jumpy whenever they heard loud noises and her 11-year-old son could not go to the toilet or shower alone out of fear.
She had been diagnosed with post-traumatic stress disorder.
"I struggle to sleep and to this day when I close my eyes I still hear the screams of my children that night.
"I am truly thankful I still have my children but feel that it is just sheer luck and truly believe Dwayne intended to kill ... and think it was only his drinking that made his aim off."
Stubbings had an explanation for his actions: He had been attempting to sight his rifle when he noticed some birds flying out of a drain.
However, he later told the police he "hated" the family and "I just wanted to scare them".
Stubbings is a registered firearms licence holder with a standard A category licence, and he is recorded as owning a .22 and a .308 rifle.
As the police subsequently discovered, two weeks before the incident he had told his boss that he was having thoughts of aiming his rifle at the family he was in dispute with and firing on them.
Prosecutor Nigel Wollander sought a custodial sentence for Stubbings.
"There needs to be a clear message made by the courts that they will not tolerate retribution or vigilant action in this manner."
Stubbings counsel David Venter said his client was not a violent man. He had admitted his actions had caused emotional harm and he was genuinely remorseful.
Judge Kim Saunders said she hoped Stubbings could imagine what he put his victims through with his actions, which were calculated and pre-meditated and fuelled by alcohol.
"There was a reason that explains your conduct. It does not excuse it."
From a start point of 24 months in jail, she deducted 25 per cent for his guilty plea, and then one month for his expressions of remorse, which brought the equation down to 17 months.
Stubbings had an appropriate address available, so she imposed a home detention sentence of nine months.
She also ordered he pay his victims $980 for the damage he had caused, as well as a further $3000 in emotional harm reparation.
More on SunLive...