World class result for flying Finn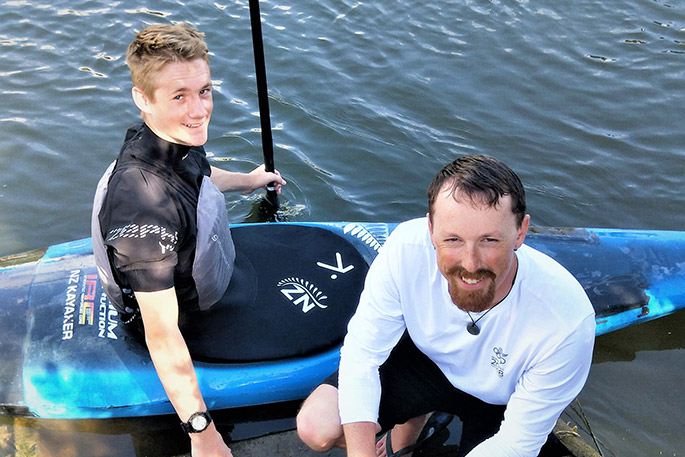 Finn Anderson has wanted to be an Olympic paddler since he first jumped into a kayak.
Now, that dream is a step closer for the 16-year-old after his stunning performance at the Youth Olympics in Buenos Aries this month, where he won a silver medal.
"For sure this has made the desire stronger," says Finn. "Obviously it was a little bit different than the actual Olympics, but that is definitely the goal."
He is part of the production line of national and international paddlers from Tauranga Boys' College, headed by Olympian Mike Dawson.
Finn was proud to finish second best in the world in his age group, behind the winning athlete from Mauritius who "was just too quick to catch", Finn says.
His silver was one of just four medals won by New Zealand.
He says it was a real honour to have the rest of the New Zealand team perform a haka for him and the women's gold medal-winning sevens team that included the Bay of Plenty's Tynealle Fitzgerald, Kiani Tahere and Mahina Paul.
"It was pretty good to win silver," he says. "The guy that came first has really picked up and improved a lot. Obviously I have done as well, so I was happy with my placing and how I raced."
It was only the second international competition Finn has competed at, with challenging high summer temperatures and a longer than usual course in Buenos Aries.
The biggest learnings Finn has taken from the Youth Olympics is how to handle the pressure and the level of perfectionism at Olympic-level racing.
The next major goal is to make the New Zealand slalom team going to the 2019 ICF World Slalom Championships, to be held in Spain.
The New Zealand canoe slalom team coach in Argentina, Matt McKnight, is also the Canoe Slalom BOP coach. He knows Finn well, both on-and-off the water.
"I am extremely satisfied with his silver," says Matt. "He went out there pretty strongly and we got an amazing result. He paddled to the best of his ability, he really gave it everything and it showed in his result."
The Youth Olympics is the latest in a string of high performance results for Finn over the last few years, and Matt says his young charge has been pushing hard for national selection.
"He made the development squad this year, and we are looking at this being the next stepping stone in making the junior team next year," he says.
"After that, we are not sure where he will go but hopefully the senior Olympics team. The world is kind of his oyster."
Two other Bay of Plenty paddlers performed with great distinction in Argentina.
George Snook, 15, from Okere Falls just missed out on a bronze medal in the K1 slalom, while 14-year-old Kahlia Cullwick, from Mount Maunganui College and the youngest member of the New Zealand team, secured a top-eight finish.
Other Tauranga athletes to compete with distinction at the Youth Olympics were rock climber Sarah Tetzlaff and windsurfers Max van der Zalm and Veerle ten Have.
More on SunLive...