Turning chicken coops into houses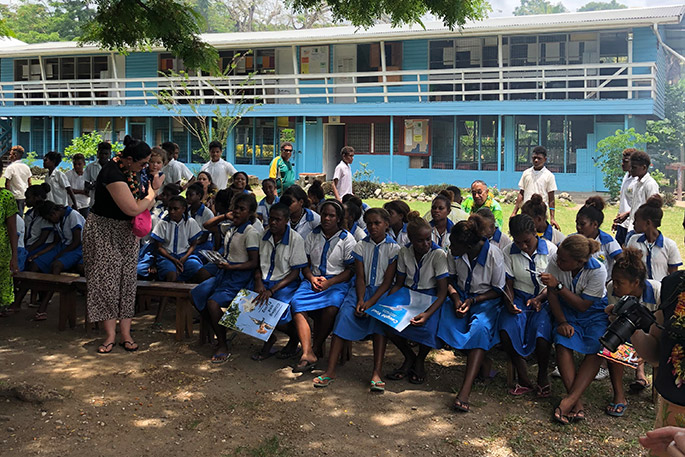 Today the Weekend Sun continues its journey through Melanesia with Tauranga Labour MP Jan Tinetti and a parliamentary delegation.
The delegation was looking at New Zealand aid to the region and, in particular, the Solomon Islands and Vanuatu.
It was an eye-opener for the MP – the power of New Zealand aid dollars and the impact of a simple row of dunnies and the water taps they bought.
"We were at a school just outside Honiara, where New Zealand aid had built a toilet block for the kids," says Jan. "They didn't have a toilet block and the kids used to get really, really sick."
The same aid dollars provided a hand sanitation washing unit – some taps. Not flash, but practical.
"Now the kids aren't getting sick," she adds. There's another positive spinoff. "The kids have gone home and taught extended families the benefit of washing their hands and sanitation, so whole families are staying healthy on the back of New Zealand investing in a toilet block."
Not so uplifting was the sight of kids just outside Port Vila in Vanuatu, being taught in tents. "UNICEF tents," says Jan. The tents were distributed after Cyclone Pam stormed through Vanuatu in 2015. Four years later, the schoolkids are still there.
"It's either really hot or it's raining hard, as it does in the tropics," she says. "They try to display the kids' work, but it just gets drenched, and they put tarpaulins over the tents to stop leaks."
The parliamentary delegation will discuss what New Zealand can do to help. "We have a connection with that particular school, so we will use some funds we have raised to help."
For those who might question the benefit of committing millions of aid dollars through Melanesia, Micronesia and Polynesia, Jan has some advice.
"I have now seen first-hand the work those dollars do," she says. "It's such a small component of our total aid budget, but it has a huge impact on changing and improving lives forever."
Like the RSE scheme – the recognised seasonal employer scheme which allows up to 11,000 workers from the region to be recruited for seasonal work in the horticulture and viticulture industries, to pick, pack or prune.
"We know from our end that we absolutely rely on those workers coming to New Zealand, and we think about how good that is for us," says Jan.
"But at the other end, I have seen that money putting kids through school, and after coming here year on year, some RSE workers can even afford to build their own homes."
She says those homes are as nice as a modest home in New Zealand. "Before that, they were living in something that is now their chicken coop.
"You could read about it, but seeing it first-hand is incredible."
More on SunLive...