Bold business plan to buy local post office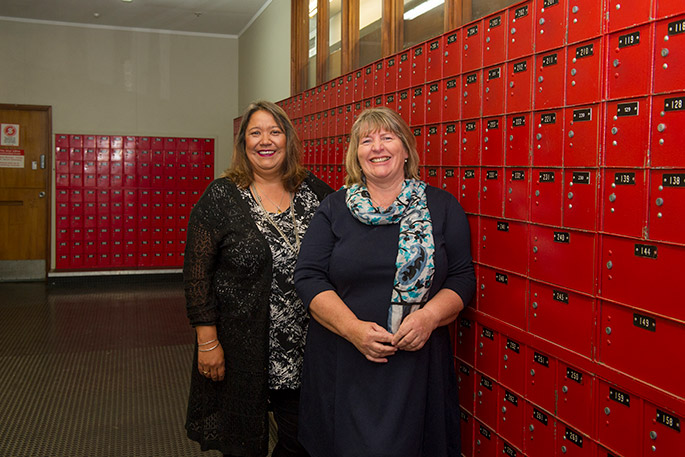 It has all the hallmarks of Victor Kiam – the amiable American entrepreneur who liked the Remington shaver so much he went out and bought the company.
When a consortium of Te Puke women learned the town's post office services were open for 'expressions of interest', they decided to make a pitch for "an essential piece of kit" in town.
They decided to do a Victor Kiam – like the post office, buy the post office – and they are calling on town's people, who they sense genuinely value the facility, to stump up a minimum of $50,000 to purchase NZ Post's postal and bill-pay services in Te Puke.
This week, the consortium started a crowd-funding campaign in order to seek up-front pledges. If and when the target is reached, they'll make the payment. That will be a test of the market, and so far, it's all positive.
"I had an 87-year-old ring me and tell me that a trip to the Post Office is her outing every fortnight," says Karen Summerhays, a leading light in the plan to save the facility. "She goes to the Post Office and people know her. It is where she pays all of her bills."
The 'services for sale' signs are the spoils of divorce. When Kiwibank and NZ Post split, the bank left town for the digital sphere and NZ Post put their services out to expressions of interest.
That's when some small town smarts – local enterprise and guile under the banner of the Te Puke Centre Working Group – sensed an opportunity.
Te Puke doesn't have a front door. There's nowhere for visitors, seasonal workers and even locals to go to access information or make connections. "At the moment, we really lack infrastructure to encourage or support people coming to our town," claims Karen.
For 18 months, the consortium has been investigating something called The Te Puke Centre – a state-of-art information centre armed with ultra-fast fibre broadband, a co-working space for community groups and an inviting space for people, agencies, organisations and tourism.
"For example," adds Karen, "there's no professional space in the kiwifruit capital for the kiwifruit industry to plug into for a day and 'do their business'. The consortium investigating the Te Puke Centre would provide do that."
The group of six women boasts a business consultant, a project manager and three community development specialists, all of whom are connected with the Te Puke community in various ways. They saw hope spring from the dissolution of a marriage.
"The crew decided it would be a good relationship between NZ Post services and what we were trying to achieve with the Te Puke Centre – a fabulous social enterprise where we buy the postal services in their current main street location, and commercial business supports and grows the charitable purposes of the Te Puke Centre in the other half of the same building."
It was a case of small town New Zealand helping itself.
"Neither the philanthropic trusts nor the government would buy us the business," she says. "That's understandable, and fair enough."
So the Te Puke Centre working group turned to its own. "It's up to the community to pledge, to say yes, and to say we want these NZ Post services as a community asset. It's an essential service. We want to keep it and we are willing to invest in it."
It is one thing to pledge, but it's another to stump up. However, the early indications are that Te Puke is willing. "If not, we will have to tell NZ Post that we don't have the social license," says Karen, "but we are really hoping that's unlikely."
While post may seem like a sunset industry, parcel traffic fueled by online shopping and post office boxes are a growth area.
"There are hundreds of post office boxes in Te Puke," she says. "Every business in the new Rangiuru Business Park will need a post box, and while there were good number of expressions of interest in the postal services in Te Puke, a very patient and understanding NZ Post wanted to work with us.
"We'll keep the services and put them on steroids, but we are realistic. The post office business will slowly decline and the Te Puke Centre will grow commensurately on the back of it. That's the plan."
The working group oozes local business acumen. A "highly successful" business consultant did the business plan.
"She didn't want to just do the plan, she wanted in on it," says Karen. The group is now aligned to social enterprise gurus, and Akina Foundation, PwC and Russell McVeagh are ensuring the trust deed and structure are fit for purpose.
"PwC has offered to review our business plan. It looks very strong at the moment, and it looks like it's going to work."
Information centres in many small towns can be dusty holes in the wall, manned by volunteers seated at opportunity shop furniture.
"Our vision is a state-of-the-art neutral space, non-denominational and apolitical - everything that everyone wants," says Karen.
"We have people working with the present landlord and architects for the best design, and we have done a lot of community engagement over the past 18 months. Those are the things that people have identified as the things they would like to see."
The group also sees little representation in the town of its broad cultural demographic. "There is little representation of the area's Maori heritage reflected in Te Puke, nor other ethnic groups. The town doesn't reflect who we are."
But the Te Puke Centre working group has the vision that the centre will tell those stories and highlight some cultural heritage.
NZ Post has previously worked with community groups to deliver their services, in places like Ngaruawahia and Franz Josef. "Nothing as big as our intended operation though," says Karen. "There are hoops to jump through, but NZ Post is just waiting for us to be successful. There is enormous community kudos for them from trying to make this work."
To help make the grand scheme work, visit: www.pledgeme.co.nz and search for 'Save the Te Puke Post Office'.
More on SunLive...