America's Cup boat builder launches Opotiki vessel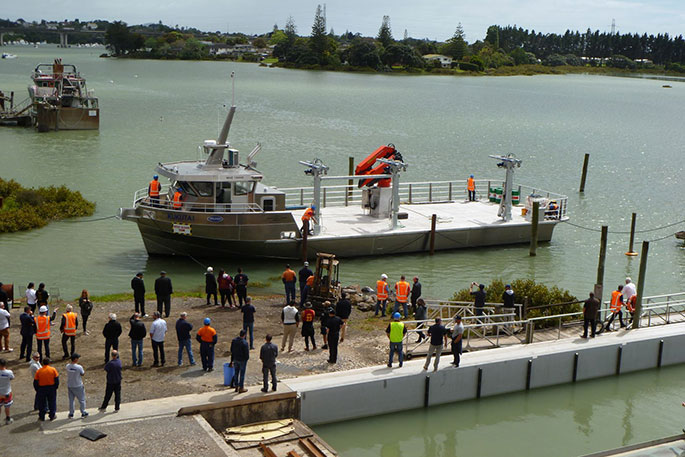 A little bit of America's Cup touched Opotiki with the launch of Kukutai, a new aquaculture vessel, purpose-built for the challenging conditions of an offshore Bay of Plenty mussel farm.
Auckland-based McMullen and Wing, acclaimed for its 50-year history spanning commercial vessels and award-winning yachts, including the victorious 1995 America's Cup boat NZL32 (Black Magic), has joined forces with a Bay of Plenty iwi and a local mussel farming company to build Kukutai.
Commissioned by Whakatōhea Mussels, New Zealand's largest offshore mussel farm, Kukutai was constructed with help from local Opotiki youth.
The Opotiki community were well represented at the Auckland launch celebration today.
The mussel farm is part of the Whakatōhea Maori Trust Board's long-term vision to create prosperity and sustainable employment for the region and its people.
As part of its partnership with Whakatōhea Mussels and the Whakatōhea Maori Trust Board, McMullen and Wing developed a trainee programme to give Opotiki school leavers a pathway into a life-long career.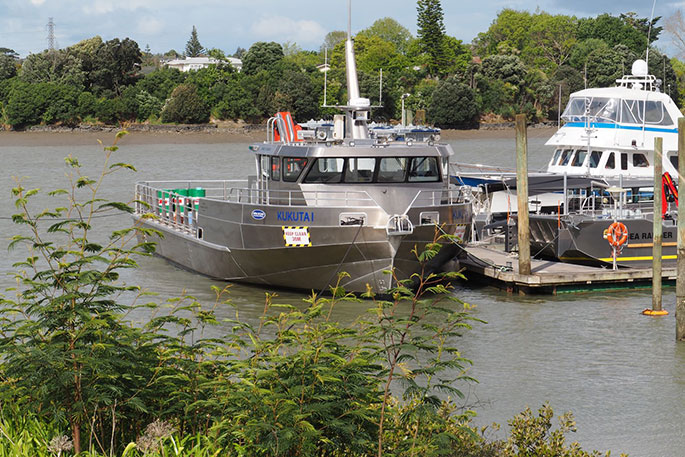 It took just over nine months of construction time for McMullen and Wing to build Kukutai. Standout features include: a high-stability platform specifically for the exposed open ocean location of the Opotiki mussel farm; comfortable interior conditions for farm workers; and a range of eco-focused features to minimise environmental impact and maximise end product quality.
McMullen & Wing CEO Michael Eaglen says that he wanted to help Whakatōhea Mussels' investment to deliver for the Opotiki community beyond simply building a great farming vessel.
"We wanted to play our part in maximising the social return of this project. We felt the best and most lasting way that we could contribute was to establish an employment programme that provides young people from Opotiki with skills that would set them up for life.
"Our trainee programme gives these young people a career pathway in a growing industry where demand for skilled workers is strong. I admire these young employees for their courage and dedication: leaving school and home, entering the workforce in a new city, learning new skills and working hard every day. I'm very proud of all of them and see a bright future here for them all."
The three young workers, all between the ages of 17 and 18, received training in metal work and construction skills which they were able to apply directly to the building of the marine farming vessel, that itself will directly benefit their own community.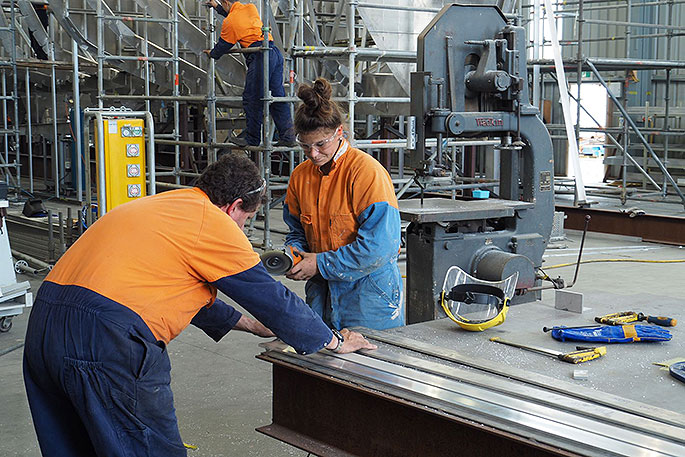 Trainee: Leah Wilson.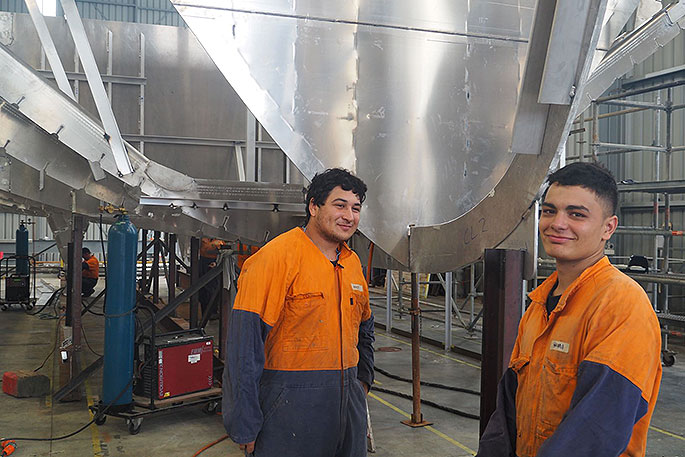 Trainees: Jayden Maxwell and Hamiora Kerr.
The launching on Monday was a source of well-earned pride for the trainees, their families and friends, making the first of many such milestones in their boat building careers.
That pride is fuelling fresh ambitions, with the three trainees now considering entering formal trade apprenticeships at McMullen & Wing, under the world-renowned system developed by NZ Marine & Composites ITO.
Whakatōhea Mussels Chief Executive Peter Vitasovich is grateful for McMullen and Wing's commitment to supporting their vision for the region.
"Employment options for our young people are limited in Opotiki," says Peter.
"We're working hard in the region to grow opportunities for our people and we are thrilled McMullen and Wing have this vision to use our project to help us expand the options even more broadly."
More on SunLive...