Tauranga sailors gear up for Tornado worlds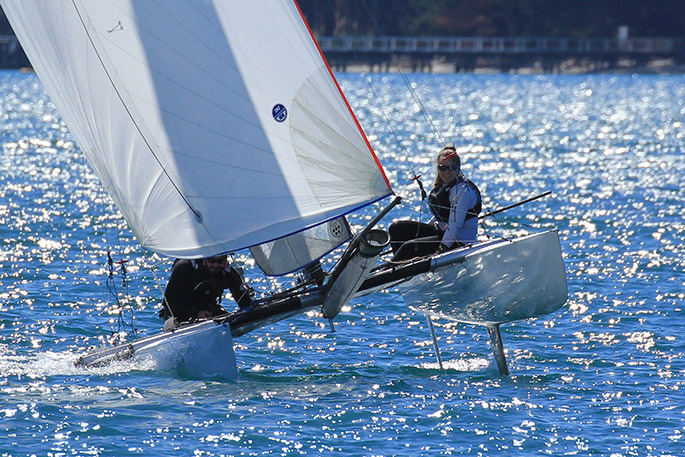 These days, there's a bit of an edge every time Tauranga's Winston Ordish-Benner and crew Elly Warren go sailing on his Tornado multihull, Arriba.
That's because they're working towards something special. In January, for just the third time ever, the world championships in the class are here in our own back yard, at Auckland's Takapuna Beach.
Winston and Elly are one of half-a-dozen Tauranga crews taking the rare chance to go for it, and they want to give it their best shot. It's a level neither of them have competed at before, and they're not entirely sure what to expect.
"We're just going to be doing the best we can, and seeing how high up we can get," says Elly, a youth national champion in the Lazer Radial class.
"Ideally, we'd like to get in the top-half of the fleet, which would be pretty good with the sailors that are coming from overseas. We've never really come across them before."
They don't race the Tornado at the Olympic Games anymore - they've been replaced by the younger and sexier Nacra class - so there's no chance of New Zealand ever repeating its golden moment in the spectacular multihulls at the 1984 Los Angeles games, courtesy of Rex Sellars and Chris Timms.
It's still a highly popular international class though, with its well-attended annual world championships. Most years they're staged in one exotic-sounding European location or another, meaning only the most well-healed Kiwi competitors can make it.
They only leave Europe once every four years, and when they come down-under, that generally means Australia. They first made it to our waters in 1980, then in 2008. So next year's event means that finally, a chance rolls around again for a good number of Kiwi Tornado adherents to be able to say they've been to the worlds.
Winston, who runs Tauranga's ProMarine Electrical, started out in Hobiecats, then moved up to the larger Tornado, because, quite simply, they're bigger and faster.
"Certainly the speed is exhilarating," he says, "and it means when you're going around a course the next mark is coming up quickly.
"You've got to think quicker and keep planning - like you do on a keeler, but on a keeler you get a lot more time to think about it."
After finishing Tauranga Girls' College last year, Elly moved on to study environmental science at Toi Ohomai. It's a subject that fits very well with her ambitions as a sailor, which has been her thing since around the age of six.
Over that time she's gained plenty of experience at national championship level.
"Ellie is a very accomplished Lazer Radial sailor," says Winston. "So basically, I nabbed her for the worlds."
January's Tornado World Championships at Takapuna Beach could be the start of bigger and better things.
After winning her national title last year, Elly felt it was time to move on. The Tornadoes caught her eye, she says, zooming around and doing circles around her.
"It took me a while to get in on the action," she says. "You have to wait for a spot to open up, and then jump on the opportunity. There's only two on a boat, so you've got to wait until one person leaves to jump on them."
She's enjoyed moving from the Lazer Radial, where she was on her own, to having a teammate on the Tornado.
"It's definitely good to bounce ideas off each other, and you've got two brains working instead of one," she says. "With two-person boats, you can get a lot more speed and you've got a lot more sails to use."
One change, however, has been a bit tricky to get used to.
"Learning how to steer out on the trapeze has been different," she admits.
As home to the largest Tornado fleet in the country, Tauranga will be providing a sizeable proportion of the local contenders. In addition to Winston and Elly, training partner Jason Mara will be there with his boat Relentless, and regular attendee Bill Caunce - New Zealand's sole representative at this year's champs in France where he finished 11th - will also be on the start line.
Winston says it's really hard to tell how he and other local contenders will go in January.
"The European guys will do well," he says. "Because of the greater numbers of competition, they're a lot more sharpened up. I know there's a few of us here, but I don't think we've had a protest in two or three years, so it's fairly good-natured.
"But this world champs, it's going to be a different story."
The overseas competitors are likely to have a bit of ruthlessness about them, which he accepts may well turn out to be the difference between them in the end.
"Yeah they'll really go for it, whereas we'll probably be a bit more inclined to stay out of trouble."
More on SunLive...