Surf clubs celebrate significant TECT funding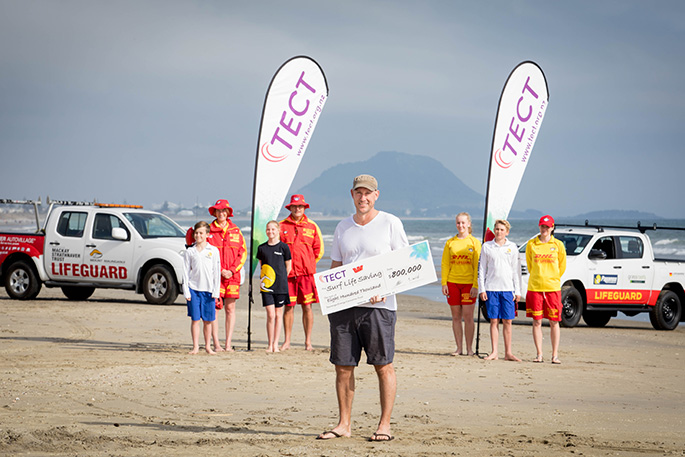 As far as TECT cheques go, this one will have long-reaching, lifesaving benefits.
The Tauranga Energy Consumers Trust has just announced an $800,000 contribution to both the Mount Maunganui and Papamoa surf clubs for the respective building projects, just as the new patrol season starts.
Mount Maunganui Lifeguard Service's new landmark building is in the final stages of construction and should be fully operational by February. With $300,000 coming in the latest announcement, it takes the total TECT contribution to $700,000, making the energy trust the largest single funder of the $3 million project.
The $500,000 for the Papamoa Surf Life Saving Club, meanwhile, virtually assures the club will be able to start its own replacement building in April, ready for the 2019-2020 patrol season.
TECT's contribution will be $900,000 of the $5.1 million facility, which will service an exploding local population in the eastern suburbs of Tauranga.
"TECT's announcement couldn't have come at a better time for us, as we kick into a major community fundraising drive before Christmas," says Papamoa Rescue Base Trust chairman Jim Pearson.
"We're so appreciative of TECT and the amazing work they do for the community and their ongoing support means we're right on track."
It means the Papamoa club is now sitting at around 70 percent of the total budget needed, with aims of getting to 90 percent by Christmas.
Mount Maunganui started its build with around 65 percent already raised, conscious of the need to get it started and mostly complete before this coming summer, and a major fundraising drive over winter has left with club with just $200,000 left to find.
"One of the things that impresses TECT was the way the two clubs are working together for the greater good, sharing knowledge and fundraising ideas," says TECT general manager Wayne Werder.
"We've got so many stunning beaches in our region, but with them comes a responsibility to ensure that people are safe in the water and our surf lifesaving clubs have provided an incredible service to our communities for many years."
"As the population continues to grow, we're confident these much needed facility upgrades will allow them to keep doing what they're doing for many years to come."
Both new clubs will provide world-class surf lifesaving facilities, with Papamoa's larger club also able to share space with community groups such as Lions, Papamoa Surf Casting, Girl Guides and Boy Scouts.
Papamoa's original 1990 building was originally built for 100 members, the club now has over 800.
The 89-year-old Mount Maunganui club's last building dated from 1978, and both structures suffered from the incredibly harsh ocean environment.
Mount Maunganui chairman Paul Manning says the fact that TECT represents 56,000 Trustpower customers in the Western Bay of Plenty make its total contribution even more poignant.
"TECT has a proud legacy of helping thoroughly worthy community projects and we're so grateful to be able to continue that legacy along our stunning coastline," says Paul.
"Our clubs are entirely volunteer-driven by people who love the beach and the ocean, and who want the Bay of Plenty public and visitors alike to share that enjoyment."
"This is a huge significant contribution to both clubs, one which will make a tangible difference."
More on SunLive...