A cardboard mural with a message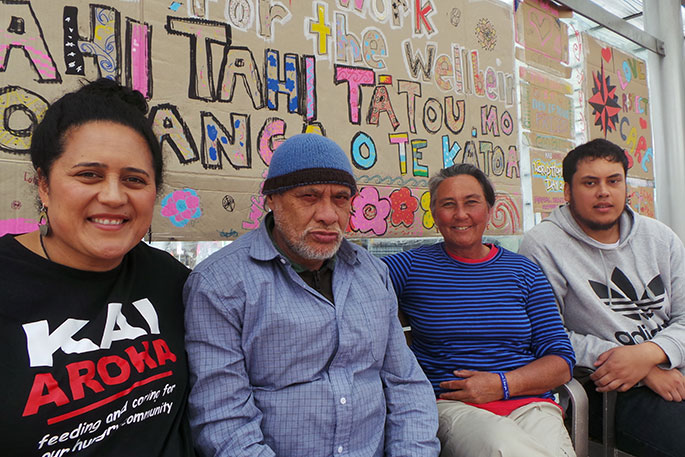 A cardboard mural spotted at the Willow Street bus stop this week, is sending an important message about homelessness and mental health to Tauranga residents.
The mural was created by community members at the launch of local celebrations for Mental Health Awareness week, held on Monday night.
World Homeless Day, which fell on October 10, was also celebrated on the night.
Kai Aroha founder Tania Lewis-Rickard says the event welcomed all members from the community to enjoy art, music, food and entertainment.
She says the event has been a collaboration between Kai Aroha and Street Kai.
"The HOT Pink walk had already been planned for Wednesday which also happened to fall on the same day as World Homeless Day. We didn't want to take anything away from that event, which is also a great cause, so we hosted our celebration a few days early.
"Monday was the day that Mental Health Awareness week officially launched and Street Kai's tri-weekly Milo Night was also running, so we meshed everything together and it ended up working out really well.
"We had young children joining in, older children and even adults. This is our visual expression of supporting and raising awareness for important issues."
She says it's the second time the mural has been running, but the message behind it remains the same.
"I'm an artist and an art teacher, and wanted to have the arts imbued in charity culture. We use this mural as a vehicle to raise awareness for 'World Homeless Day' and Mental Health Awareness.
"Our priority is sustaining the Friday night meals we do in Greerton but we also love to be involved in the community.
"That's why we've teamed up with Street Kai, who run Milo Nights in the CBD, to bring this all together.
"It's all about using the visual arts to instil hope into the community and raise awareness about homelessness and mental health not only in Tauranga but throughout the nation. These are issues that can affect anyone."
She says the mural has been well supported by neighbouring organisations including Our Place, Tauranga City Council, and Tauranga Art Gallery amongst others.
Tracey Carlton, who runs the Milo Night events, says Monday night's celebrations was all about people chilling, connecting and coming together to create a sense of 'oneness'.
"We had live music, art work and our beautiful people coming together sharing kai."
A new barbecue was also donated during the night, she says.
"It gives mana to our people, having good kai and good people around them like this. It's all about sharing and caring and we think it's a wonderful way to celebrate mental health awareness week."
One of Milo Night's official 'peeps', Tom, says the project is one that touches him on a personal level. He's been helping out, to keep an eye on the mural all week, and lending a hand where he can.
"We taped it all up on Monday and a lot of the posters have come down since then, so I've been keeping an eye on them and sticking them back up throughout the week."
Tom says he's no stranger to the Willow Street bus stop, as a self-proclaimed 'day-one' supporter of the tri-weekly Milo Night events at the stop.
He describes fellow Milo Night 'peeps' as being an interesting lot, and 'definitely different'.
"A lot of the guys who hang around here are homeless," says Tom.
"When Milo Night first started up there was a lot of aggression in this area and no one really knew what to do at the time because at the end of the day they're still people, but because of Milo Night they're starting to settle down around here.
"There's always second hand clothes and food on offer at this stop, which is great because a lot of the people who come along to Milo Night are living on the streets."
And most important of all, is the way the community groups such as Kai Aroha and Street Kai have always been around to lift him up when he needed it most.
"For about the past seven years it's been difficult for me just getting by, I had difficulty getting on the benefit but these guys always helped me out, they feed you and help you get on your feet.
"I'm not out on the street anymore, I've been living like that for about six to seven months," says Tom. "Just to have an address now, is great."
Tom says he too struggles with mental health.
"I'm on medication, and many of the other guys I meet out here are as well one way or the other.
"I've find a place I can go to get it now and as far as I know, I'll always be on it but I'm glad I have the help."
The mural will be on display at the Willow Street bus stop until Sunday October 14.
More on SunLive...