Mixed reactions over new bus route network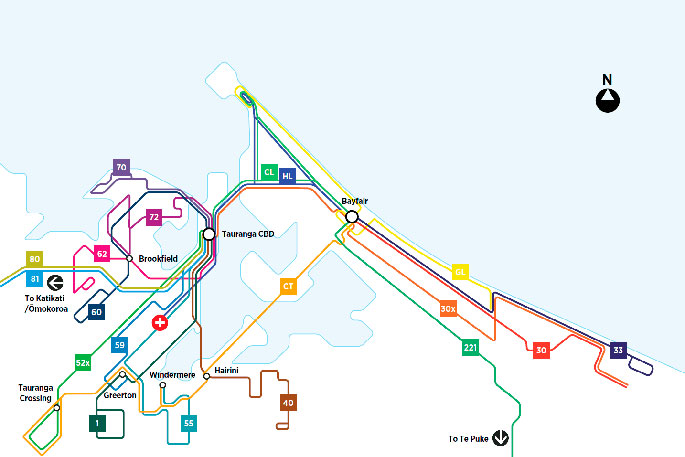 The Bay of Plenty Regional Council is expecting benefits not only for the elderly population, but the entire community, when a new bus route network begins on December 10.
"We expect at least a third of passengers will have shorter journey times as a result of routes being more direct," says Transport policy manager Garry Maloney.
"More frequent bus services will also enable people to travel closer to their desired travel times, so there will be additional 'total journey time' savings for bus users as well
"A lot of routes are very similar to today's, but some new routes have been introduced to address urban growth issues including the new CBD and hospital routes that leave every 15 minutes and the Golden Sands Express.
"This service will provide a much more direct route between Pāpāmoa, Bayfair and the CBD in peak hours and leaves every 30 minutes."
Garry says where transfers are required, council aims for the interchange time to be as short as possible and that passengers are transferring to buses that travel a direct route that offers travel time benefits over a service that would continue on a more circuitous route.
"It's worth noting that in many cases, a transfer will not actually mean changing buses, instead, the bus number will change.
"Some of the other changes include the addition of express services to growth areas; new features on buses, such as free Wi-Fi, bike racks and internal and external CCTV cameras."
He says the changes are the first of their kind since 2008, when Tauranga's public transport network was last redesigned.
"The new Blueprint looks to address a number of transport challenges that have emerged as a result of that growth.
"Some of these challenges include rapid population growth and associated traffic congestion, increasing demand and expectation for public transport services, the need for supporting infrastructure development and an increasing level of investment is required to deliver public transport."
He says the changes follow wide-spread public feedback, gathered from numerous engagements with the public and an intensive public opinion survey conducted in 2017.
"We are satisfied that we have listened to the requests and needs of Tauranga residents."
And while the new Blueprint may cater to most, he recognizes it may not suit all passengers.
"We want to reiterate our commitment to the public and are always happy to speak with individuals, we urge those with questions or concerns to get in touch with the team."
The new services will officially begin on December 10, and Garry says BOPRC remains in its early stages of announcing the new network.
"New timetables available online only include major stop information and there are numerous other stops between these time-stamped points.
"Our goal is to provide users with more and more detailed information leading up to the 10 December launch, including the updated Journey Planner tool.
"All of the additional information on the new routes will be launched in due course and should answer people's individual questions."
Until then, people can continue to access information about existing routes online at: baybus.co.nz
To view the new network, visit: www.baybus.co.nz/tauragna-western-bay/new-network-coming-10-december-2018/
More on SunLive...