Six Blackcaps to star for ND tomorrow at Bay Oval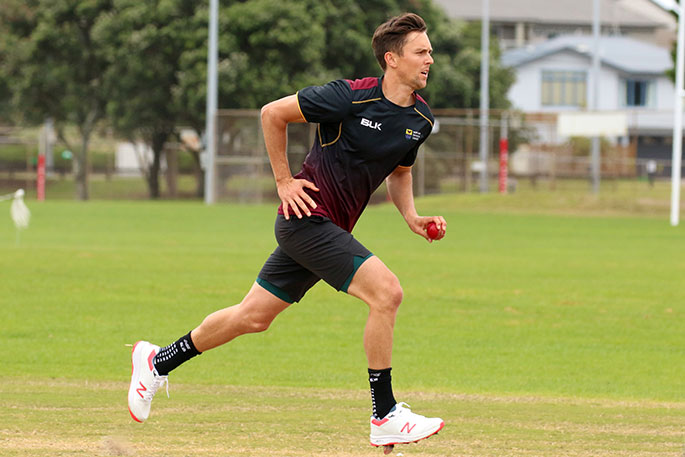 It's just the six international stars, but that'll do nicely thanks.
Northern Districts have named their Blackcaps-laden team for the domestic cricket season opener beginning tomorrow morning at the Bay Oval, with a glittering array of locally produced and recently-arrived talent, including Kane Williamson and Trent Boult.
The four-day Plunket Shield match against Otago begins at 10:30 tomorrow under what are forecast to be sunny skies.
Recent Bay migrants Colin de Grandhomme and Neil Wagner, on debut for ND, will line up alongside Williamson and Boult, with Ish Sodhi and BJ Watling completing the distinguished half-dozen, as newly installed Blackcaps coach Gary Stead wants match play for his team before they head off to take on Pakistan in the United Arab Emirates.
It's not often a domestic team gets to name a lineup of this quality, says ND Head Coach John Bracewell.
"It's a great opportunity for everyone to see most of our Blackcaps in the first game of the season," he says. "This is a very rare chance to see the country's best players in domestic cricket, and give the best of the rest a chance to measure and compare."
He had hoped as many as seven internationals might be available, but Tim Southee has been diagnosed with a right knee medial meniscus irritation so will sit this one out.
He may be back for the next match, John says.
"Tim was really keen to get back on the park for Northern Districts, but unfortunately he has run out of time to be fit for this first game. It's very much precautionary and we're hopeful he'll be back for next week's second round match against Canterbury."
Blackcaps skipper Kane Williamson says he's looking forward to turning out tomorrow for the side he debuted for in 2007 as a precocious 17 year old.
"It's great to be back in ND colours and with the guys as well that I've spent so much time with over the years. With the busy international schedule the amount of play for ND is limited so it's great to start the season with the boys."
He's keen to stress it's not just about getting match practice ahead of the busy international summer, he says.
"It's much more about how we want to play as a team. It can be a little bit disruptive at times when guys are coming and going but it's really important that each and every one of us that are going to be leaving for the Blackcaps just come in and do their bit for the side.
"At the end of the day the conditions will be very different from Abu Dhabi or Dubai, so when that comes the focus will change.
"Although we've got perhaps a strong team on paper we've seen before we had strong teams on paper and lost so it doesn't mean a lot unless you are looking to just play your bit for the team as best you can. So that's the focus for the group and we're looking forward to tomorrow."
Having spent time this year in India at the IPL and also with Yorkshire in the English county competitions Kane says it's reinvigorating to get back into the ND set up for a while.
"Yeah it's great. A lot of my best mates are in this side, we've played together for such a long time.
"It's a very good team culture, new leadership with John Bracewell there as coach as well which has been fun."
Throwing off the burdens of captaincy for a while and supporting ND skipper Daniel Flynn is something else he's looking forward to, he says.
"Daniel's done a great job with ND for a long time and it's always nice to come into the side and play whatever role that you're given, whether that's captaincy or doing something else and perhaps fielding in different positions, so it is enjoyable."
Having such a skilled and experienced lineup to lead is an experience Flynn says he's looking forward to.
"We're obviously fortunate to have these guys available for the first round, some of them for round two as well. It's a great way to start the campaign, they bring a lot of experience and skills so hopefully we can get off on the right foot.
"We don't get to see them too often so when we do we try to make the most of it. There's a lot of knowledge with some of these guys so we're trying to embrace that. We've got the wider squad in as much as we can to learn off them as well, so we're trying to make the most of it and hopefully they can go out and do the job for us."
He's not expecting an armchair ride all the way though.
"I'd like to think that but it's not always the case. You still obviously have got to ensure you're looking after the players and hopefully everyone's on song but first game of the season there might be a bit of rust there that we need to iron out."
An Otago side with a good deal less experience to call on will be looking to come at them hard and prove a point too, he believes.
"They've got some quality players in their lineup that we need to be wary of, and with an inexperienced side comes a factor of playing maybe without a bit of fear. So they're going to be dangerous there's no doubt about that. We've got to be on our game to make sure we get one over them."
Round one of the Plunket Shield starts at 10.30 tomorrow at the Bay Oval, and entry is free.
Northern Districts Team to Play Otago Volts:
Daniel Flynn (c) (Bay of Plenty)
James Baker (Hamilton)
Trent Boult (Bay of Plenty)
Dean Brownlie (Bay of Plenty)
Henry Cooper (Northland)
Colin De Grandhomme (Bay of Plenty)
Nick Kelly (Counties Manukau)
Daryl Mitchell (Hamilton)
Ish Sodhi (Counties Manukau)
Neil Wagner (Bay of Plenty)
BJ Watling (Hamilton)
Kane Williamson (Bay of Plenty)
More on SunLive...