What's on? Table tennis and gymnastics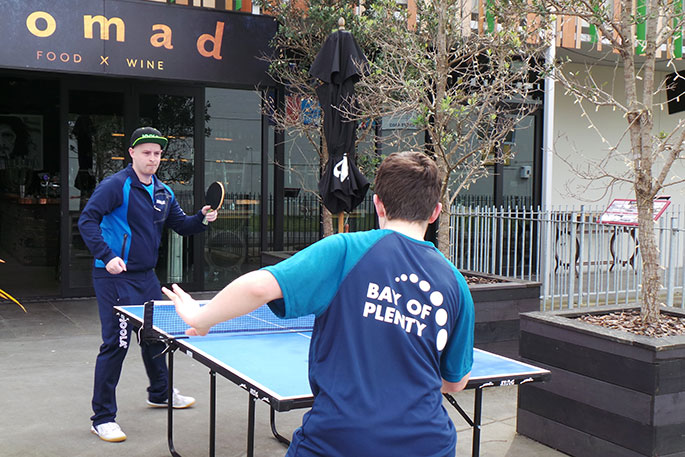 Good morning SunLive readers and welcome back to Saturday.
The weather keeps on warming up, with another weekend of (mostly) great weather on the cards for us here in the Bay.
There's fine weather throughout the day and a chance of some showers later on, the high is climbing up to 19°c with a low of 12°c overnight.
It's a great day to get out and about and catch some sporting events that you may not always have the chance to watch on any given day.
Kicking off at Queen Elizabeth Youth Centre is the Table Tennis New Zealand Open Championships.
To open the event is the junior teams, but don't be fooled while they may be young they still bring some tough game.
The event is running all week long from today, so if you can get out there make sure you support the teams.
And in other sporting events a crowd favourite comes to a close today at the 2018 NZ Gymnastics Championships.
The event has been held all week at ASB BayPark arena, and today is it's final day.
SunLive photographer Nikki South captured some of the action earlier this week, so if you can't head along, make sure you give those a browse.
Plus there's a bunch of other cool activities kicking off around the city, check them out below.
What's on?
A Common Thread
An exhibition of works in fibre, mixed media & metal. Oct 5-25 10am-3pm at The People's Gallery, Historic Village, 17th Ave, Tauranga.
---
Bay Network Social Club
50 Plus. Great people & awesome outings. Must have a sense of humor. Ph Jonathan 572 2091 or Maureen 021 112 3307
---
Beth-El Messianic Family
Celebrate Family Life with believers who meet & worship as Yeshua (Jesus) & all the early believers did. Shalom.10am Otumoetai Primary. www.BethEl.org.nz. Joel 021 768 043
---
Bible Society Hymn Fest
Oct 14th 2pm Salvation Army Citadel sing along with the Salvation army Choir. An offering will be taken up. Ph Harry 579 3967
---
Calling Lada Car owners
The Russian festival organisers are keen to have any Russian built Lada cars on display. Interested? 021 781 968
---
CAP Money Course Free
Commencing Thurs 7th Nov 7:30pm at Golden Sands Baptist Church Papamoa for 3 sessions. Bookings sylvia@moneycoaching.co.nz, 027 631 8524. Learn to manage money well.
---
Gate Pa Junior Tennis
Club days/times: Sat 9am: 5-7 yrs, 10am: 8-10 yrs Thurs- 4.30pm: Intermediate ages, 6pm: College ages. New members welcome. Racquets are available. Enquiries: Turu 022 031 7568
---
Jigsaw Puzzle Library
St Stephens invites you to join their library. Open 10-12 at Highmore Pl. Over 150 puzzles to choose from. Children's to 1000 pieces.
---
LOL Laughter Wellness
Release your D.O.S.E. (Dopamine, Oxytocin, Seratonin, Endorphins) of joy from your inner pharmacy. Arataki Community Centre, Zambuk Way, Mt Maunganui, 11-11:45am. Koha. Ph Trish 022 036 6768 Email lollaughterwellness@gmail.com
---
Mad Dogs & Englishman
Exhibition by Tauranga's Nick Eggleston. A culmination of a year's worth of painting & 3D work. 5th-24th Oct at The Incubator, Historic Village. www.theincubator.co.nz
---
Menz Shed Te Puke
86B No.3 Rd Te Puke. Come & join us at our shed Mon, Wed, Fri at 9am. Ph 573 8655 or 573 5971
---
Model Train Wreck Concert
Music by Model Train Wreck & Redwood Trail. The Incubator, Historic Village, Tauranga. 7pm. $10 entry.
---
Mount Maunganui Toy Library
Rent toys, keep your kids entertained. Find us on Facebook. 22 MacDonald St, Wed 9:30-12, Fri 11:30-2, Sat 9:30-12
---
Mount Music Club
2nd Sat in month. Mostly country. Good backing band. Mount Old Folks Hall, Midway, Mount
---
Music & Meditation
Music followed by short meditation to find inner peace. Free. All welcome. 4pm6pm Elizabeth Street Community & Arts Centre, 169 Elizabeth Street, Tauranga021 041 1620
---
Narcotics Anonymous
Open meeting every Saturday 7:30-8:30pm, Hanmer Clinic (behind Super Liquor), 1235 Cameron Rd, Greerton. For more info, call 0800 NA TODAY
---
NZCMA Entertainer of Year
Baycourt 7pm. Best NZ amateur country music entertainers compete for the title of NZ Country Music Entertainer of the Year. From Junior to veteran. www.baycourt.co.nz
---
Otumoetai Tennis Club
Adult tennis. Start time 1pm. Bellevue Park, Windsor Road (next to Swimming Pool Complex). New players & visitors welcome. Ph Fred 544 5088
---
Pukete Pioneers Marching Club
Reunion NZ Labour Weekend 2019. We are looking for ex-marchers, club members/families connected with Pukete Pioneers Marching Teams between 1982-1990. Contact Kath on J.K.papamoa@gmail.com
---
Red Cross Volunteers
Looking for something professional & to support your community while gaining retail skills for 4hrs? Enquire today at Red Cross Shop Cameron Rd, ph 578 2683
---
Taoist Tai Chi -Tauranga
Beginners Class 8:30-10am at 15 Koromiko St, Judea. All welcome to join in at any time. Memberships from $19 monthly. Great for stress, balance, flexibility. Ph 578 6193
---
Tauranga Fuchsia Group
Meets last Saturday of month 1:30pm Tauranga Art Craft Centre Elizabeth St West. Fuchsia Growing Workshops Social time. Ph Pat 579 1655 Noeleen 578 4643
---
Tauranga Senior Citizens Club
CARDS 500 Mon & Thurs. INDOOR BOWLS Tues, Wed & Sat. 14 Norris St (behind PaknSave) 12:45pm for 1pm start. Entry $2 includes afternoon tea. New members welcome.
---
Te Puke Toy Library
Toys for hire, Friday Playgroup & Brick Kids 3:30pm during term time. Gold coin donation appreciated. Tues-Thurs 9am-1pm, Fri/Sat 10am-12pm
---
The Sociables
30s-50s age group of males & females that meet up to dine out or participate in different events & activities. Ph 022 012 0376
More on SunLive...