Get set to fish Rotorua's top trout lakes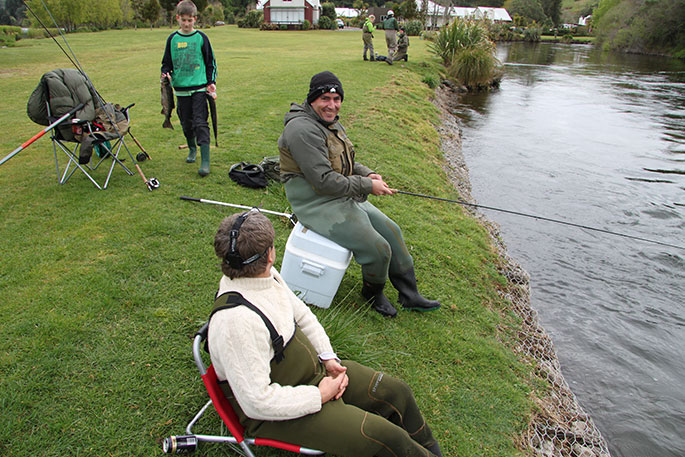 Anglers, along with their families and friends are getting set to try and hook some of Rotorua's legendary rainbow and brown trout.
Lakes Rotoiti, Tarawera and Okataina, which have been closed and rested over winter, will re-open to anglers from Monday October 1, at 5am.
Tarawera and Rotoiti are normally the busiest lakes on opening.
Most trout caught over opening will be two-year-old fish as they are the most abundant group of fish above the minimum size of 35cm, says Fish & Game Officer Matt Osborne.
"The older three and year-old fish have spawned during winter and are either still in the spawning streams or have migrated back in the lakes to recover," he says.
"Some of the older fish have recovered adequately while others will be longer and a little slabby.
"These two-year-olds will average around 50cm on Tarawera and 52cm on Rotoiti and Okataina given differences in recent lake growing conditions.
"Hatchery released two-year olds can easily be identified by them having had their left pelvic fin removed. They were released during 2017 as yearlings."
"Lake Tarawera's mature fish have shown improvement in their condition during winter, but it's impossible to know if we'll see this in the younger rising two year-old fish come opening day, Mr Osborne says.
A record run of fish through the trap on Lake Tarawera, used to source the best fish for breeding, indicates there are plenty of fish about, he says.
Drift dives carried out, where staff count fish in the Tarawera Outlet, also point to high fish numbers in Tarawera.
'Where and how to fish'
Fish & Game Officer Mark Sherburn advises anglers to begin the day shallow trolling or harling with smelt patterns before going to deeper methods.
"Try a 12g black and gold toby and grey ghost combo for success," he says.
"Humphries Bay and eastward toward the Outlet are popular locations on Tarawera as are trolling runs under the mountain.
"If the south westerly picks up later in the day the areas off White Cliffs and along to Twin Streams provide a sheltered location."

Lake Okataina always attracts less angler pressure than both Tarawera and Rotoiti, and as such can sometimes produce good results on opening, although catch rates can be fickle on Opening Day, Mr Sherburn says.
"Depending on the wind direction, anglers might want to try harling early around the Dogger Bank area then, as the sun gets higher try jigging or deeper trolling methods along the western shoreline."
A Tassie #58 (traffic light) or #80 and large smelt fly combo can work well on the lake, Mr Sherburn says.
He says that Lake Rotoiti is a popular spot on opening "but there's always plenty of room for everyone."
The commonly prevailing south westerly wind can limit anglers to the southern shore later in the day so check the forecast and perhaps try the northern shoreline areas early, he advises.
"Again, try shallow trolling from first light up until about mid-morning, or whenever the action tapers off, then pull out the lead and wire lines or downriggers and jigging gear."
"The brighter Tassies such as the #55 (bright pink) or #56 (bright orange) can work well on Rotoiti and a large-size jack sprat, parsons' glory or green orbit as a combo."
Although most of the October catch is two year-old fish, Rotoiti can sometime produce a few recovering three or four year-olds which, if the lakes are doing well, can be a worthy size.
Fish & Game reminds anglers of the need to check their boats and fishing equipment for aquatic "hitchhikers" and adopt the 'check, clean and dry' method, especially when moving between different waterways.
Bilges, anchor warps and trailers are hot-spots for collecting small fragments of weed and can house eggs or small fish such as catfish which are now found in Lake Rotoiti.
Fish for Gold
The annual "Fish for Gold" is on again; anglers who enter have the opportunity to net a trout with an orange tag worth $10,000.
Local businesses Hamills, Telfer Marine, Kilwell and the Outdoorsman Headquarters are also providing prizes for the promotion – so if anglers don't hit the big 10K prize, they can come away with other great prizes.
The 2018 Fish for Gold promotion gets underway on Opening Day, Monday October 1, 2018, and runs for 14 days until Sunday October 14.
Fish & Game staff will release 30 rainbow trout in the lead-up to the opening marked with specially numbered orange-coloured tags - ten into each of the three lakes, Tarawera, Rotoiti and Okataina. Conditions apply, and entries are via: https://fishandgame.org.nz/eastern/
More on SunLive...