Council takes up Kiwi Camp offer for campers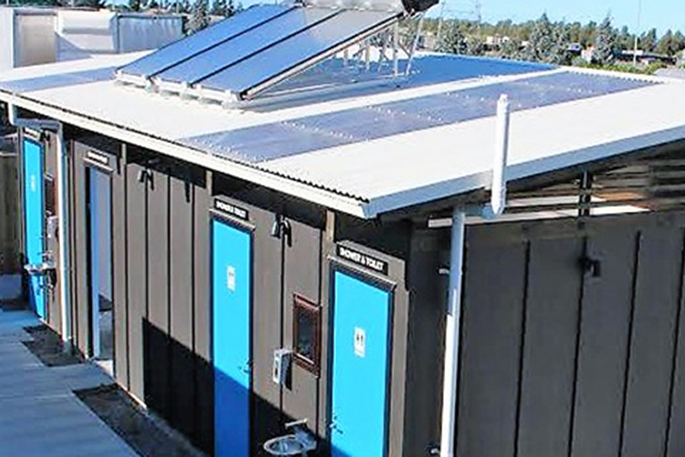 Western Bay of Plenty District Council has accepted a $200,000 grant from Central Government to trial a KiwiCamp facility in Waihi Beach this summer to help manage freedom camping.
Council considered several sites and decided on the Waihi Beach Community Centre in Beach Road for the trial site this summer, with the option of relocating the facility to other busy freedom camping sites in the future.
KiwiCamp will be built by Christmas. It is a relocatable, prefabricated building with toilets, bathroom, dishwashing and laundry facilities, showers, access to drinking water, waste and recycling areas, device charging and access to wireless internet.
Facilities will be user pays – but the toilets will be free for campers and the public.
Western Bay is one of a select few councils in New Zealand to receive a one-off grant of $200,000 to provide a new national initiative to improve facilities and monitoring for the increasing numbers of freedom campers in the Western Bay District.
Mayor Garry Webber says it is a great opportunity for Council to trial a KiwiCamp model – at very little cost to the ratepayer – to manage the increasing demand from freedom campers.
"This will help us manage freedom camping in the Waihi Beach area which is where the greatest number of compliance issues arise for Council over the peak of summer."
"The beauty of this facility is that it is relocatable. By taking part in this national initiative we are helping set a trend that is being encouraged by Central Government to manage freedom campers on a cost recovery model."
The KiwiCamp model allows running costs to be recovered through a charge system – Kiwicash – a simple pay-as-you-go solution that gives campers great facilities – which they pay for.
The first trial of KiwiCamp will be in Waihi Beach this summer. As it is relocatable, it can be moved to other busy freedom camping spots – such as Te Puke during kiwifruit harvest season.
Council applied to Government for funding through Tourism Facilities Development Grants Fund to improve facilities and monitoring for the increasing numbers of freedom campers in the District.
The $200,000 is part of a total of $340,000 granted to Council. The balance will be for Smart Bins and security monitoring.
There are 47 freedom camping sites across the District governed by Council's Freedom Camping Bylaw which requires all freedom camping to be in self-contained vehicles. Council employs a security firm from October to March to monitor and ensure compliance with the bylaw.
Government allocated $8.5 million for nationwide initiatives to be put in place in time for the coming summer. Council applied for funding through the Tourism Facilities Development Grants Fund.
More on SunLive...