'Contingency plans' in place for SH2 protest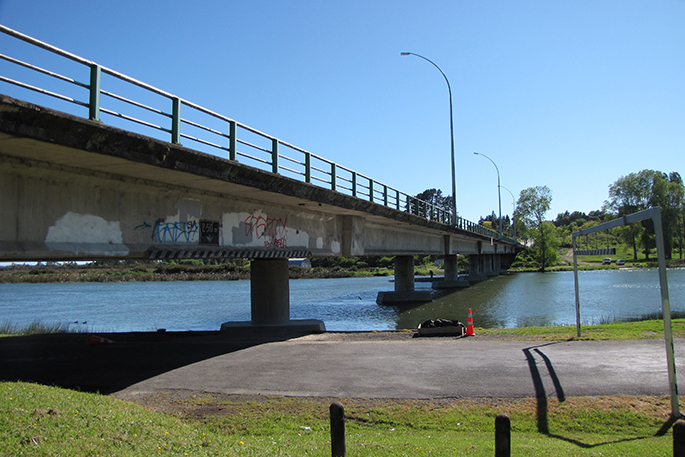 Road safety campaigners planning to block the Wairoa River Bridge for up to 30 minutes this Sunday, say they have consulted with police and the local hapu.
The Fix the Bloody Road group says there are contingency plans to allow emergency service vehicle access if required.
Campaigners are being asked to muster at Wairoa River Reserve at 2.30pm, to cross the bridge together as one from 3pm sharp, then return.
Organiser Andrew Hollis says original plans to muster at Taniwha Place have been changed following police safety advice on limiting the traffic disruption.
"No one wants to be killed by a risky driver. That is the purpose of the campaign. We have professional road safety people running this march.
"It will annoy some people, but I would hope that after the volunteer efforts of the campaign team in behalf of the community – 7,000 of whom signed the petition to improve the road to four lanes – that the majority of our local population understands and will support this march," says Andrew.
"We have police available to keep everyone safe and let emergency vehicles through. I'd love to see an enormous turnout, and it is part of a bigger range of actions."
Spokesman Matthew Farrell says the Fix team is pushing for a fast-track decision on major State Highway 2 corridor capacity projects including the Tauranga Northern Link to Francis Road, the Katikati urban bypass and improvements to blackspot intersections from Te Puna to Omokoroa.
"Safety works from Waihi to Pahoia were confirmed in August after six months of campaigning.
"The group will also be calling for a moratorium on further housing development planned by the SmartGrowth partners Tauranga City Council and Western Bay of Plenty District Council.
"An open letter will be circulated among groups, organistions and corparte entities to sign, with several already stating a verbal intention to support the push for a central government infrastructure catch-up," says Matthew.
Campaigner Sam Thompson says while the march is set to kick off at 3pm, it's essential that people get there very early to limit the impact on local motorists.
"We want to keep the community onside. We ask everyone to inform friends and workmates about the disruption. We don't expect people to get involved if they don't want to, but they need to know Sunday afternoon is not the time to travel to or from Tauranga.
"Make plans accordingly. Carpooling is a great option. Make a sign, bring a whistle or a drum. Everybody is welcome," she says.
Marchers are advised to park considerately and walk along Station Road or Wairoa Road, or in the limited space closer to the Te Puna side of the bridge.
More on SunLive...