Armistice Day coin orders are open to the public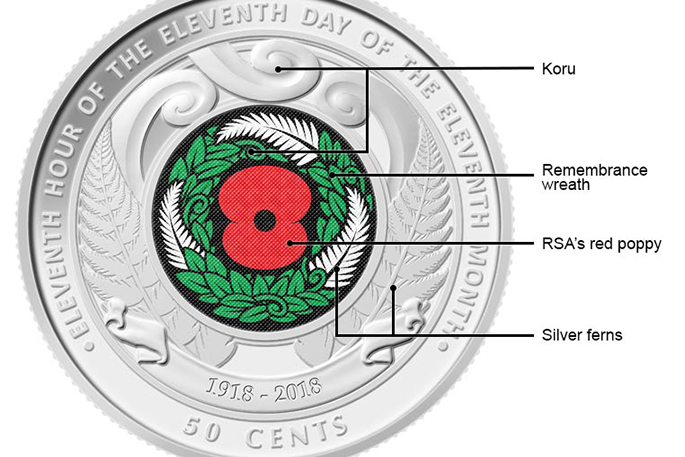 From today you will be able to pre-order a limited number of the newly minted Armistice Day coin for delivery in October, right in time for Armistice Day.
The new coin is a legal tender, coloured, circulating 50 cent piece.
Reserve Bank Governor Adrian Orr, says he's delighted with the design of the coin and all it represents, "This coin follows the Anzac Coin of 2015. I'm honoured the Bank was able to participate in some way to commemorate the soldiers and service personnel of that time."
Pre-order for the coin is now available through the NZ post website.
The coin is issued by The Reserve Bank of New Zealand and designed by NZ Post.
The coin commemorates the Armistice, when on the 11th hour of the 11th month of 1918, the guns fell silent along the Western Front with the signing of the Armistice. The First World War had effectively ended.
The Reserve Bank has minted two million of the legal tender 50 cent coins which will have the same specifications and electromagnetic properties as the existing 50 cent coin. It has been tested to ensure it's compatible with coin equipment and coin vending machines.
The Armistice Day coin design, featuring the official RSA's red poppy in the middle, surrounded by a free formed remembrance wreath that has incorporated the silver fern and koru as strong New Zealand elements.
The printed white ferns on the wreath represent the past, present, and future and the three armed forces in New Zealand. The engraved koru pattern represents new beginnings and the engraved silver fern reflects New Zealand's national identity.
A portrait of Her Majesty Queen Elizabeth II appears on the obverse. As with all the Bank's coin designs, this coin has been approved by Her Majesty the Queen.
While a number of coins will be available to order directly from the website, the intention is that every New Zealander will have the chance to find one of these special coins.
More information:
- To purchase/pre-order the coin: https://stamps.nzpost.co.nz/new-zealand/2018/armistice-1918
- Armistice Day coin information: https://www.rbnz.govt.nz/notes-and-coins/coins/armistice-day-coin
- Flickr images: https://www.flickr.com/photos/reservebanknz/
- Share your Armistice Day stories #WW100
More on SunLive...