Clear winning thinking on road safety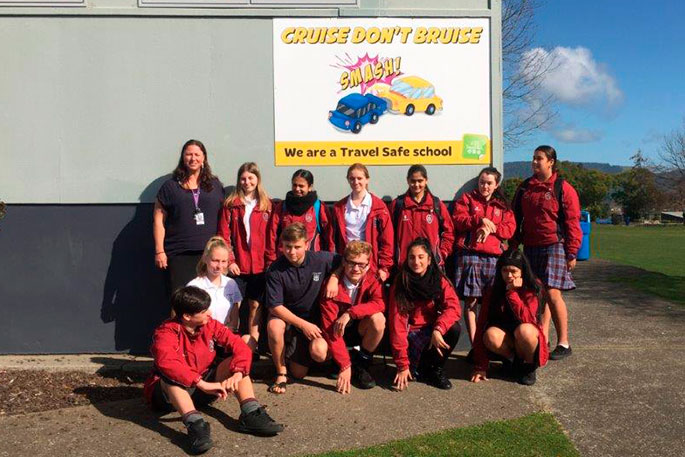 The road safety message was clear, simple and strong – and a winner.
'Cruise don't bruise' says the sign. And there's an image of two cars colliding. 'Smash' it says, to ram the message home. And there's the reminder that Te Puke High School is a Travel Safe school.
The banner was good enough for Te Puke High to win the road safety slogan sign competition sponsored by Tauranga City Council's Travel Safe and Western Bay of Plenty District Council.
"The students were rapt to win," says group leader Sonia Deering. "They're also proud to support road safety in the community and SADD."
Travel Safe is an integrated approach to sustainable road safety outcomes that covers Tauranga and the Western Bay of Plenty. It works alongside the community at grassroots level to lift the level of road safety and active transport across all age groups.
And this week the school's SADD (Students Against Driving Dangerously) Committee was busy promoting its six principles of sober drivers, safe speeds, no distractions, avoiding risk, driving to the conditions and building driving experience.
Students also left handprints on some glass doors to make a pledge never to go in a car with a dangerous driver. They also tried on 'drunk goggles' on an obstacle course to create the experience of how reactions are affected by drugs or alcohol.
SADD's objective is to reduce harm on our roads and is an initiative driven by young people, for young people as a peer education programme in secondary schools. It has run in schools for many years and has helped to bring the road toll down among our young people.
More on SunLive...