Thames campgrounds churned to mud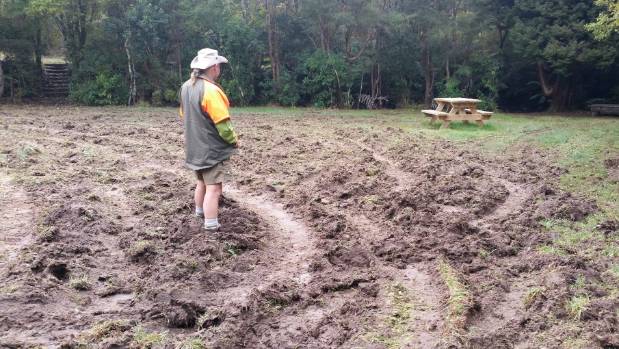 DOC's popular Kauaeranga Valley campgrounds, near Thames, may be unusable this summer thanks to severe damage caused by vandals.
Department of Conservation ranger Peter Hall says all nine DOC campgrounds in the Kauaeranga Valley near Thames had been damaged by vandals in 4WD vehicles on three separate occasions over the past month.
"The campgrounds have been turned from pristine grassy river flats surrounded by native bush, to churned up mud pits with barely a blade of grass left standing along with damage to the gates and facilities," he says.
"With the summer camping season just around the corner, this is a major concern to the Department of Conservation's Hauraki Area Office, as the camp grounds are now unusable and require significant rehabilitation."
Six of the campgrounds have been badly damaged and the other three were not quite as bad, however, it's currently too wet to repair the damage.
"We've got a local contractor lined up ... we'll get a bobcat in there to smooth it over and spread some grass seed and keep our fingers crossed but at the moment it's too wet.
"With DOC resources focused on some of the region's biggest issues such kauri dieback and high-risk structures, there is a possibility the campsites in the Kauaeranga Valley will be unusable this summer."
The Kauaeranga Valley is in the Coromandel Peninsula near Thames and boasts New Zealand's largest hut, the Pinnacles hut, popular hiking trails and one of the last remaining kauri driving dams. The campgrounds were very popular during the summer months.
"It's really, really popular, the locals go up there and camp for the night and use the river. The careless actions from these drivers will have a direct impact on both the local Thames users, and the hundreds of Kiwi families and tourists that visit the area over the summer months to enjoy the outdoor recreation on offer," says Peter.
The Kauaeranga Valley has only recently reopened to the public following a year of major repairs to the Kauaeranga Valley Rd after storm damage in April last year.
The Hauraki Area Office is now considering closing the Kauaeranga Valley between the hours of 4pm and 8am to prevent further vandalism.
More on SunLive...