Meech medal hopes look dashed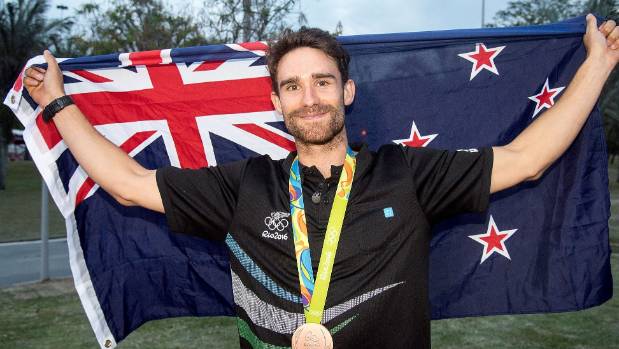 Sam Meech's dream of gunning for a podium finish in tomorrow's Laser medal race at the World Sailing Championships looks to be over after a disqualification in today's race.
The Tauranga sailor was fourth overall going into the day's racing at the regatta in Aarhus, Denmark, but has slipped back a place as a result of the DQ and would need a remarkable turn of events to go in his favour to get up into the medals.
He was initially 22nd in the race but was later excluded after an incident with Great Britain's Elliot Hanson on the final downwind leg.
Judges felt Meech didn't give the Brit sailing space after establishing an overlap as the pair were engaged in a tense dogfight. He's now 15 points behind third-placed Hansen and would need to sail a superb race in the final event tomorrow and leave all his competitors well in his wake to grab a medal.
"I was trying to move forward in the fleet and he was really trying to hold me back pretty much the whole race," says Sam, who won his first three races in qualifying. "Not only was I back in the pack trying to catch up but I also had someone trying to stop me. It was a really difficult race.
"It's been a regatta of two halves for me. The first half I felt like I was getting it all right and the second half I feel like I haven't got anything right."
Tom Saunders is 14th overall in the Lazer class after a 31st in today's race.
It hasn't gone to plan for Tauranga's Molly Meech and her partner Alex Maloney in the 49erFX either, with the Olympic silver medallists struggling all week. The good news is, however, a seventh place today was enough to send them through to the medal race and secure qualification for the 2020 Tokyo Olympics.
Jason Saunders and Gemma Jones won their last race of the day in the Nacra 17 and are now 14th with one more day before the medal race. The pair had a horror start to the regatta when a pin broke, causing one of their foils to pop out and putting them out of the first two races.
Kiwi Finn ace Josh Junior crossed the finish line and gave the thumbs-up but it wasn't enough to mask his disappointment after missing out on a medal on countback.
The 28-year-old finished level on points with Pieter-Jan Postma but the Dutchman secured bronze by virtue of having finished ahead of Junior in the medal race.
It was a disappointing outcome for Junior, who led overall heading into yesterday's final race which was struck by a massive squall that caused chaos in the fleet. Junior was one of a handful to capsize and saw his lead evaporate in a barrage of wind and rain.
He still had a good chance of winning gold in today's top 10, double points medal race, but so did five others. Hungary's Zsombor Berecz won the race to snatch gold from Sweden's Max Salminen, with Junior crossing in fourth.
"It was always going to be a close one with six of us pretty much tied on points," he said. "When it's like that, it takes a bit of luck. I sailed a good race to finish fourth but not enough to get a medal so I'm a bit gutted after the week."
Junior and fellow Kiwi Andy Maloney, who finished 10th in the medal race and 10th overall, have made significant progress since getting back in the Finn after helping Emirates Team New Zealand win the America's Cup.
"There have been some huge improvements since we got back in the boats," Junior said. "Andy and I are working really closely together and we are making some big gains, especially in this light, shifty stuff that we didn't used to sail that well in. We can take that forward and keep improving."
Strong wind gusts are forecast for tomorrow, which could disrupt racing, but disruptions have been par for the course this week in Aarhus.
-Stuff
More on SunLive...