New ambulance driving to Tauranga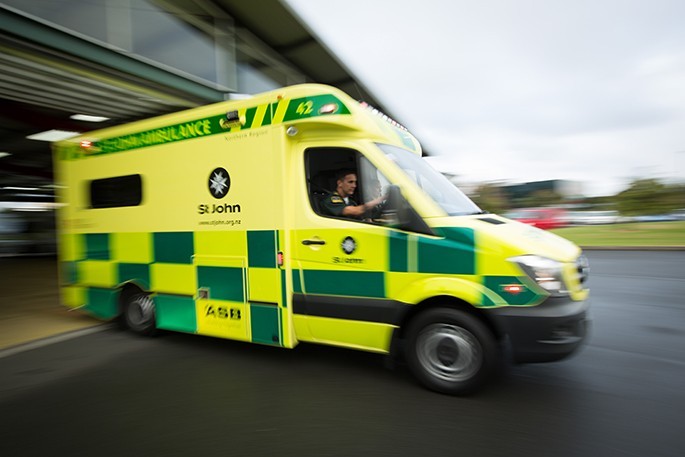 The generosity of a Tauranga ASB customer who won Lotto last year means a new state-of-the-art ambulance has been unveiled by ASB and gifted to St John for use in Tauranga.
"They say to get advice when you win Lotto, and that's just what I did. I wanted to help others and one of the charities I liked was St John. Being able to donate an ambulance through ASB today is tremendously rewarding," says the generous man who just wants to be known as an ASB customer.
The fully-equipped Gen 3 ambulance and life-saving equipment worth $230,000 was blessed by a St John chaplain this afternoon at the unveiling ceremony in Hawke's Bay, along with another ambulance being donated to Napier by ASB following the bank's successful St John toy ambulance campaign.
The nationwide campaign, which ran in December, saw 20,000 toy ambulance and station sets sold at ASB branches around New Zealand with all proceeds going to St John.
ASB Tauranga Central branch manager Amber Joines says the bank wants to thank the charitable ASB Tauranga customer for his support of such an important lifesaving charity.
"We value helping Kiwis achieve their financial goals, but it's also really important to us to give back to the communities we work and live in. That's why we've been a proud supporter of St John for 10 years now and our Bay of Plenty team is incredibly honoured to be part of this memorable day.
ASB head of community and sponsorship Mark Graham adds, "We'd also like to thank the people of the Bay of Plenty and the New Zealand public for your generosity and helping turn block toy ambulances into much-needed real ones. In fact, over the past three years three ASB ambulances have been added to the St John fleet".
While St John's ambulance operations is 74 per cent funded, its equipment – like ambulances – and buildings are not government funded.
St John Territory Manager for Western Bay of Plenty, Ross Clarke, says the generosity of this ASB customer helps to ensure local ambulance crews have the most up-to-date vehicles and lifesaving equipment to treat Tauranga patients.
"No one knows when they will need an ambulance, but if, and when the time comes, you need to know you'll get the right care at the right time.
"The donated Tauranga-bound ASB ambulance includes an automated Powerload Stryker Stretcher to help reduce lifting injures for St John Ambulance officers. The vehicle is also equipped with 180-degree LED emergency lights for greater safety. It is fully road-ready and will be getting straight to work within the Tauranga region.
"We're grateful for the generous support in purchasing a much-needed ambulance for the region. This ambulance will be on the road helping us save lives from this moment on," says Ross.
For more information on how you can be part of ASB's support of local communities please visit:
https://www.asb.co.nz/community
St John Tauranga numbers:
(this is part of the Western Bay of Plenty Territory: Katikati, Matakana Island, Mt. Maunganui, Papamoa, Tauranga City, Tauranga Greerton and Te Puke response areas)
On average, St John attended 1,500 emergency incidents per month over the last 12 months to June 30 2018 in the Western Bay of Plenty, covering more than 470,000 kilometres across region in that time.
The working life of a St John ambulance is typically around eight years.
More on SunLive...