Tourists taking honey home by the trolley load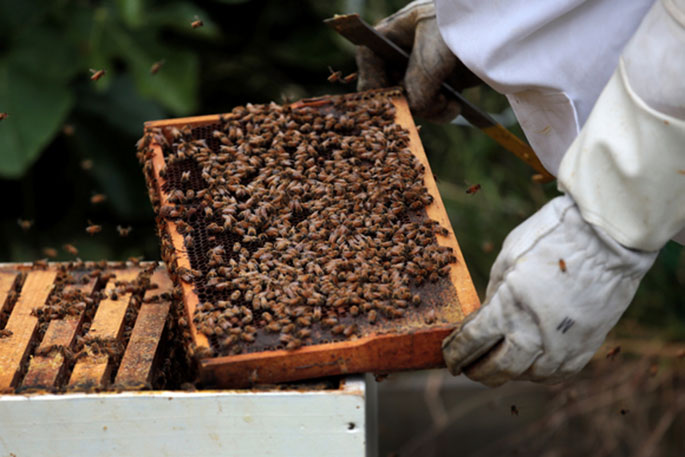 Tourists stocking up on mānuka honey by the trolley load are turning it into a quasi export, a Nelson honey producer says.
Producers told a public meeting yesterday there was nothing to stop tourists buying local mānuka honey and taking it offshore, which one said was happening by the trolley load.
New Zealand honey producers are being asked if they think the science standard applied to export mānuka honey should also apply to that sold locally.
Ministry for Primary Industries food policy manager Emma Spooner said the move was in response to concerns from trading partners about the authenticity of New Zealand mānuka honey.
"MPI's developed a science definition to test that honey is in fact mānuka. Since February 2018 all exported mānuka honey has been required to be tested and meet this definition.
"But the same is not required for the mānuka honey sold in New Zealand."
MPI got its first taste of feedback in Nelson yesterday, at the inaugural public meeting in a series of eight around the country.
Robin Whalley, a director of local business Nelson Honey, said the value of the product making its way offshore via the non-export market was bigger than most thought.
Mr Whalley said it was relatively easy to send honey overseas.
"It either goes out in the mail or in suitcases, and I think that volume is large."
Ms Spooner said there was nothing to prevent people buying honey in New Zealand and sending it as a gift, or taking honey offshore, which was one reason they were seeking to extend the standard.
"Yeah, it's one of the reasons, as well as whether consumers and businesses in New Zealand want more certainty about what mānuka honey means."
MPI said a domestic science standard would also protect New Zealand consumers who were not getting the same assurances that the mānuka honey they bought was authentic.
Dorje Strang of the New Zealand Honey Bee Company in Golden Bay backs the domestic standard.
"MPI has spent a lot of time with industry in developing export honey standards for mānuka honey, which sets a criteria and raises the bar on the quality of that honey.
"We're now contemplating potentially have a lesser standard for the honey sold domestically in New Zealand," Mr Strang said.
But smaller producers who made just enough to support their hobby might struggle.
President of the Nelson Beekeepers club, Ian Henbrey, said asking hobbyists to pay a testing fee designed for large corporate buyers overseas was overkill.
"Well it's the cost of getting it tested for the hobbyist or the small operator - the cottage industry which produces honey which may be sold perhaps on Trade Me or to friends and colleagues."
It costs about $190 to test a single sample, meaning the bill for large producers like Mr Strang is substantial.
"We produce about 40 tonnes of honey a year and our testing bill has been about $11,000 for this year."
Andrew Lane of Tasman Honey said testing was run by what amounted to a duopoly and costs might be lower if there were more providers.
Right now there were only two laboratories in New Zealand certified to do the test.
Others might come on board but it was an expensive task, Mr Lane said.
"It is possible but I think the cost to get the equipment, get certified to do those tests, would prohibit most companies, and even relatively large businesses from doing their own testing."
MPI said submissions on the proposal close 17 September.
A report will then be prepared for the government to decide if any amendment to the rules was needed.
More on SunLive...